Refugee crisis: Jeremy Corbyn visits Calais Jungle and Grande-Synthe camps
'These conditions are a disgrace anywhere. We as human beings have to reach out to fellow human beings'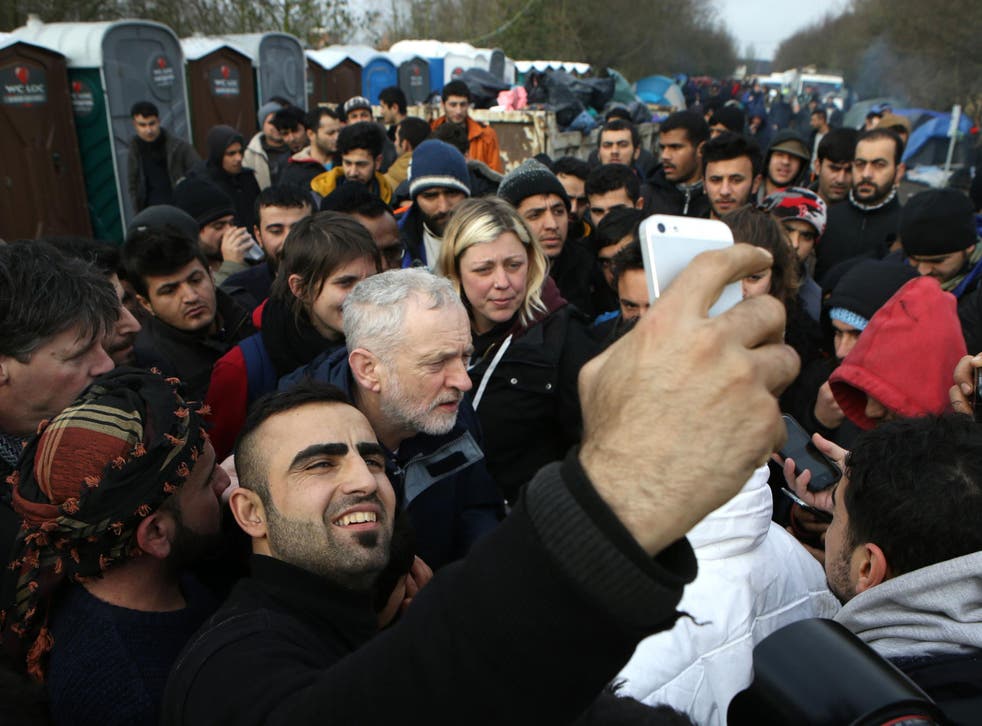 Jeremy Corbyn MP today visited the Calais Jungle and Grande-Synthe (Dunkirk) refugee camps to see the humanitarian crises there first-hand. It was his first official trip abroad as Leader of the Opposition.
Mr Corbyn first paid a visit to the Jungle in Calais. He walked around the camp, took selfies with inhabitants and discussed what needed to be done to improve conditions there with camp elders and representatives of the major volunter organisations.
He then made the short trip north to the smaller camp at Grande-Synthe, near Dunkirk, where conditions have been described as "far worse" than in the better-known Jungle.
En route, he stopped at Dunkirk War Memorial to bow his head in memory of all those who died in the two World Wars. Both of the committed pacifist's parents served in World War II– his mother as an Air Raid Warden and his father in the Home Guard.
Speaking at Grande-Synthe, Mr Corbyn said: "What I'm trying to achieve here is to understand the nature of the refugee crisis that's facing the whole of Europe. Ultimately we deal with the situation by dealing with the problem at its source, which are the wars and conflicts."
"We have got people here who have been here for months, if not longer than that, with no proper education, no access to doctors, no access to dentists, limited access to food - in very cold, very wet conditions."
"These conditions are a disgrace anywhere. We as human beings have to reach out to fellow human beings."
Groups of refugees periodically mobbed Mr Corbyn to ask for his assistance: a mother with an emaciated baby thrust the child toward the Labour leader and begged him for help, and the MP also said he would try to help a group of British passport holders trying to secure safe passage for their families.
Many of the refugees who approached Mr Corbyn to plead for his intervention were Kurdish. The Labour leader has been a vocal supporter of the Kurdish struggle for rights and self-determination for many years, and has often spoken in condemnation of the Kurdish genocide and in solidarity with Kurds still facing violent oppression in Turkey, Iraq and elsewhere.
Refugee crisis - in pictures

Show all 27
Last week, Calais government officials announced that they were going to demolish a third of the long-standing camp. The decision forced refugees and volunteers to move over 500 semi-permanent shelters and nearly 2000 inhabitants in the space of five days.
Their stated aim was to clear a "buffer zone" between the camp and the road, but with no official notice given until several days after it was demanded by volunteers, many people on the ground feel that the move was just the beginning of a surreptitious attempt to clear the camp out altogether.
At Grande-Synthe, meanwhile, diseases such as scabies are rife, and the local police have often blocked vital supplies from entering the camp. People in both camps are in danger of dying from hypothermia as temperatures plummet below freezing. Many tents at Grande-Synthe have collapsed into the mud, while the sudden, enforced move in the Jungle brought similiar problems in Calais.
Volunteers at both camps say they are are still badly in need of donations, materials and volunteers. Mr Corbyn's visit will bring some much-needed publicity to thousands of refugees still living in life-threatening circumstances.
Register for free to continue reading
Registration is a free and easy way to support our truly independent journalism
By registering, you will also enjoy limited access to Premium articles, exclusive newsletters, commenting, and virtual events with our leading journalists
Already have an account? sign in
Register for free to continue reading
Registration is a free and easy way to support our truly independent journalism
By registering, you will also enjoy limited access to Premium articles, exclusive newsletters, commenting, and virtual events with our leading journalists
Already have an account? sign in
Join our new commenting forum
Join thought-provoking conversations, follow other Independent readers and see their replies