Refugee loses both his legs attempting to cross to UK amid 'increasingly desperate' situation in northern France
Exclusive: Aram Sabah Xalid, known by many as Alan, was hit by a train near Dunkirk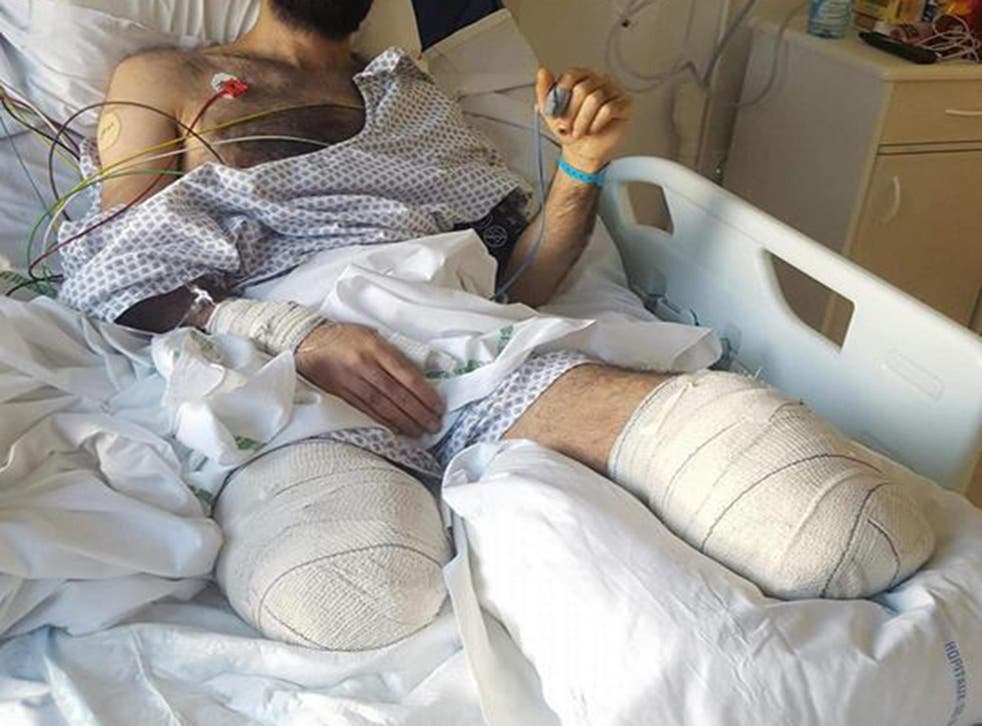 A refugee lost both his legs when he was hit by a train in France during an attempt to cross into the UK.
The accident prompted warnings that displaced people in the region are being increasingly driven to take "irrational and dangerous" risks amid "growing desperation".
Aram Sabah Xalid, known by many as Alan, was hit by a train in the Grande-Synthe area near Dunkirk, severely injuring both of his legs. The 26-year-old from Iraqi Kurdistan was taken to hospital in Lille where his legs were amputated.
Friends said Mr Xalid had been living in makeshift camps in Dunkirk with his wife for several years and they had been trying to get to the UK when the accident happened. He had applied for asylum in France but been rejected, they added.
Mr Xalid, who worked as a chef in the "refugee kitchen" which was set up by people living in the camp, was a "kind and humble" person, his friends said.
They were currently seeking help in France to ensure he is able to get prosthetic legs.
It comes after three refugees were killed on the roads outside the Calais port in December, a month after a 15-year-old refugee who was run over by a refrigeration truck.
Annie Gavrilescu, of Help Refugees, told The Independent that the "increasing desperation" of refugees who are sleeping rough in the region, particularly in the cold winter months, had led to more doing "irrational and dangerous" things.
"The living conditions in which people are living are so awful that they're putting themselves in a lot of danger just trying to get out," she said. "It's been really miserable, particularly with the cold, the snow and the rain, and refugees are facing so much hostility from everyone here.
"There is a significant amount of refugees who are applying to stay in France but they can't get accommodation for the three months it takes for their applications to go through."
Beshwar Hassan, 27, who met Mr Xalid while living in the Grande Synthe camp in 2015 before he managed to reach the UK, told The Independent that the 26-year-old was a "kind" individual who was "always singing and laughing".
"We were all in a very bad place in the middle of the forest in Grande Synthe. It was winter and very cold. We tried to help and find support for each other," he said.
"For that reason, we made a group with a name Refugee Consul, which consisted of different teams setting up shelters, medical services, cleaning staff and kitchen staff. Alan was in the team of kitchen staff to cook for refugees.
"He cooked alongside other refugees and volunteers in the Grande Synthe and Lalinarie camps. His aim was to stay to help people. He was very kind and humble. He was always singing and always laughing."
Samia Sassi, who worked with Mr Xalid in the refugee kitchen and is currently in Munich, said she had spoken with someone in Germany who may be able to provide Mr Xalid with "new legs".
Refugees welcome here: Protesters demand UK resettle more migrants in response to refugee crisis

Show all 7
She added: "Alan is a really nice person. He was always in the kitchen and he was helping a lot of people, even when he was the one who needed help."
It comes after President Emmanuel Macron persuaded Theresa May to adopt what he called a "humane approach" to the plight of refugees in northern France.
The leaders announced a new treaty designed to ease the suffering of some of the thousands of people camped near the French port who currently wait six months to have their cases settled.
The key change would benefit those seeking to join family members in the UK, with children's cases settled in 25 days and adults' in one month – instead of a typical wait of six months.
Register for free to continue reading
Registration is a free and easy way to support our truly independent journalism
By registering, you will also enjoy limited access to Premium articles, exclusive newsletters, commenting, and virtual events with our leading journalists
Already have an account? sign in
Register for free to continue reading
Registration is a free and easy way to support our truly independent journalism
By registering, you will also enjoy limited access to Premium articles, exclusive newsletters, commenting, and virtual events with our leading journalists
Already have an account? sign in
Join our new commenting forum
Join thought-provoking conversations, follow other Independent readers and see their replies