Refugee crisis: More than 200 migrants drown and freeze to death as first fortnight of 2017 sets new record
Police dig dead man out of snow in Greece after 180 drown in Mediterranean boat disaster
Lizzie Dearden
Tuesday 17 January 2017 17:58 Comments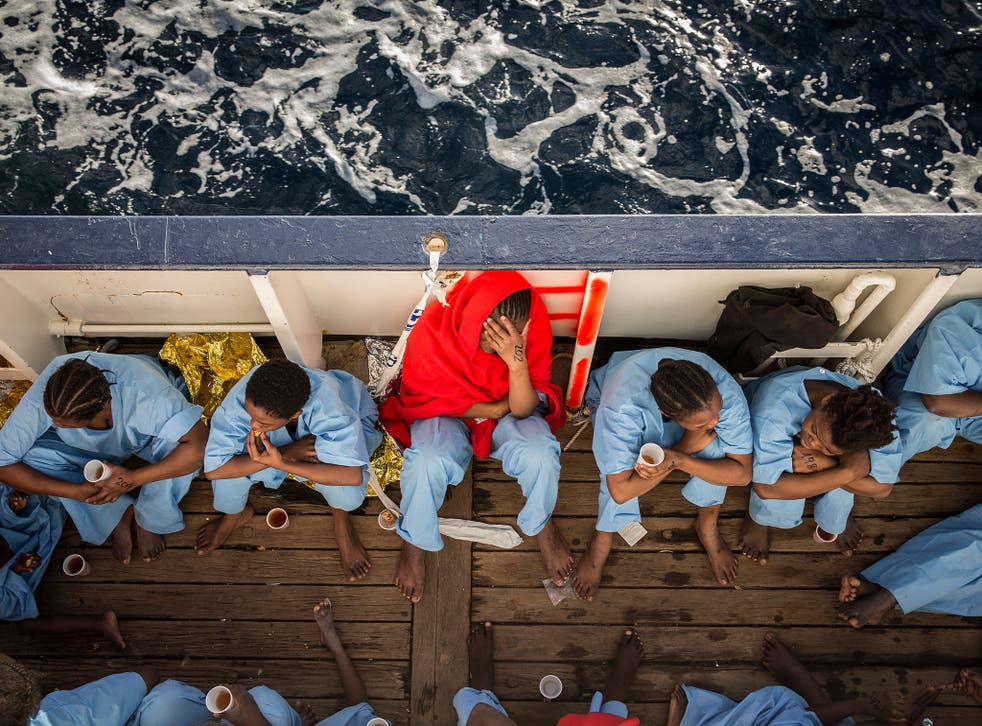 More than 200 refugees have died in the opening days of 2017, drowning in desperate crossings over the Mediterranean or freezing to death in deadly weather conditions across the continent they hoped would bring them safety.
At least 226 asylum seekers have lost their lives attempting to reach Europe so far this year – more than double the figure for the same period in 2016 – and many more remain at risk as rough seas and the extreme cold continues.
Greek border police had to dig through more than a metre of snow to find the body of one man who died after crossing over the River Evros near the Turkish border – one of several asylum seekers to be killed by sub-zero temperatures in recent weeks.
Officials found two suspected smugglers nearby with seven other asylum seekers, including one who was still wearing wet clothes and had to be taken to hospital for treatment.
They were discovered near Feres, where the land border between Turkey and Greece is being used by migrants diverted from crossing the Aegean Sea by the controversial EU-Turkey deal.
It followed the deaths of two Iraqi men and a Somali woman in snow-covered Bulgarian mountains, and another Afghan man in Greece.
The International Organisation for Migration (IOM) said refugees had also been killed by hypothermia while in flimsy dinghies launched from North Africa towards Italy, with three bodies found inside a boat rescued and taken to Lampedusa at the weekend.
In pictures: A day of refugee rescues in the Mediterranean Sea

Show all 7
On Saturday, at least 180 migrants drowned when their vessel capsized in rough seas around 30 miles from the Libyan coast.
The death toll was originally believed to stand at around 105 but interviews with survivors have revealed that the boat was larger and more crowded than initially thought.
Only a handful or survivors were found in search operations by ships including Italian Navy vessels, which recovered the bodies of eight migrants.
"While the circumstances of the shipwreck will be further explained when the survivors are brought ashore, it seems likely that this incident resulted in the death of over 100 people," said Federico Soda, from the IOM in Rome.
"We still do not know the nationalities or if there were women or children on board. It is a tragic start to the new year."
More than 1,100 rescued people, mostly from Western Africa, were taken ashore on the Italian islands of Lampedusa and Sicily on Monday.
Refugee crisis: More than 500 migrants rescued in single day in Mediterranean Sea
Survivors told IOM workers they attempted the sea crossing to flee violence and abuses in Libya, feeling they had no option but to put themselves in the hands of smugglers who forced them onto boats in treacherous sea conditions.
"Many people have told us that when they get to the beach, those who change their mind and don't want to go are forced to get on board, sometimes with violence," said Ms Soda.
Around 25 more refugees are believed to have drowned attempting to cross from Morocco to Spain, with several bodies washing up over the weekend. Two women and a baby are among those reported missing.
Just over 3,000 asylum seekers, mostly from Syria, Afghanistan and Nigeria, have entered Europe so far this year according to UN figures, compared to more than 73,000 in July 2016.
But death rates have been rocketing since the Central Mediterranean became the main route following attempts to stop comparatively shorter and safer crossings over the Aegean Sea by detaining anyone arriving on Greek islands under threats of deportation.
Thousands of migrants are still being held in makeshift tent camps, with several being covered in snow, sparking emergency measures from Greek authorities aiming to find safer accommodation in empty hotels or on a navy ship.
Many more are stranded by closed borders and security crackdowns across Europe, sleeping in makeshift shelters or on the streets in cities including the Serbian capital of Belgrade, where temperatures have reached -20C.
Rescue workers warn that people will continue to arrive as the crisis shows no sign of slowing in the Central Mediterranean, which has become the deadliest sea crossing in the world since the start of the refugee crisis.
At least 550 refugees were rescued on Friday alone off the coast of Libya, where continuing conflict and lawlessness since the British-backed defeat of Muammar Gaddafi has allowed the smuggling and exploitation of migrants to thrive.
More than 5,000 refugees were drowned, suffocated or crushed while attempting to cross the Mediterranean and Aegean seas in 2016, making it the deadliest year on record – a tragic benchmark 2017 is already on course to beat.
The Unravelling the Mediterranean Migration Crisis project partly blamed Britain and EU nations for spiralling death rates, concluding that the refusal to open up legal routes for those seeking safety in Europe has increased demand for people smuggling on ever more dangerous routes.
Operations to combat the thriving trade have driven the use of smaller and less seaworthy boats, which are harder for ships patrolling as part of the EU's Operation Sophia and authorities in north Africa to spot.
Poorly-made dinghies are now being loaded with more than 150 people a time, creating the risk of sinkings, capsizings or the inflatable bursting under the strain, as well as deadly fuel spills.
More than 3,000 migrants and refugees have arrived by sea in Europe so far this year. The vast majority of those arriving in Italy are from countries including Nigeria, Eritrea and Guinea, while most of the much lower number of asylum seekers reaching Greek islands are predominantly Syrian, Afghan or Iraqi.
Register for free to continue reading
Registration is a free and easy way to support our truly independent journalism
By registering, you will also enjoy limited access to Premium articles, exclusive newsletters, commenting, and virtual events with our leading journalists
Already have an account? sign in
Register for free to continue reading
Registration is a free and easy way to support our truly independent journalism
By registering, you will also enjoy limited access to Premium articles, exclusive newsletters, commenting, and virtual events with our leading journalists
Already have an account? sign in
Join our new commenting forum
Join thought-provoking conversations, follow other Independent readers and see their replies