Refugee processing backlog in Italy 'could cost lives' as asylum seekers forced to sleep on rescue boat
Vessel's vital return to search zone delayed as thousands continue to cross Mediterranean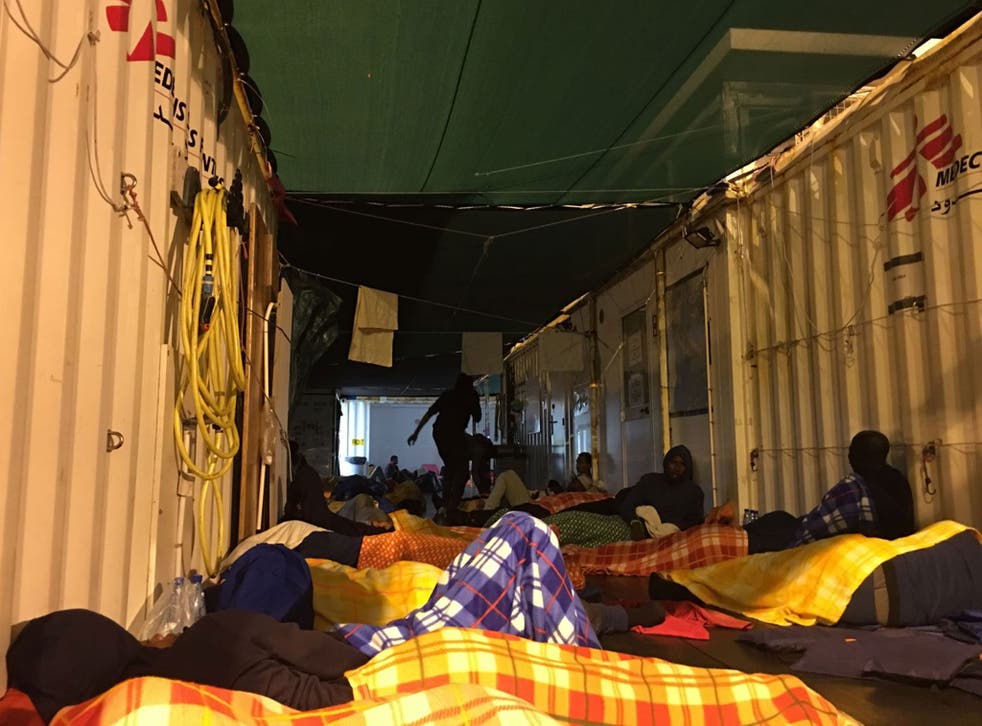 Aid workers are warning a huge backlog in Italy's overloaded refugee processing system could cost lives as migrants are forced to sleep on rescue boats that should be patrolling the Mediterranean.
In a fresh influx of people fleeing war, persecution and poverty, almost 11,000 asylum seekers were picked up in just 48 hours earlier this week, with dozens drowned or suffocated in packed holds.
But those being taken to supposed safety in Italy face the prospect of sleeping in carparks, tents and overcrowded detention centres as the country struggles to cope with the huge number of arrivals.
Italian coastguard rescues thousands of refugees off coast of Libya
The medical charity Médecins Sans Frontières (MSF) said a backlog in reception centres and designated "hotspots" where refugees are identified and fingerprinted meant more than 120 people had to sleep on the floor of their rescue ship on Wednesday night.
It arrived in the Sicilian port of Palermo at 7am that morning but authorities did not finish letting its 1,000 passengers off until 8am on Thursday, meaning trapped migrants had to sleep on the ship.
The extraordinary measures delayed the Bourbon Argos' return to the search and rescue zone north off the Libyan coast, limiting the number of vessels preventing disasters on what has become the deadliest sea crossing in the world.
Aurelie Ponthieu, an MSF humanitarian specialist on board, told The Independent it was the first time refugees had been forced to sleep in a port – a worrying sign of deteriorating conditions as the refugee crisis continues.
"It's a concerning episode for us because the conditions on the boat are very basic," she added.
"We don't have enough toilets and no showers, there's no proper food delivery. We just have biscuits and juice and most of them haven't eaten for days in Libya."
One woman gave birth to a baby girl on the journey to the port, and was prioritised for medical treatment alongside other pregnant, ill and vulnerable refugees.
Others had to wait on the dock to be transferred to temporary accommodation, sitting until 2am in the cold.
Ms Ponthieu said the Bourbon Argos takes 36 hours to make the journey back to the rescue zone and will not arrive until Sunday because of the delay, as people smugglers continue to send overcrowded and unseaworthy boats in the Mediterranean.
"We really hope that this is the exception rather than the rule," she added. "All resources available need to be in postition to prevent deaths at sea.
"We're talking about people who are weak, who are traumatised by the violence they suffered, they all talk about the violence in Libya and the fear they were feeling there."
With the migrant route over the Aegean Sea virtually closed by the controversial EU-Turkey deal, which is seeing refugees intercepted, detained in Greece and threatened with deportation, the Central Mediterranean has once again become the dominant sea route to Europe.
At least 140,000 migrants have reached Italy since the start of the year – compared with 154,000 in the entire of 2015 - and around 3,100 have died making the perilous trip.
Refugee crisis - in pictures

Show all 27
The vast majority of refugees arriving come from African nations including Nigeria, Eritrea, Guinea, Gambia, Sudan, the Ivory Coast and Somalia.
But in a concerning trend, Libyan families are now making the crossing from their home country, which has become the main launching point for people smugglers exploiting widespread lawlessness and conflict between government forces, rebels and Isis.
Traffickers frequently imprison and extort migrants, torturing, beating and even gang raping asylum seekers in exchange for ransoms before letting them attempt the treacherous sea crossing to Europe.
Those who arrive in Italy are met by a lengthy system of processing and checks, with refugees first being registered, photographed and fingerprinted at "hotspots" where they can be detained for a legal maximum of 72 hours.
Authorities decide if they are eligible to apply for asylum, sending prospective refugees to reception centres and issuing others with notices ordering them to leave Italy by their own means within seven days – an option few take.
But the reception centres are full, forcing asylum seekers to overstay in hotspots and pushing the backlog back to rescue ships themselves.
Valentina Bollenback, from Save the Children, said "incredibly distressed" refugees are being left in overcrowded and traumatic conditions after surviving disasters at sea.
"Reception centres are at their maximum – if not over capacity," she said.
"Unaccompanied children get disheartened by the situation and want to leave, which is very worrying and dangerous as they are so vulnerable."
She gave the example of one 15-year-old Somali boy who had taken four months to travel from his home to Libya, walking for days before being taken on a pick-up truck with smugglers through the Sahara, then being detained and tortured by gangs in Libya.
If he is not given official permission to depart soon - he will attempt the journey to join family in Sweden or Switzerland alone.
The influx continued on Thursday with the arrival of thousands of asylum seekers, as traffickers send huge numbers of boats into the Mediterranean in the last of the calm weather.
It came as the European Union launched a new joint border guard force aiming to stem the flow, after more than 1.3 million people arrived in 2015.
The body, with 1,000 staff and a reserve pool of 1,500 border guards designated by member states has started operations on the Bulgarian border with Turkey on an increasingly favoured land route into Europe.
The new European Border and Coast Guard also incorporates existing Frontex operations in the main arrival points in Greece, Italy and the Western Balkans.
Plans were drawn up to distribute asylum seekers around the EU according to a quota system last year but many countries, including the UK, have refused to take part in the scheme.
On Friday, Italy's foreign minister Paolo Gentiloni said his country "would appreciate" an agreement between the European Union and African countries similar to the one reached with Turkey to curb migration flows across the Aegean into Greece.
Speaking in Ankara Mr Gentiloni praised the refugee deal struck between the EU and Turkey in March, saying "we need to have similar agreement to solve, or at least manage, migration flows from Africa."
The Italian Embassy has not responded to The Independent's request for a comment.
Register for free to continue reading
Registration is a free and easy way to support our truly independent journalism
By registering, you will also enjoy limited access to Premium articles, exclusive newsletters, commenting, and virtual events with our leading journalists
Already have an account? sign in
Register for free to continue reading
Registration is a free and easy way to support our truly independent journalism
By registering, you will also enjoy limited access to Premium articles, exclusive newsletters, commenting, and virtual events with our leading journalists
Already have an account? sign in
Join our new commenting forum
Join thought-provoking conversations, follow other Independent readers and see their replies