EU and Turkey reach migrant deal – but delay final decision until next summit
Demands come as leaders meet in Brussels to discuss measures to halt flow of migrants crossing the Aegean Sea to Greece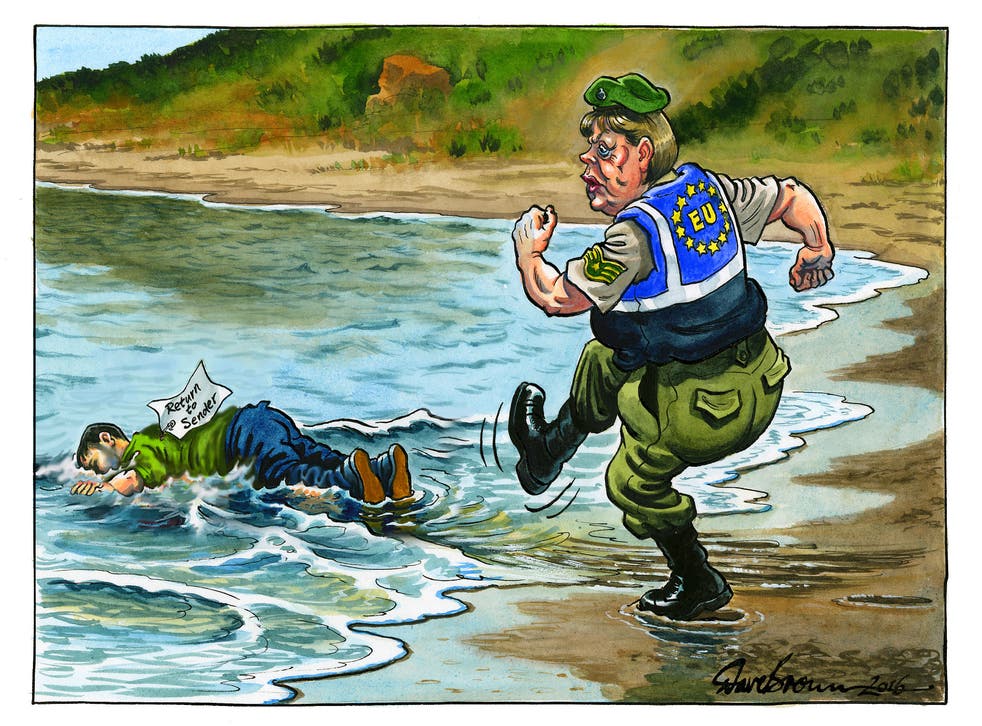 European Union leaders have announced a provisional deal at the close of their summit with Turkey that will see the Europe take in one Syrian refugee for every one the country agrees to take back.
Negotiations in Brussels broke up after more than 12 hours of discussions without a final agreement on the deal, but EU chief Donald Tusk was able to say: "Days of irregular migration to Europe are over."
The leaders faced new demands from Turkey for an extra €3bn in aid – double the previously agreed figure – to help prevent Syrian refugees leaving Turkish soil, that came as EU leaders met in Brussels to try and agree measures to halt the flow of migrants crossing the Aegean Sea from Turkey to Greece.
EU leaders will resume discussions on the proposals when they meet again in the Belgian capital for further summit talks later this month.
But Mr Cameron said a proposal to return all migrants who make it across the Aegean to Greece could provide the basis of a settlement that would finally close the refugee trail through the Balkans.
"It has been a long and difficult evening but I think we do have the basis for a breakthrough which is the possibility that in future, all migrants who arrive in Greece will be returned to Turkey," he said.
"That would, if implemented, break the business model of the people smugglers and end the link between getting in a boat and getting settlement in Europe.
"That is something that I have been arguing for for a year and I think this is significant but only if it is fully implemented and that's what needs to happen next."
The aid would be provided until the end of 2018 to help Ankara shelter the estimated 2.5 million Syrians currently living in Turkey, rather than wave them on towards the EU. It is part of a package, negotiated with Prime Minister Ahmet Davutoglu, that comes with the promise of visa-free travel for Turks wishing to visit Europe by the end of June, at least four months earlier than planned, if Ankara agrees to introduce biometric passports.
It also includes plans for a resettlement scheme under which the EU would admit one Syrian refugee for every Syrian taken back by Turkey from the Greek islands. Turkey would also readmit all "irregular" migrants – those who do not qualify for refugee status – who cross into Greek islands from Turkey.
Mr Davutoglu used the summit to push for an acceleration of talks on Turkish membership of the EU. "Turkey is ready to work with the EU, and Turkey is ready to be a member of the EU as well," he said. He also said Turkey wanted the EU to help establish humanitarian safe zones inside Syria for refugees.
The EU offer came after President Recep Tayyip Erdogan accused it of failing to live up to the €3bn deal agreed last November to help Turkey deal with its influx of refugees. "It's been four months. They are yet to deliver," he said. "My Prime Minister is currently in Brussels. I hope he will return with the money."
Mr Erdogan said Turkey had spent about €10bn on the Syrian refugees living in the camps since 2011, and was struggling to meet the needs of a growing number of refugees.
German Chancellor Angela Merkel said the EU should try to slash the flow of migrants entering illegally "and not just for a few countries, but for all countries. That means for Greece too." She said there had to be a "sustainable solution" that involved protecting the EU's external borders, and "that can only be done in cooperation with Turkey".
However, Hungarian Prime Minister Viktor Orban said the EU should shut its borders to migrants completely because any resettlement plan would only add "fuel to the fire" and cause more people to come. The summit comes three days after the Turkish government's seizure of Zaman, the country's largest daily newspaper. But the EU was careful not to tie the crackdown with Ankara's demands. Prime Minister David Cameron raised concerns about press freedom with Mr Davutoglu during the summit, an official said, noting that he underlined the importance of protections for a free press and human rights.
French President François Hollande added that "co-operation with Turkey doesn't mean accepting everything from Turkey". While EU foreign policy chief Federica Mogherini said that Turkey must "respect the highest standards when it comes to democracy, rule of law and fundamental freedoms".
EU leaders were also wrangling over plans to close the so-called Balkans route, which more than one million migrants have taken over the past year as they have travelled north from Greece to Germany. The route is now effectively closed after Macedonia – backed by Austria, Croatia, Slovenia and Hungary – limited border crossings, boxing in an estimated 14,000 refugees at Greece's northern frontier.
Ms Merkel said she would block any agreement to permanently close borders. Meanwhile, Mr Cameron pledged that Britain would not take part in a planned common EU asylum policy. "We have an absolutely rock solid opt-out from these things, so there's no prospect of Britain joining a common asylum process in Europe," he said.
The Prime Minister was speaking ahead of European Commission proposals – set to be unveiled next week – to take control of asylum claims. "We will have our own asylum approach, our own way of doing things, keeping our borders. It underlines the best of both worlds, the special status that we have," Mr Cameron said.
Additional reporting by Press Association
Register for free to continue reading
Registration is a free and easy way to support our truly independent journalism
By registering, you will also enjoy limited access to Premium articles, exclusive newsletters, commenting, and virtual events with our leading journalists
Already have an account? sign in
Register for free to continue reading
Registration is a free and easy way to support our truly independent journalism
By registering, you will also enjoy limited access to Premium articles, exclusive newsletters, commenting, and virtual events with our leading journalists
Already have an account? sign in
Join our new commenting forum
Join thought-provoking conversations, follow other Independent readers and see their replies