Man who tried to drive pregnant refugee and family from Italy to France prosecuted 'aiding illegal immigration'
Felix Croft was stopped by police as he attempted to drive over border from Ventimiglia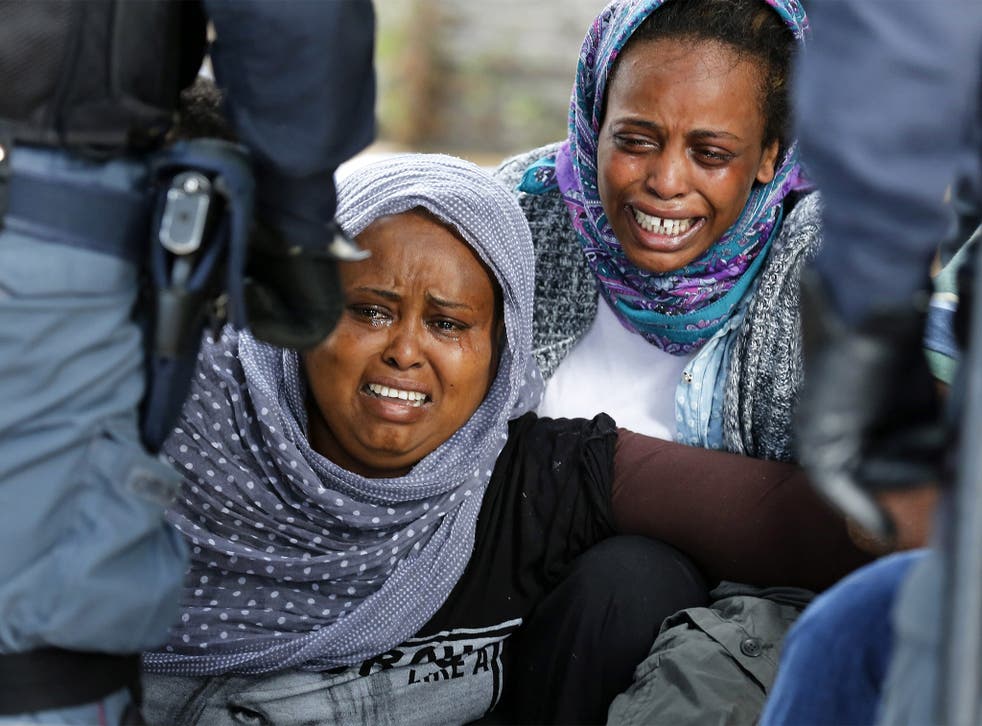 A man who attempted to drive a pregnant asylum seeker and her family from Italy into France faces up to 10 years in prison for "aiding illegal immigration".
Felix Croft was giving out aid in the Italian border city of Ventimiglia in July when he met the woman, who was travelling with her husband, two children and uncle.
Like thousands of other refugees making the treacherous journey to Italy over the Mediterranean Sea, they had reached the French border but been blocked by a heavy police presence.
Italian police struggle to contain Ventimiglia migrants as French accused of foul play
Some reports said the family Mr Croft tried to help were Nigerian, while others said they were from the war-torn region of Darfur.
The 28-year-old told the RFI French public radio service he attempted to take the asylum seekers to his home in Vence because there was no space in the church where they attempted to find shelter, and was arrested while driving along the motorway.
His lawyer, Laura Martinelli, said her client admitted the facts of the case but gave the family a lift "for humanitarian reasons", adding: "This is the first time that a person known to be a volunteer has been arrested, and that the arrest leads to prosecution [in Italy]."
She contended that the law was intended to target organised smugglers who charge migrants for their services, rather than for humanitarian volunteers. The next court hearing is due in Imperia on 16 February.
Another Frenchman, farmer Cédric Herrou, was arrested last month for helping migrants travel through the Roya Valley, near the Italian border in Provence.
The use of anti-smuggling legislation to target volunteers has proved a divisive move for some European countries during the ongoing refugee crisis.
Denmark's High Court upheld a people smuggling conviction for a couple who illegally "assisted" family of Syrian refugees by giving them a lift and a cup of coffee in September.
Refugee crisis - in pictures

Show all 27
Lisbeth Zornig Andersen, the former president of the Danish government's National Council for Children, and her husband transported the group of four adults and two children from southern Denmark to Copenhagen during the height of the refugee crisis in 2015.
They did not believe they had contravened any law, as they had consulted police and stayed within the country, but were prosecuted under the Danish Aliens Act and fined 50,000 krone (£5,700).
Ms Zornig told The Independent the court was "setting an example" as numerous other people smuggling cases progress through the courts in Denmark and elsewhere in Europe.
National law is the primary reference for such cases but a 2002 directive from the Council of the European Union also stipulates that anyone who intentionally assists irregular migrants to "enter or transit across" a country in breach of national law can be prosecuted – particularly those who take payment to do so.
But it says that sanctions can be lifted in cases where "the aim of the behaviour is to provide humanitarian assistance", although the waiver is optional.
A United Nations protocol on migrant smuggling, however, defines the act as exclusively motivated by a "financial or other material benefit".
Almost 10,000 refugees and migrants have arrived in Europe by sea so far this year, with the vast majority reaching Italy after the controversial EU-Turkey deal was implemented last year to reduce crossings to Greek islands over the Aegean Sea.
Join our new commenting forum
Join thought-provoking conversations, follow other Independent readers and see their replies