Refugee crisis: Dozens feared dead in new boat sinking off Libyan coast
EU mission in Mediterranean releases images showing boat in distress
Adam Withnall
Thursday 26 May 2016 13:09 Comments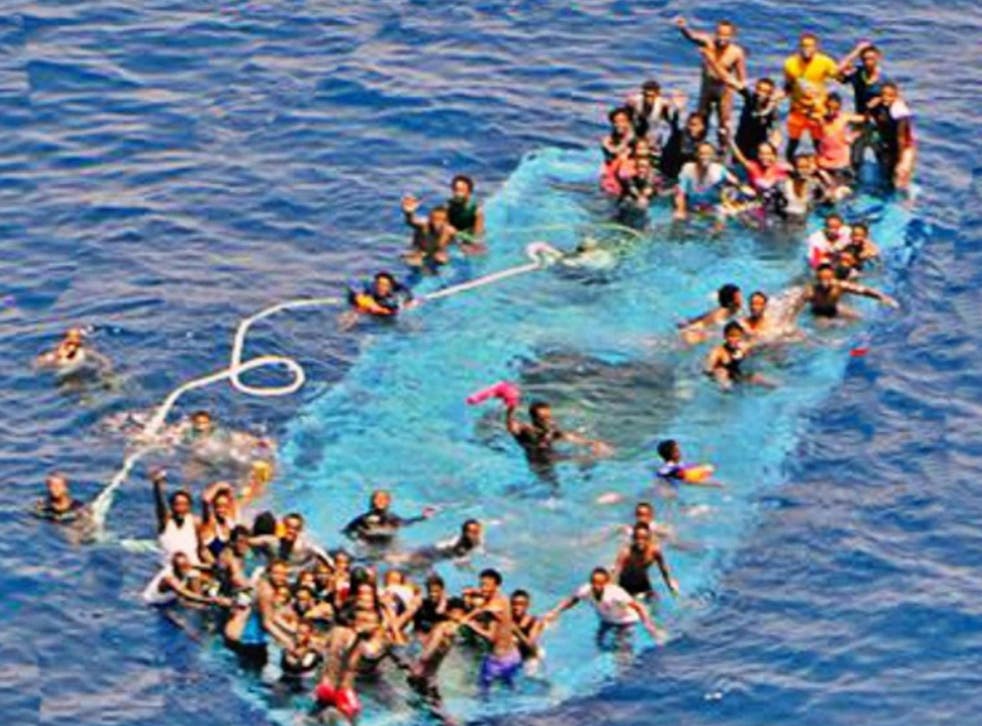 Dozens of refugees are feared to have died after a boat trafficking people to Europe sank off the Libyan coast, according to the Italian coastguard, the second major deadly incident in as many days.
A spokesman said 88 people had been rescued from a capsized wooden fishing vessel by coastguard vessels working as part of the EU mission in the Mediterranean.
Coastguard officials said the exact number of those drowned was unknown. The Italian news agency Ansa, quoting sources at the EU mission, said between 20 and 30 were feared dead, while the Reuters news agency initially reported as many as 80.
The vessel was spotted in trouble around 35 nautical miles off the coast of Libya by a helicopter provided by Luxembourg, EU officials told Ansa.
According to Ansa, a second helicopter, working as part of the EU's Operation Sophia, arrived on the scene on Thursday and threw life-jackets into the water.
A Spanish ship from the EU NavFor Med team, the Reina Sofia, and two Italian coastguard vessels were reported to be in the area.
Moment huge ship full of refugees capsizes
It is the second incident in the same part of the Mediterranean, known as the Sicilian Channel, in two days.
On Wednesday, five refugees drowned and more than 560 were saved after a large fishing vessel capsized, in dramatic scenes captured on camera by the Italian Navy.
Boat arrivals in Italy have risen sharply this week amid warm weather and calm seas, and about 20 rescue operations are currently under way, the Italian coastguard spokesman told Reuters.
Refugee crisis - in pictures

Show all 27
In Libya, a navy spokesman said its own coastguard had rescued 766 refugees in two operations that also took place on Thursday.
Col. Ayoub Gassim told The Associated Press that the rescued migrants were found in two groups: one of 550 near the western coast city of Sabratha and the second of 216 off Zwara.
He also said that two boats were found empty in the area between the two cities, and only four bodies were retrieved while the rest of its migrants are feared dead. He didn't elaborate, saying that he doesn't have enough details about the empty boats.
Altogether, the missions bring the total number of refugees rescued from the Mediterranean to more than 7,000 since Monday.
That's despite a drop of 9 per cent in the number of sea arrivals in Italy this year compared to 2015.
Save The Children said 650 refugees were scheduled to arrive in the Sicilian city of Porto Empedocle later on Thursday, along with the five dead bodies from Wednesday's sinking.
Register for free to continue reading
Registration is a free and easy way to support our truly independent journalism
By registering, you will also enjoy limited access to Premium articles, exclusive newsletters, commenting, and virtual events with our leading journalists
Already have an account? sign in
Join our new commenting forum
Join thought-provoking conversations, follow other Independent readers and see their replies