Refugee crisis: Sweden's mass deportation of asylum seekers 'could strengthen EU migration policy'
European Commission says plans to deport up to 80,000 migrants fit in with EU's wider efforts to build coherent strategy
Leo Cendrowicz
Brussels
Thursday 28 January 2016 22:47 Comments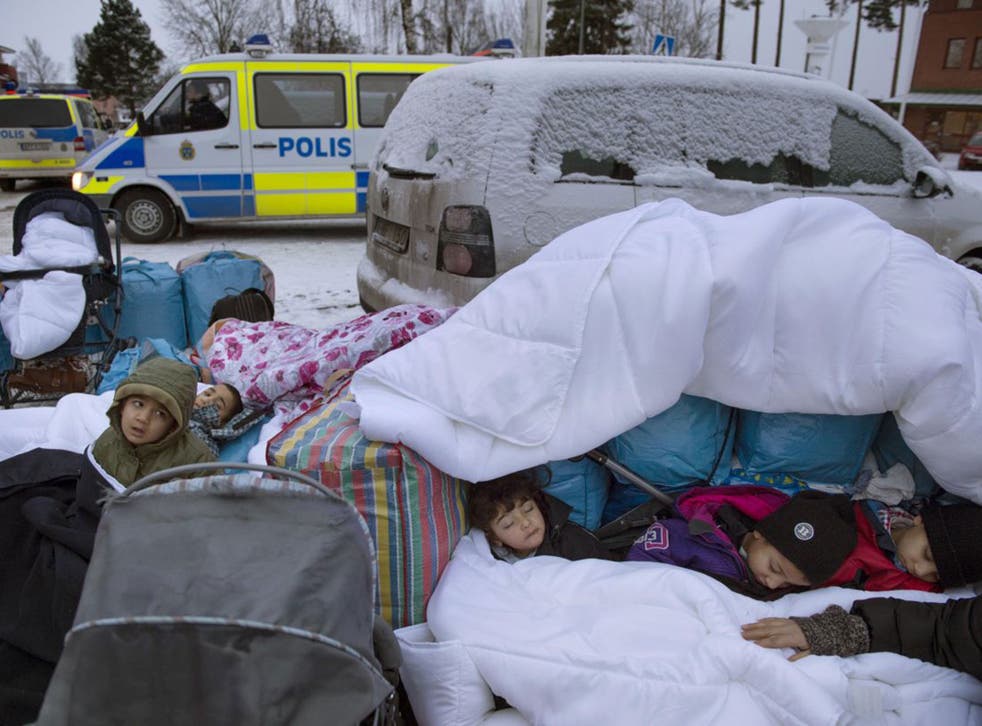 Sweden's controversial plans to deport up to 80,000 asylum-seekers are in line with EU rules and could even strengthen embattled migration policy across the Continent, the European Commission argued yesterday.
Commission officials said the returning of failed asylum-seekers fits into the EU's wider efforts to build a coherent migration strategy that distinguishes between different claims. "Countries are entitled and indeed obliged to return people who are not entitled to stay in the European Union. It is essential to make sure genuine asylum-seekers have their asylum applications processed quickly," Natasha Bertaud, the commission's spokeswoman on migration, said.
"It is a matter of credibility that we do return these people because we do not want to give the impression that Europe is an open door."
Sweden has been the second most popular destination – after Germany – for the nearly one million migrants who have made their way to Europe in the past year. By population, it has taken in more than any other EU country: more than 160,000 people sought asylum in Sweden in 2015, and of around 58,800 asylum cases processed so far, 55 per cent were accepted, the highest acceptance rate in Europe. But arrivals in Sweden have dropped sharply in the wake of tougher border controls, from 10,000 a week last October to 100 a day.
Refugee crisis - in pictures

Show all 27
Sweden's Interior Minister, Anders Ygeman, said chartered flights would be used to send people back. "The first step will be voluntary return, but if that doesn't work, we will need to have returns backed up by force," he said, adding Sweden was seeking deals with Afghanistan and Morocco to accept returned migrants. Mr Ygeman said Sweden still expects 45,000 applications in 2016.
Finland is also preparing similar deportations, but on a smaller scale: it is expected to expel nearly 20,000 migrants out of the 32,000 who sought asylum last year.
While the principle of returning asylum-seekers is in the EU's 2008 Return Directive, this is the first time any member state has announced such a large expulsion. Although most refugees heading for Europe hail from war-torn countries like Syria, Afghanistan and Iraq, there are many from regions considered safe to return to, such as the Balkans.
The deportation plans came as the Netherlands announced an initiative to ferry migrants and refugees arriving in Greece immediately back to Turkey. Amnesty International condemned the Dutch plan as illegal, as it would label Turkey a safe third country despite a record of shackling and beating up refugees.
Register for free to continue reading
Registration is a free and easy way to support our truly independent journalism
By registering, you will also enjoy limited access to Premium articles, exclusive newsletters, commenting, and virtual events with our leading journalists
Already have an account? sign in
Join our new commenting forum
Join thought-provoking conversations, follow other Independent readers and see their replies