Refugee crisis: The map that shows why some European countries love asylum seekers
Population increases and decreases in different parts of the continent is one factor to explain countries' dramatically different responses to the crisis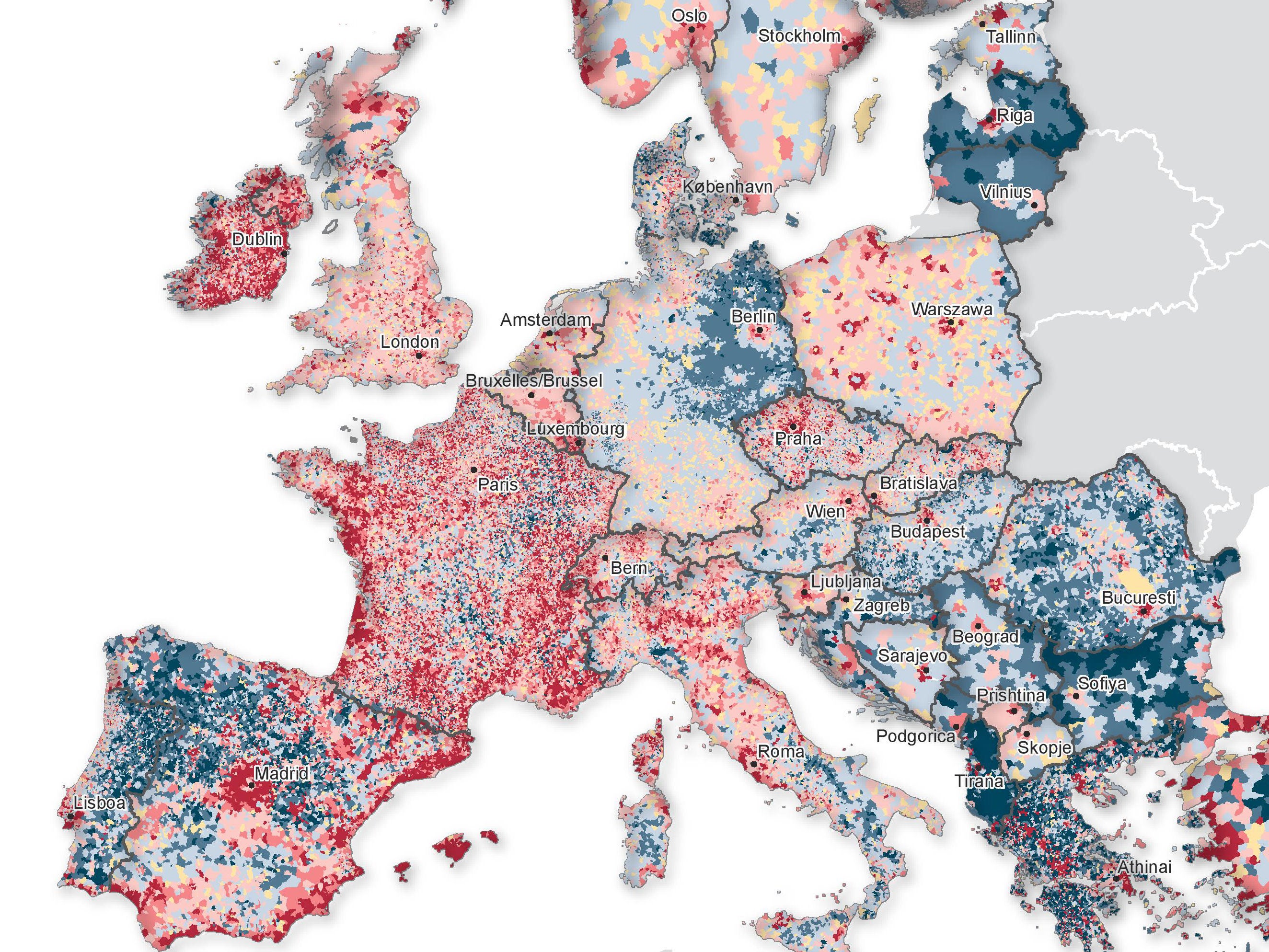 As Europe remains divided over how to distribute hundreds of thousands of refugees arriving this year, an analysis of population growth and decline has suggested one possible reason for countries' drastically different positions.
Germany has been leading the way for taking in asylum seekers fleeing conflict and persecution and expects to welcome 800,000 this year alone.
While Angela Merkel has spoken frequently about the humanitarian imperative to help refugees, calling on all European countries to accept binding quotas, her country also has an economic motive for housing the continent's new arrivals.
For a larger version of the map, click here
According to the German government's Federal Institute for Research on Building, Urban Affairs and Spatial Development (BBSR), the population fell by 1.6 per cent between 2001 and 2011 and that trend was set to continue without immigration.
A map showing areas where numbers are growing and declining across the country reveals a stark divide between east and west, cities and the countryside, with numbers falling fast in the rural east while spiking in Berlin and metropolitan western areas.
Germany's population is also ageing. The Federal Statistical Office predicts that in 2060, only half of the population will be of working age (20-64) and one in eight people will be aged 80 or over.
Over the past two decades, the average age has increased by eight years to 45. In UK, which is also ageing, that number is 40.
"We are a country of immigration. We need people. We need young people. We need immigrants," Interior Minister Thomas de Maiziere told visitors to a recent government open day event. "All of you know that, because we have too few children."
In Sweden, which is renowned for its open policies towards refugees and is one of the top destinations for those arriving in Europe, swathes of the country are also seeing a declining population but concerns over unemployment are rising.
The country's unemployment rate is currently 8.5 per cent, having not gone into double digits for 15 years, but the differences between Swedish-born and foreign-born residents are stark.
Statistics show that 84 per cent of working age Swedes are employed, compared with only 57 per cent of foreign-born people in the same age group.
In graphics: Refugees in the EU
Show all 3
Some analysts are concerned that there are not sufficient jobs for refugees arriving with low levels of education and training in Sweden.
"We have a very modern, knowledge economy," Tino Sanandaji, an economist at the Stockholm-based Research Institute of Industrial Economics, told Al Jazeera English. "There just aren't many jobs anymore for the very low-skilled."
The British Government's reluctance to commit to refugee quotas, despite David Cameron's vow to accept "thousands more" asylum seekers, can also be seen as partly due to demographics.
The population increased by 7 per cent in the decade from 2001 to 2011, with the rise concentrated in urban areas but spread evenly through most of the UK.
Although Britain is ageing, the fertility rate is hovering at a steady 1.8 children per woman, and as economic growth continues there appears to be little need for migrant labour from outside the EU.
The European Commission already forecasts that by 2060, the proportion of the British population represented by migrants arriving after 2013 will be 14 per cent, compared to 9 per cent in Germany.
However, the demographics argument does not extend to much of eastern Europe, where there is little support for welcoming refugees even in counties like Latvia and Lithuania, which saw their populations slump by 10 and 12.5 per cent respectively from 2001 to 2011.
In Hungary, the government is vocally opposed to immigration despite much of the country seeing its numbers decline.
Remarks made by politicians in Budapest suggest the opposition may come from an ideological, rather than pragmatic, stance.
In a recent opinion piece for Germany's Frankfurter Allgemeine newspaper, the Prime Minister claimed his country was being "overrun" with refugees, most of which, he noted, were Muslims.
"That is an important question, because Europe and European culture have Christian roots. Or is it not already and in itself alarming that Europe's Christian culture is barely in a position to uphold Europe's own Christian values?" Viktor Orban asked.
But analysis of statistics from 2010 by Pew Research showed that under 0.1 per cent of Hungary's population was Muslim, compared to 7.5 per cent in France, 5.8 per cent in Germany and 4.8 per cent in the UK.
Mr Orban's announcement came after a prominent member of his ruling centre-right Fidesz party claimed that the "the very existence of Christian Europe" was under threat.
Antal Rogan, the parliamentary group leader, said: "Would we like our grandchildren to grow up in a United European Caliphate? My answer to that is no."
This newspaper has started a campaign for the UK to welcome a fair share of refugees.
Join our commenting forum
Join thought-provoking conversations, follow other Independent readers and see their replies