Refugee crisis: Three stories from Syrians who have made a new life in the West
In the final episode of our series, we catch up on how three people escaping Syria for a better life have coped now they have finally reached their goal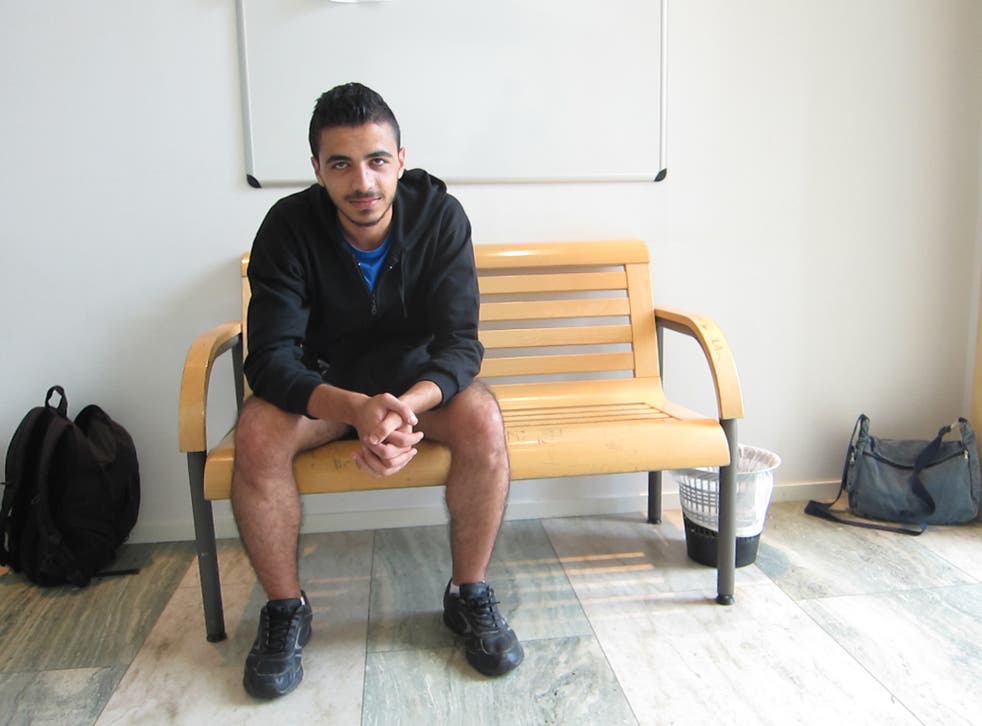 Hofaiza Adl Al Mnin, Sweden
Hozaifa Adl Al Mnin could finally relax this week for the first time since he swam from Turkey to the Greek island of Samos in the middle of August. "It was a challenge," the 19-year-old says with a grin, as he describes negotiating the currents of the mile-wide Mycale Strait. "I was going to go with the people smugglers, the mafia, but I couldn't trust them, so me and my friend, we decided to swim."
After crossing the bridge from Denmark to Sweden and declaring himself to police last Sunday, he spent the next morning milling around the lobby in the Best Western Hotel, Malmö.
In between filling in the necessary forms supplied by the Swedish migration board, Mr Mnin has caught up with Ala, 30, and Aresha, 28, who he met en route while the three were being held by the Hungarian police, and been welcomed by one of his old neighbours from the war-ravaged Tadamon suburb of Damascus.
In graphics: Refugees in the EU

Show all 3
"The Hungarian border is the most dangerous place in the whole journey," Mr Mnin says. "The police have no humanity at all. They are even beating women and children."
He ran away, leaving Ala and Aresha behind. "I escaped, but they were stuck," he says, although the couple, who married 10 days before beginning their trip, escaped unharmed. "It was our honeymoon," Aresha says wryly.
Mr Mnin began to walk from Budapest to Austria along with hundreds of others, but soon realised this would take too long. "There were so many people, women and children – they had no hope," he say. He stopped at a nearby town and simply took a train over the Austrian border. After that, he travelled to Sweden using ordinary public transport. "I went from Austria to here, just with bus tickets."
In the lobby of the Best Western, Ala and Aresha are complaining about the crowded conditions at the hotel, which has served as an emergency asylum reception centre since October. "They are sharing their room with seven Afghans, and they are quite unfriendly," Mr Mnin says. "There's nowhere you can keep your belongings safely."
Mr Mnin hopes his father, mother and brother, who are all now in Turkey, can soon come and join him. "Our house is completely destroyed," he says. "Our area is destroyed."
The university where he was studying accountancy when he left Syria for Lebanon is still functioning, but he does not plan on returning. "If you study there, the army comes and says, 'you should join and defend your country'. But you're not defending [your country], you're just killing people and stealing from them. I can't kill anyone, so I decided to leave."
He had originally planned to come to the UK, but changed his mind after reading about the deaths refugees trying to stow away on trucks and trains through the Channel Tunnel.
He was then encouraged to come to Sweden. "It's a beautiful country with friendly people," he says. "They have human rights here, and human rights at this time are rare to find." (interviewed by Richard Orange in Malmö)
Hassan Ayo, United Kingdom
In a small garden in the suburbs of Coventry, Sozdar Ayo's brothers collect slugs and spiders. The new family home, its garden and medical care at the local hospital came too late for Sozdar. The young Syrian girl, who loved to play guitar and enjoyed the outdoors, died in Turkey nine months ago. She was 14.
With her parents and two brothers, she had survived bombings and a hellish trek across northern Syria after their home town came under attack from Bashar al-Assad's air force. After a year of shifting between refugee camps and tiny rented rooms, Sozdar was diagnosed with a heart condition. She died in December, three days after her parents, Hassan, 47, and Fatima, 42, heard that the family was to be resettled in Britain where a transplant might have saved her.
"We didn't want to be refugees, we just wanted our daughter to be treated," says Hassan. "But the doctors said she was too ill to travel. It was too late. Our suffering started that day." Fatima fights back tears as she scrolls through images of her daughter on her phone. She adds: "She said she knew she was going to die, but she dreamed of dying in England, where she knew her family would be safe."
The remaining members of the Ayo family arrived in Britain in February, after they were accepted under the Home Office Vulnerable Persons Resettlement (VPR) scheme which has brought just 216 Syrians to the UK since the start of the crisis. "We are grateful to Britain. It is the Turkish government we blame for our daughter's death," says Fatima, a schoolteacher who is currently undergoing treatment for lymphoma. "They treated Sozdar like a piece of paper, not a human being."
According to the family, their daughter needed a heart transplant after complications from treatment for appendicitis, but the Turkish authorities, which have taken in 1.7 million Syrian refugees, refused to put her forward for treatment. "Their [the Turkish] excuse was that she didn't have a passport – but she was still a human," says Fatima. "After what she had seen in Syria, she sometimes used to say that humans had lost their humanity. She wanted to play guitar and train as musician. She had big dreams."
The family did not want to leave Syria, where they lived a middle-class life in Al-Hasakah, a city, once, of "lush avenues and ancient Assyrian ruins". But when the Free Syrian Army occupied their neighbourhood in late 2012, the regime responded with aerial attacks. "At first, we got used to the bullets and the fighting," says Hassan. "But then the planes started bombing us. We never knew if we were safe. It was indiscriminate. We could not be safe."
In Bradford, north of the Ayos' new home, another Syrian family are also reluctant arrivals in the UK. Ayham, a 20-year-old student, was forced flee to Egypt with other family members after his father died in the conflict and his younger brother was diagnosed with leukaemia. "The day after we landed at Leeds airport, my brother was given a hospital appointment," he says.
A year later, his family are all frantically learning English and Ayham, who wants to retrain as a doctor in order to "rebuild Syria", has taken a job at a local restaurant. He is grateful but angry. "That Great Britain, with all its economic wealth, has done so little for refugees is a joke, like a sick joke."
The two small families in Coventry and Bradford make up almost 5 per cent of all the Syrians welcomed to the UK under the much-criticised VPR scheme. The citizens of Coventry at least can be proud: the city has taken 107 of the 216 Syrians given sanctuary by the Home Office.
As a volunteer for the Coventry Refugee and Migrant Centre, Mr Ayo hands out leaflets in the city centre most weekends and today is planning a vigil for Syria. "We are thankful to Britain and we are thankful to Coventry," he says. "It is a city of sanctuary. The people here suffered in the Second World War, so they understand some of our experience, but the rest of Britain must do more. It can help more than a few hundred or a few thousand Syrians a year."
For her part, Mrs Ayo is trying to look to the future for the sake of her two boys, Zerdsht, 14, who is undergoing treatment for diabetes, and Zana, 9. "What's important now is the future for them," she says. "We [are] in mourning for Sozdar, but now at least we can have a little hope. She would be happy if she could see us here in the garden." (interviewed by Jamie Merrill in Coventry)
Murad Abdul, Germany
In the early hours, Murad Abdul was still waiting for the train that would bring his relatives to Germany. The 30-year-old Syrian Kurd had not seen them in a decade.
When the last train pulled into Munich station, police barred Mr Abdul and other waiting Syrians from entering the platform. Mr Abdul jumped up and down, waved, and called out the names of his loved ones. Another Syrian began lashing out at police, shouting that his mother was on the train and he needed to see her. To the waiting Syrians' frustration, the new arrivals were immediately herded on to another train, as Munich was overcrowded. But Mr Abdul stayed calm even when that second train left the station. He later thanked police for their work, shaking his head at the other Syrian's outburst.
"It's bad, insulting police like that," he said afterwards. "Everyone here is helping us. I always say, Germany is my mother and my father. When I came here, Germany gave me food, it gave me somewhere to sleep."
Germany's Syrian community has been crucial in welcoming and supporting the new arrivals. They are less visible than the cheering crowds of Germans with hand-painted banners who greet the refugees when they step off the trains. But they are still at the station late at night, in the cold, when most of the cheerers have departed.
Often fluent in German, they act as impromptu interpreters, help the newcomers with logistics, and, in Mr Abdul's case, scan the flow of people for the faces of their own long-lost relatives. They also offer a glimpse of what may lie ahead for the many hopefuls who emerge from the trains with dreams of a bright new life in Germany.
Mr Abdul has been living in Munich for about a year. But the journey that brought him here was more complex than for most. He fled his home in the town of Afrin in northern Syria long before the war, almost a decade ago, and took the boat from Turkey to Greece, where he stayed for about eight years.
"The Kurds in Syria have always had problems," he said. "We were having problems with the Arabs, now there are problems with Daesh [Isis]."
In Greece, he led what he described as a semi-legal existence, surviving on odd jobs such as working in restaurants and painting houses. But when the economic crisis hit Greece, work dried up. About a year ago, he decided to go to Germany, where he was granted asylum.
The refugee crisis - in pictures

Show all 70
The escape to Europe is expensive, and while Mr Abdul lived in Greece, most of his relatives were still in Syria. But as the crisis worsened, the family pooled their money to enable more members to make the trip to safety. Mr Abdul's brother is currently in Turkey. He sent his wife and two small children ahead to Germany. One of the children is five years old, the other only eight months. Mr Abdul has never met them. They and two cousins were the relatives he was waiting for at the station. They had called from Hungary on Saturday, saying they were on their way to Germany. Mr Abdul started to wait.
On Monday morning, he had still not heard from them. Other Syrians living in Munich fretted that their relatives had been sent to faraway cities such as Dortmund, where they might feel isolated and without support. The man who had lashed out at police on Saturday night, for example, had screamed that his mother would be lost and helpless in Germany without him. He had not heard from her in 20 days, and had feared that she might have drowned in the Mediterranean. Then he caught sight of her on the platform in Munich – behind a police cordon, far out of reach. His rage and pleas to be allowed through to greet her were met by police with a stoical: "We've been told not to let anyone through."
Mr Abdul, on the other hand, was not worried, even as the days passed without a sign from his relatives.
"Maybe they're in Dortmund, maybe they're somewhere else; the important thing is that they're safe," he said, knowing he was slowly reuniting his scattered family.
A few days ago, Mr Abdul's elder sister arrived on one of the Munich trains with her four-year-old child. She is now living in a refugee shelter, about an hour away from Mr Abdul's home. Their parents are still in Syria, but are too frail to travel. His father had a stroke, and is partly paralysed. His mother is sick.
Mr Abdul said that while he missed his parents and was looking forward to having more relatives in Germany, he was keen to integrate into German society. Given that he has been in the country for only a year, his German is impressive. He has been working as a taxi driver and in restaurants, but wants to train as a car mechanic, and find a local girlfriend to improve his German further. He is keen to emphasise the positive side of his experience, and his gratitude to Germany. Even when asked about the boat trip that first brought him to Greece – which for many refugees remains a terrifying memory because they cannot swim, the sea is dangerous and the boats are often overcrowded – he smiled and said proudly: "I was not afraid! I'm a good swimmer."
On Monday afternoon, he finally received the call he had been waiting for. His relatives had indeed been on that night-time train he watched from the far end of the platform. They sent him photos of their journey. Like many refugees, they had been documenting each stage with their smartphones. There was a picture of his five-year-old nephew sitting on the railway tracks; one of his sister-in-law, her baby and his cousin by the sea; one of his cousin walking along the tracks. He was not sure where exactly each picture had been taken. What mattered was that they had all reached their destination.
"They are all in Dortmund," he said. "And they are well." (Interviewed by Sophie Hardach in Munich)
Join our new commenting forum
Join thought-provoking conversations, follow other Independent readers and see their replies