Turkey agrees to take back Europe's unwanted refugees – in return for visa changes, EU membership talks and €6bn
They argue the route remains open for Syrian and Iraqi refugees, and therefore should not be declared closed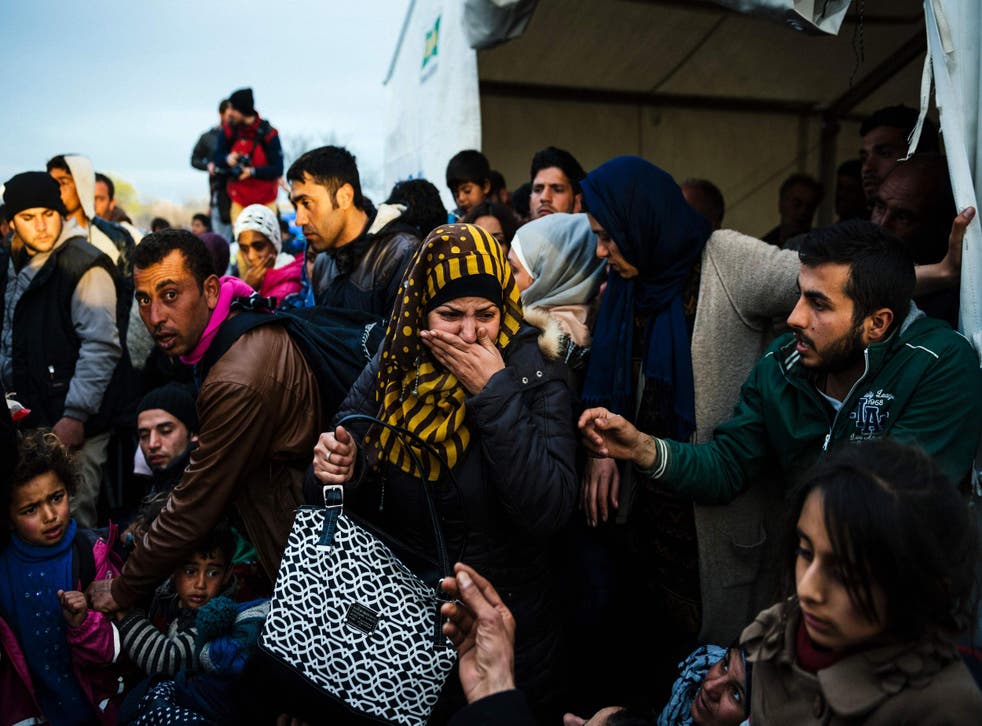 Turkey and the EU are squabbling over the terms of a deal to help ease Europe's growing refugee crisis.
At a summit in Brussels, the European Union's 28 leaders offered Turkey €6bn as they desperately try to send back thousands of refugees and end an influx of more than a million people since early 2015 fleeing war and poverty in the Middle East and beyond.
In a draft statement prepared for the talks, seen by The Associated Press, the EU said it will pursue "comprehensive, large scale and fast track returns to Turkey of all irregular migrants not in need of international protection".
It is thought they have agreed to give Istanbul €6bn over the next three years, twice that offered in November.
Turkey, which is home to around 2.75 million refugees already, raised the stakes in response, demanding accelerated membership talks and faster visa-free travel for its 75 million citizens.
One source said Ankara was seeking €20bn, rather than the €3bn offered by the EU.
And although Prime Minister Ahmet Davutoglu insisted the country was "ready to work" with the EU, messages from Turkey have been mixed with President Recep Tayyip Erdogan, who is not at the summit, refuting claims Turkey is encouraging the migration of refugees from its own borders to Europe and accused Europe of failing to deliver money that it had previously promised,
"We are not sending them. They are going (to Greece) by sea and many of them are dying. We have rescued close to 100,000 from the sea. Others are puncturing their boats and causing their deaths," Mr Erdogan said.
"They promised to give us €3bn, four months have passed since then," Erdoğan said. "The prime minister is in Brussels right now. I hope he returns with that money."
Refugee crisis - in pictures

Show all 27
The draft proposal of an agreement between the two sides was seen by Reuters on Monday and sets out the following committments:
Turkey will:
1) Readmit expeditiously all irregular migrants crossing into the Greek islands from Turkey without prejudice to Turkey's current commitments under international law. This readmission process will be for a temporary period and only for humanitarian purposes.
2) For that purpose, station, in agreement with the Government of Greece, adequate number of immigration and liaison officers in the established "Irregular Migration Monitoring Units" mainly in Lesvos, Chios, Samos, Leros and Kos to help facilitate processing of readmission cases.
3) Effectively implement all appropriate administrative and legal instruments to serve above stated purposes, including in the bilateral arrangements that will be put in place in agreement with the Government of Greece.
4) Effectively cooperate with the EU as well as the UNHCR to ensure expedited resettlement in spirit of burden sharing of Syrians to the EU member states, based on the formula of "for every Syrian readmitted by Turkey from Greek islands, another Syrian will be resettled from Turkey to the EU member states."
5) Effectively implement projects, submitted by Turkey and decided upon by the Refugee Facility Steering Committee; and cooperate with the EU member states in any joint endeavour to establish humanitarian safe areas inside Syria.
The EU will:
6) Evacuate completely refugees from the Greek islands and readmit only those, who crossed into the islands after a date to be determined.
7) Cover the cost incurred [in the Readmission process.]
8) Referring to Point 5 of the EU-Turkey Statement of 29 November 2015, instead of October, Adopt and implement a relevant EU Council Regulation to realize the lifting of visa requirements for the Turkish citizens in the Schengen zone, by latest end of June 2016, based on an accelerated roadmap, dedicated support and in conjunction with the Readmission Agreement.
9) Effectively and expeditiously resettle Syrians from Turkey based on the formula referred to in Article 4 to balance on a monthly basis, and cooperate with Turkey in any joint endeavour to establish humanitarian safe areas inside Syria.
10) Prepare for the decision on the opening of new chapters (the accession of Turkey to the EU)
11) Expedite and facilitate the transfer and disbursement of the Refugee Facility for Syrians and decide upon an additional facility of Euro 3 billion until the end of 2018.
12) Review progress jointly with Turkey on monthly basis, including on mutually agreed appropriate locations.
Earlier in the day, German chancellor Angela Merkel and the European Commission president Jean-Claude Juncker tried to change the wording of an EU statement declaring the refugee route through the Western Balkans is "closed".
They argued for the route to remain open for Syrian and Iraqi refugees, and not be declared closed, German news channel NTV reported.
A draft EU statement, seen by Reuters, said: "Irregular flows of migrants along the western Balkans route are coming to an end; this route is now closed."
Martin Schultz, president of the European Parliament, appeared to support their stance.
According to The Guardian, he said: "I don't believe that this is a summit in which doors will be closed. I hope that we can find a sensible and humanitarian solution for refugees who desperately need our protection."
EU leaders are holding a key summit with Turkey, aimed at preventing a repeat of last summer's influx of refugees.
Turkey insists it maintains an "open door" policy towards Syrians, but human rights groups say only those with serious or urgent medical conditions have been allowed to cross in the last year.
David Cameron told reporters Britain has "an absolutely rock-solid opt-out from these things so there is no prospect of Britain joining a common asylum process in Europe".
He added: "We will have our own asylum approach, our own way of doing things, keeping our borders. It underlines the best of both worlds, the special status that we have."
Additional reporting by PA
Join our new commenting forum
Join thought-provoking conversations, follow other Independent readers and see their replies