Inside the incredible school teaching refugee children on the Greek island of Chios
Child refugees in Greece have missed 18 months of their education on average, with one in five never having been to school. But on one island, a Swiss organisation has stepped in to fill the void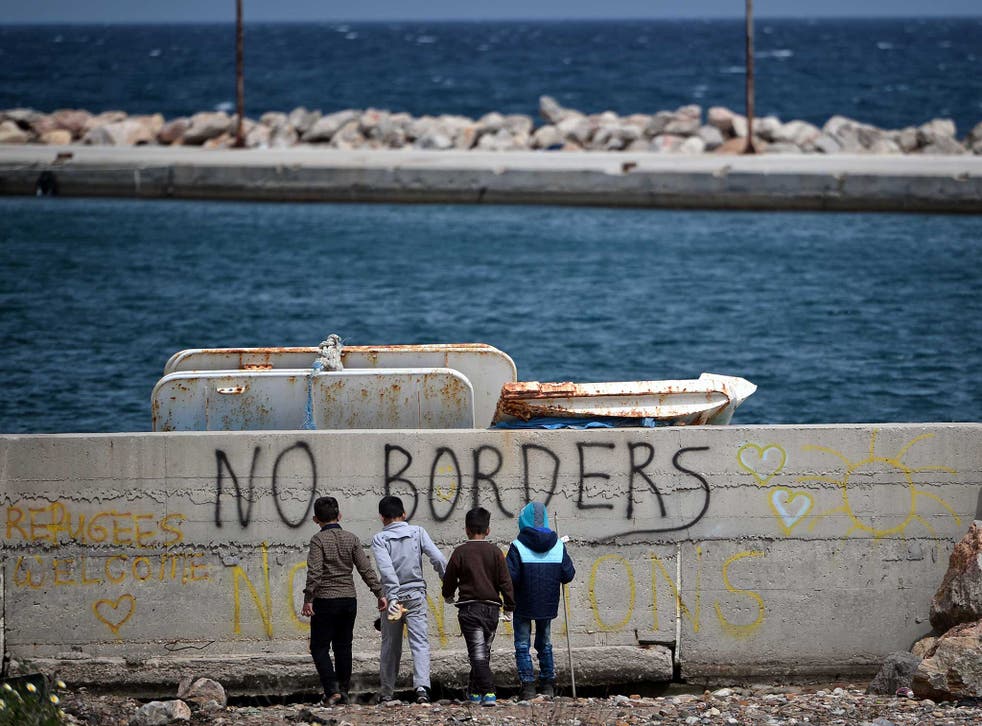 Walking two abreast and hand-in-hand, a line of children cross the municipal gardens in the island town of Chios, Greece. As the line snakes through the narrow streets north of the square, shopkeepers come to their doors as they pass by. Children and locals exchange good mornings.
For many of them, those "kalimeras" are their first experience of a new language, the language of a new home – though how long they'll be here is anybody's guess. The children are refugees, and thanks to the efforts of Be Aware and Share (BAAS), a small Swiss NGO, they now attend a 'school' unlike any other in the country.
Many of these children have been on Chios since March, living in one of two makeshift camps nestled under the port town's medieval walls. Physically, the camps are as close as could be to the centre of island life, but the sense of two distant worlds existing side-by-side is inescapable.
Nicholas Millet is one of the project's founders and now a member of the BAAS team. He describes their morning walk as "the most positive interaction the children have had with Greek people". "Its an amazing connection for them, and a kind of positive reinforcement," he says.
The project began in late May, welcoming 40 children in its first week. By the end of the second week, they had welcomed 120. Every pupil attends two lessons a day, as well as a "project" class, which can be "anything from art, to gardening, to how to brush your teeth".
According to research conducted recently by Save the Children, child refugees in Greece have been out of school for an average of 18 months, with one in five of those never having attended a school. Chios is home to more than 700 children under eight, and almost 400 between eight and 17.
The project organisers are clear that their work is no substitute for a formal education. But, following on the heels of the launch of Unicef's 'Education Cannot Wait' initiative, the project is already reaping important rewards for both the children and their community. "We're trying to provide structured activities for children, so they can see the basics of what it would be like if they went to a school," they say. "We're not trying to be a school."
To look in one of of the classes, however, you'd be forgiven for thinking they were doing a good impression. The morning's classes, for six to 10-year olds, are taught by two Syrian couples, formerly primary school teachers in their homeland. The children are enthusiastic and polite, and the school's popularity is only growing. "They're engaged, they're very engaged," says Millet, "and we get new kids joining, older kids who didn't come before."
"The kids have clearly shown signs of progression. In terms of their English language, the way they behave, they're developing at a very quick rate. In the mornings, they're always so excited. They're queuing up and waiting for us before we even get there. And you can walk around the camps later on and see them doing their homework."
These have been difficult months for Chios, a small tourist destination at the EU's southeastern frontier. After a year and a half in which more than 150,000 refugees have passed through the island on their way to the mainland, around 3,000 have been unable to leave the island since the EU-Turkey deal in March.
Tensions have run high at times amongst a population unable to travel and unable to work, and living in hot and overcrowded conditions. Volunteers and local officials agree that the project has been a vital pressure valve.
The other Alan Kurdis: Refugee children who survived the journey

Show all 8
Litsa Arsenopolou, head of the Department for Migration and Social Integration, acts as the go-between for the NGOs on Chios and the national authorities. Speaking to The Independent in a personal capacity she was clear that "the life of the refugee population has definitely been improved" by the project. "There was a need for the children [on Chios] to be occupied," she says. "Some had never been to school before, so it's good for them to see how a school community works."
Millet agrees. "It's been amazing for the parents," he says. "Many of them have been sitting here for months, watching their children doing nothing, every day. And for many of them, their children are the reason they left their home in the first place. Maybe some of them were starting to feel like they'd failed in their duty to their children."
Youth Centre
Last month, the project expanded to offer lessons to the island's third refugee population, residents of a high-walled registration facility further inland, as well as a youth centre for teenagers and young adults.
Overseeing the youth centre is Bastien Seelhofer, another founding member of the project and formerly a social worker in Bern, Switzerland. "I want to make it their home," Seelhofer says of the youth centre, "a space where they can come and talk about their situations, their problems, without feeling pressure from officials, or from their parents.
"They might leave the island in two or three months, so we want to use this time to help them grow up, and to learn about the world, like what kind of cultures do we have in the world? What kind of religions? The difficult thing is the kids between 16 and 18. There's a lot of troublemakers in that age group, and they've developed a kind of gang with some of the young adults." That 'mafia' element was blamed for a fire in the camp in June, which destroyed a communal sleeping hall. "Every family and every teacher is scared of them, because they're still living in the camp," he says.
Seelhofer notes that security has not been increased "at all" in the camp since that incident. "I want to protect my kids, and my volunteers and my school, so we can't start with them in normal lessons, and this is why I wanted to start the youth centre," he says.
After two weeks, 75 teenagers and young adults have joined the youth centre, attending twice a week for classes including communal cooking workshops. Teenagers and volunteers go to the supermarket together, cook together, and sit down to eat together. "It's an amazing bit of normality for them, and a chance to show their skills too – some of them are trained chefs," says Millet, who describes washing dishes with an Iraqi teenager. "He turned to me and said 'I used to do this with my mum'."
That normality, the organisers hope, offers an alternative to teenagers who are "young, vulnerable, and could turn to crime". "They've got something to do now," says Millet, "some of the kids have pretty busy days!"
'An oasis in a desert'
Its founders are not the only ones to recognise the project's importance. One of the island's deputy mayors called the school "the most positive thing that's happened on this island in months", while a visiting delegation from the European Commission was similarly impressed.
Seelhofer recalls that Margaret Tuite, the European Commission's Co-ordinator for the Rights of the Child, was shocked when she observed minors and single men sharing sleeping containers in the camps. The school, she told Seelhofer, was an "oasis in a desert". "The only positive thing I've seen all day," she said.
In June, Millet travelled to Brussels to attend an informal meeting at Tuite's invitation. He said: "I used the opportunity to talk about the situation in Chios, why the school was needed, but also how we shouldn't be the ones trying to do this – the situation shouldn't be there in the first place. These kids are stuck on this island, there's no protection, there's no support. Our school was an emergency response."
That emergency response now regularly teaches around 120 children per week, welcoming new pupils while some move with their families to Athens, to continue their asylum application. But for all that the project is a powerful force for good on the island, for Millet and Seelhofer, the success of their project is bittersweet.
"Children and unaccompanied minors are not the EU's priority," says Millet. "I came away from Brussels thinking nothing is going to change here. The kids will stay stuck here, and their protection will remain as bad as before. And that realisation reminded me why our project is so important."
For BAAS, the ambition is to put these children in a position to enter mainstream education at the next intake. "We're hoping that these kids will be, by law, in school by September," says Millet. "These kids have a right to a normal education, they shouldn't be neglected. It's something that, eventually, the state is going to have to take responsibility for."
Join our new commenting forum
Join thought-provoking conversations, follow other Independent readers and see their replies