More than 240 refugees feared drowned in the Mediterranean after rubber boats capsize
Spanish aid charity's boat remained patrolling sea looking for possible third boat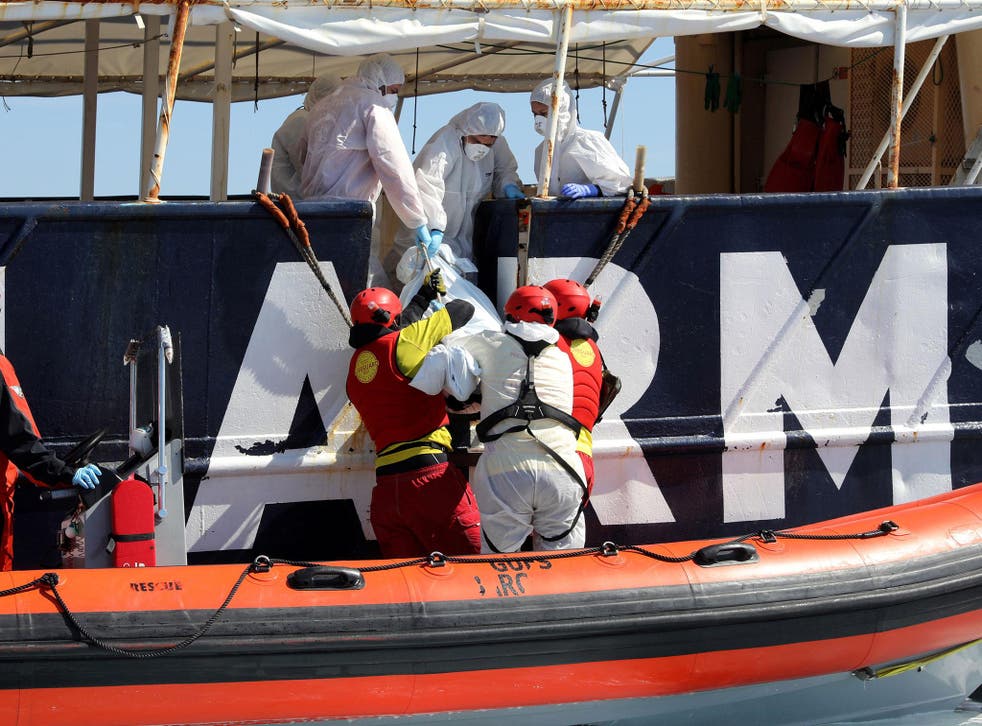 At least 240 refugees and migrants are feared to have died after two boats capsized in the Mediterranean.
Proactiva Open Arms pulled five bodies from the waters off the Libyan coast after at least two rubber ships sunk into the sea.
But the Spanish aid organisation believes hundreds more could be drowned because each giant dingy is often packed with as many as 120 people.
Already 559 deaths have been recorded in the Mediterranean so far this year, according to the International Organisation for Migration (IOM), and about 5,000 were recorded for the whole of 2016.
More than 500 migrants were rescued in a single day in the Mediterranean by Italian coastguards in January, and more than 200 refugees died making the crossing in the first fortnight of 2017.
Refugee crisis: More than 500 migrants rescued in single day in Mediterranean Sea
"We brought on board five corpses recovered from the sea, but no lives. It is a harsh reality check of the suffering here that is invisible in Europe," the group wrote on Facebook.
Spokeswoman Laura Lanuza also said each boat usually holds 120 people.
An Italian coastguard spokesman confirmed the five bodies – who were all of African origin and between 16 and 25 years old – were on board Proactiva's former fishing trawler ship; the Golfo Azzurro.
The ship was still in the area looking for a third boat – about 13 miles north of the Libyan town of Sabratha – last night.
OIM spokesperson Flavio Di Giacomo said it was still investigating whether some migrants on the boats had already been rescued by the Libyan coastguard.
A rising number of migrants are attempting the perilous crossing into the continent after a deal between the European Union and Turkey to largely shut down a route via Greece.
The IOM says more than 20,000 refugees and migrants have arrived in Italy in 2017 alone. This compares with fewer than 19,000 arrivals and about 350 deaths in the first three months of 2016.
"We have yet to complete March, and we are already racing at a pace of arrivals that has exceeded anything we've seen before in the Mediterranean," said IOM spokesman Joel Millman, earlier this week.
"This is typical of spring, getting very busy, but it's not typical to have the numbers be so high this early and the corresponding deaths that go with it."
Register for free to continue reading
Registration is a free and easy way to support our truly independent journalism
By registering, you will also enjoy limited access to Premium articles, exclusive newsletters, commenting, and virtual events with our leading journalists
Already have an account? sign in
Register for free to continue reading
Registration is a free and easy way to support our truly independent journalism
By registering, you will also enjoy limited access to Premium articles, exclusive newsletters, commenting, and virtual events with our leading journalists
Already have an account? sign in
Join our new commenting forum
Join thought-provoking conversations, follow other Independent readers and see their replies