The lost childhoods on Britain's doorstep: How growing number of families are waiting in tents to attempt dangerous Channel crossing
Rise in young children living in smuggler-controlled camps close to coast as 'sheer desperation' leads to surge in attempted sea crossings from Calais to Dover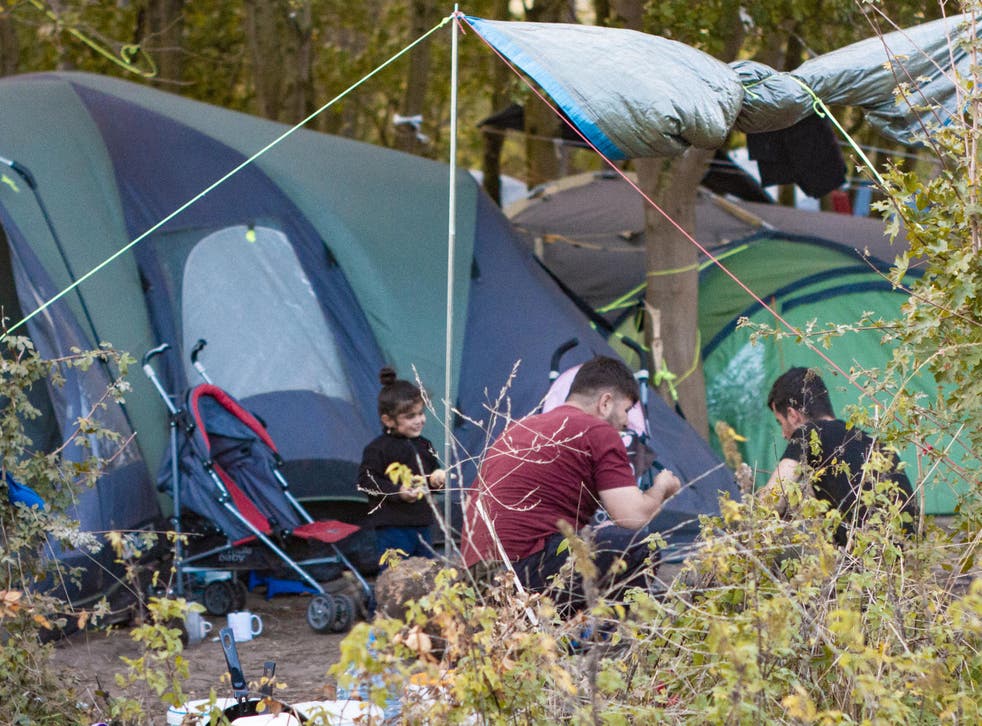 A three- and four-year-old brother and sister scuttle around together on a patch of grass. At first glance they are a pair of happy children playing. But on closer observation, their skin is dry and their hair unwashed. Their clothes are dirty. The boy has a large wound on his forehead reaching to the side of his left eye and the girl has a swollen sore on her right cheek.
The Kurdish siblings are among hundreds of refugees sleeping rough in a woods in northern France in makeshift camps controlled by smugglers. Along with their parents, they are among a growing number of families enduring the cold temperatures so they can leap into the back of lorries or set sail in small boats in attempt to cross to Britain.
French maritime police say there has been a surge in attempted boat crossings, with 28 vessels holding an estimated 195 people having set sail from the French coast in October and November.
The Home Office refused to give figures on how many people had arrived in the UK this way, but the Royal National Lifeboat Institution (RNLI) said there had been a sudden increase, with around a dozen boats arriving in the past week alone – a number of which included young children.
Charities in northern France warned that the number of families sleeping rough in Dunkirk had risen sharply over the summer, with dozens more people arriving with their children. In recent months, French police are said to have begun raiding the makeshift camps and confiscating items, including tents and sleeping bags, in a bid to prevent any form of permanent settlement.
Police have also carried out a number of large-scale evictions, ordering people out of their tents and onto buses to be taken to accommodation centres in nearby towns. But charities said a lack of support and information for claiming asylum once they arrive in the centres meant families were returning to the woods within weeks or even days.
Currently, there are approximately 500 refugees in the main settlement, known as Grande-Synthe, including around 20 large families, with more expected to be sleeping elsewhere.
Saman, the father of the two young children, carries his third child – a baby who was born three months ago in a Greek refugee camp. The 30-year-old left his village in Iraq with his wife and children six months ago when they became subject to persecution. He explains that his eldest child's head wound was the result of the reckless driving of a smuggler who was taking them to the Greek border, and his daughter's facial sore is caused by a contraction of impetigo.
"My children are scared. They are traumatised. I worry for them. We have no family in Iraq. We left because we were in danger of being killed. We had lots of problems in Kurdistan. The problems have followed us here," he said.
"We have tried to make it in a lorry but had no luck. It's not clean here. And you never know when police will come. There are knife fights, it is dangerous. We had money in Kurdistan, a house, a job. I worked in a bank. It's no good here."
Josh Hallam, field manager for Help Refugees, said police hostility against refugees had reached new heights, with officers setting about to make living conditions worse for families in a bid to get numbers down.
"The police have started using this strategy of repeatedly coming into the camps and taking possessions, including tents. There's a constant repetitive police presence which we haven't seen in Grande-Synthe before," he said.
"There is an absolute zero-tolerance on any 'fixation point'. They constantly keeping people moving and making sure they have no stability, not even the limited stability that a tent provides. It's been below freezing at night and people have been requesting blankets desperately."
Mr Hallam said that the "sheer desperation" of refugees in the winter months led to a growing number taking "huge risks" to get across the Channel, an issue exacerbated by people smugglers who charge anything from £3,000 to £10,000 for a place in the back of a lorry or on a boat.
He added: "There's clearly a human trafficking and smuggling presence there. And whenever there's desperate people and a prohibition there will be people trying to exploit people for that, and it's really sad.
"There's a lack of appropriate and authoritative information for governments and actual bodies that could bust these myths about the situation and help people access legal routes of travel. The vacuum is filled by people who are really exploitative and dangerous."
One volunteer, with the Women's Centre in Dunkirk, said that although most attempts to get across to the UK illegally were unsuccessful, some managed to make it across, encouraging others to try.
"Families do get across, but not often. In the last two weeks, two families have contacted me personally to say they've crossed, but that's out of the 150 we have track of," she said.
"Information going around the camp is controlled by a group that has a clear goal – making money. And this might lead to misinformation and rumours being spread much more quickly. But people do see them as helpers, and they feel they would have no way of reaching the UK without them, so it's a double-edged sword."
Asked why families were so adamant on going to Britain, she said: "Often people have family in the UK, often who they haven't seen in years. Brothers, sisters, really close family.
"Or they speak English, so they believe their job prospects are much better in the UK. Or they have bad experiences with the police in France, so it creates the assumption that France is a bad country for refugees to settle in."
Join our new commenting forum
Join thought-provoking conversations, follow other Independent readers and see their replies