'Today refugees, tomorrow terrorists': Eastern Europeans chant anti-Islam slogans in demonstrations against refugees
The EU wants Poland to accept 12,000 refugees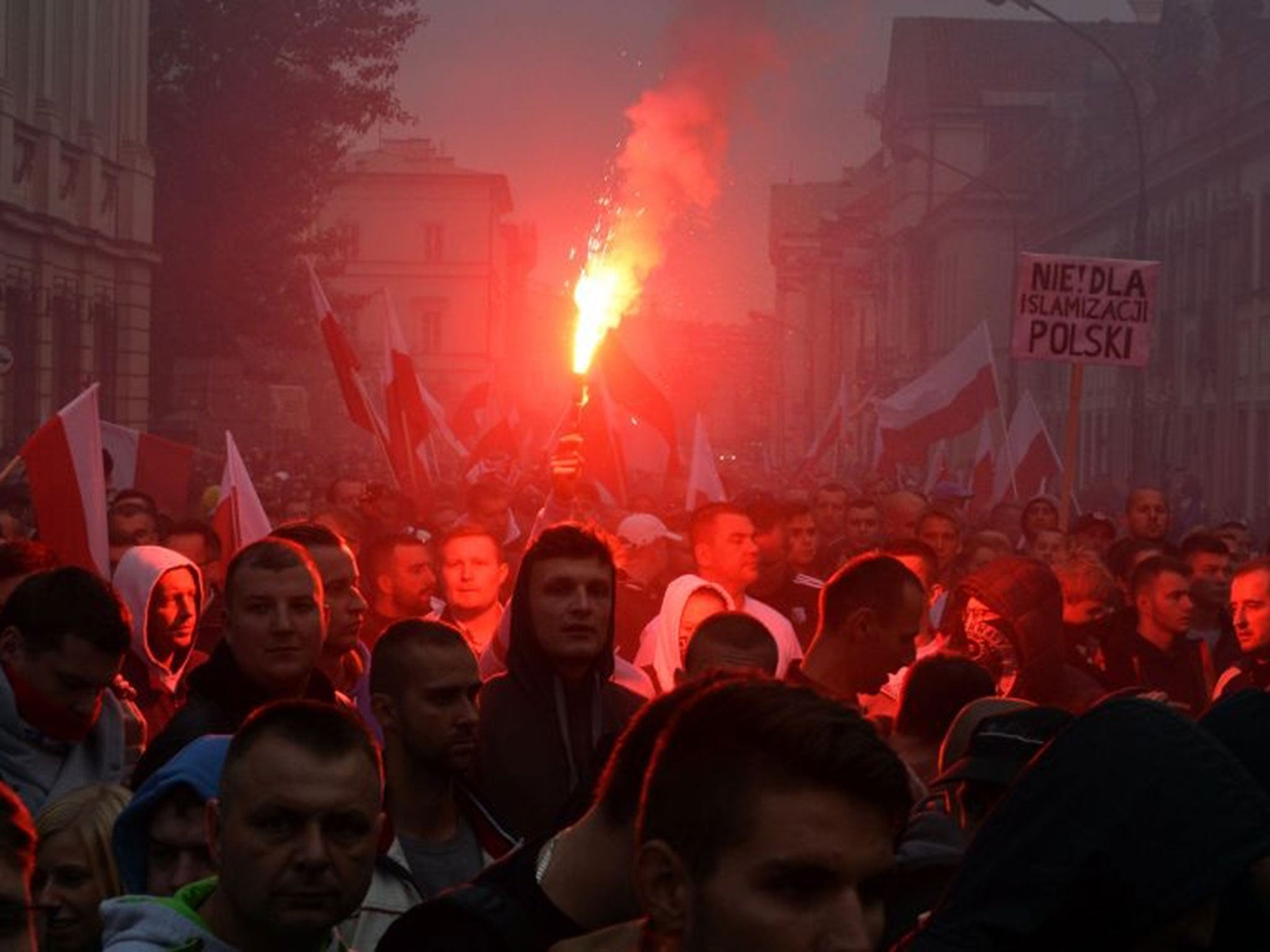 Thousands of protesters have gathered in several Polish cities, as right-wing groups rallied against plans to resettle refugees in Europe while counter-protesters marched in solidarity with those seeking safety.
Around 10,000 right-wing protesters clutching the national flag assembled on the streets in the capital of Warsaw on Saturday, and chanted slogans including "Today refugees, tomorrow terrorists!" and "Poland, free of Islam!".
Police in riot gear watched over the crowds as some lit flares, however there were no reports of violence.
Miroslaw Kadziela, 24, who was among those at the protest, told an AP reporter: "The refugees are threat to our culture, they will not assimilate with our society."
Elsewhere in Warsaw, a few hundred people at a pro-refugee rally played music and held banners aloft reading "Refugees, Welcome", with similar rallies being held in Gdansk, Krakow, Poznan and Szczecin.
EU leaders have suggested that Poland should accept 12,000 refugee as part of a proposed quota system. Warsaw has agreed to take in at least 2,000 refugees within two years, but has said it cannot welcome economic migrants.
Read more:
Germany to 'reintroduce border controls'
Theresa May under pressure to increase number of refugees in UK
Hungarian government accused of acting like the Nazis
Munich has run out of space for refugees, says mayor, as crisis pushes German city to 'the limit'
Lech Walesa, the leader of the Solidarity freedom movement in the 1980s, recently became the latest politician to pledge to host refugees at his home.
Gniewino, a county near the Baltic Sea coast, has become the first place in the nation to offer to offer jobs to three Syrian families, with parishioners in the western city of Poznan showing support by collecting over 24,000 zlotys (£4,186) to help accommodate refugees.
The refugee crisis - in pictures
Show all 70
On Sunday, Germany made the shock decision to reintroduce border controls, which the European Commission has confirmed does not breach the Schengen Agreement.
Thomas de Maizière, Germany's interior minister, told reporters at a snap press conference that the controls were being applied with immediate effect "to bring some order to the entry of refugees".
The European Commission later responded in a statement by confirming that Germany's actions appeared legally justified, and showed the need for EU states to back the executive's proposed plans for refugees.
Additional reporting by AP
Join our commenting forum
Join thought-provoking conversations, follow other Independent readers and see their replies