Hundreds of refugees hunt for new route into Europe as three drown on Greece-Macedonia border
Macedonian police say they are taking steps to send back 'several hundred' refugees believed to have crossed into country
Loulla-Mae Eleftheriou-Smith
Monday 14 March 2016 16:55 Comments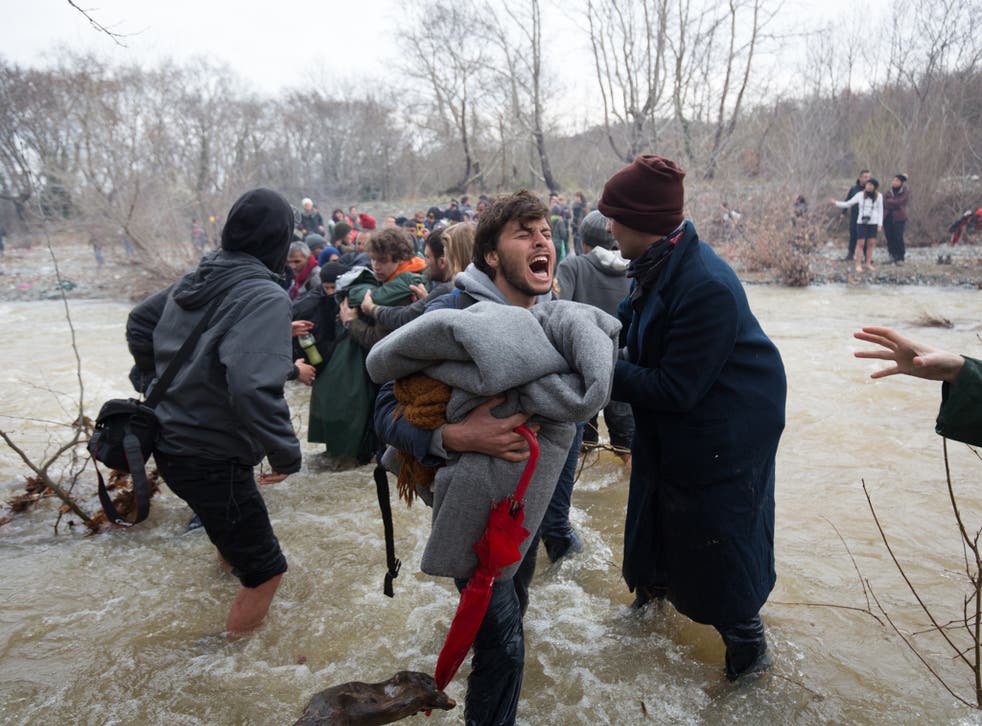 Three refugees have drowned while attempting to cross a river from Greece into Macedonia, according to police, as refugees attempt to find a new route to cross into the country.
Macedonian police said the bodies of two men and a woman had been found in the Suva Reka river near the border town of Gevgelija on Monday morning, which had swelled due to heavy rain.
More than 1,000 refugees are reported to have left the Ideomeni camp in the north of Greece on Monday morning, walking for hours with their belongings in heavy rain before finally attempting to cross the fast-flowing water.
People held children and their belongings above their heads as they waded thigh-deep across the river, with many holding onto ropes while others made a human chain to help people across.
Refugee crisis - in pictures

Show all 27
"This is the situation in which people have become desperate and frustrated," Ljubinka Brasnarska, a spokeswoman in Macedonia for the United Nations refugee agency the UNHCR, said. "The border restrictions imposed by the countries have forced people to take desperate actions."
Macedonian authorities reportedly helped 23 refugees to a migrant transit camp earlier in the day when the three bodies were discovered, but have said they will take steps to return the "several hundred" refugees who evaded the border fence back to Greece.
Increased patrols by the armed forces and police are now being carried out along the Macedonian side of the border where refugees are likely to attempt to cross.
The already filthy conditions in the Idomeni camp are understood to have worsened during the heavy rains, where around 12,000 people have been stranded since Macedonia and the surrounding nations closed their borders to refugees attempting reach northern Europe.
Thousands have been stranded in Greece after Austria imposed a cap on refugees, setting off a domino effect of border closures across the Balkansm, though mpre than 8,500 refugees were reported to have still travelled from Turkey to the Greek islands in the past week.
Additional reporting by agencies
Register for free to continue reading
Registration is a free and easy way to support our truly independent journalism
By registering, you will also enjoy limited access to Premium articles, exclusive newsletters, commenting, and virtual events with our leading journalists
Already have an account? sign in
Join our new commenting forum
Join thought-provoking conversations, follow other Independent readers and see their replies