Refugees in Greece 'could freeze to death' in snow due to inadequate winter preparations, warn aid groups
Thousands of people due to be moved out of temporary accommodation before December dealing with temperatures as low as minus-18 degrees Celsius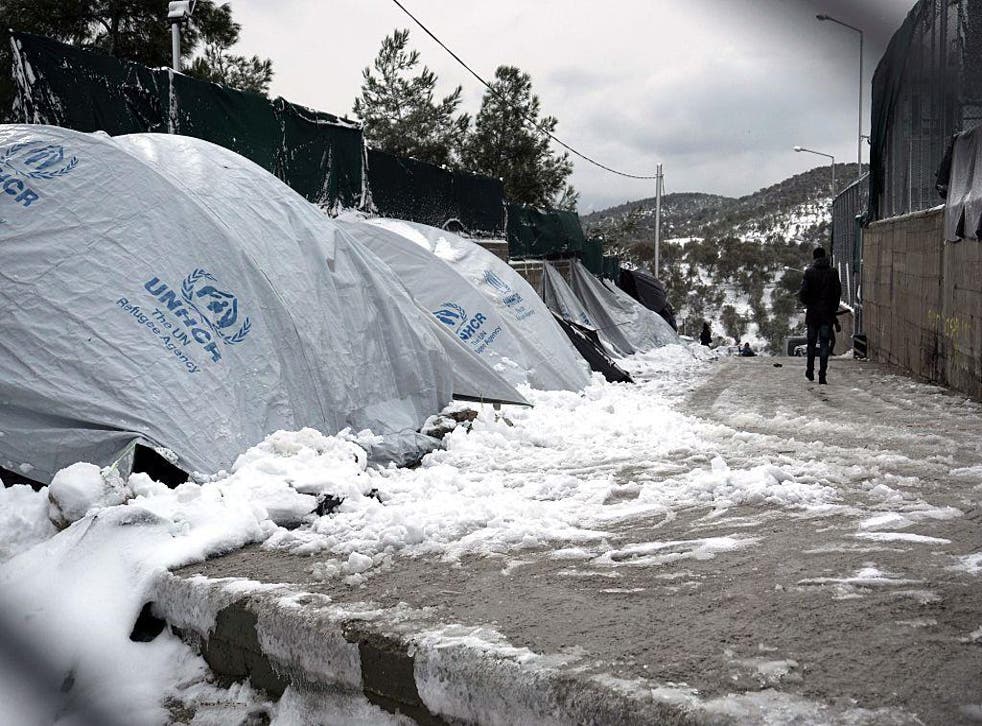 Humanitarian agencies have warned that without adequate housing refugees in Greece may die as the country continues to be gripped by freezing winter weather.
Parts of the country have seen more than a metre (three feet) of snow and temperatures as low as minus-18 degrees Celsius over the weekend, and communication lines and roads are out of action on several islands.
In Moria, a large camp on the island of Lesbos, around 4,500 people are still living in overcrowded conditions in thin summer tents.
At least one Afghan man died in the cold conditions last week, Greek media reported, as the United Nations refugee agency (UNHCR) rushed to distribute thermal blankets and heating fuel and instal electric heaters and insulation.
Some 2,100 places have been found to accommodate those most at risk from the weather in apartments with host families, with another 700 places found for unaccompanied children, but rights groups are calling on the Greek government to act quickly to reduce overcrowding by moving the most vulnerable people on Greece's islands to the mainland.
The authorities have also been criticised for not preparing properly for the life-threatening winter weather. "Europe should stop making the lives of migrants and refugees more miserable," a statement from Medicins Sans Frontieres read.
"We are worried," Adrian Edwards, a spokesperson for UNHCR said in Geneva. "Slowness in registration or identifying vulnerable individuals and, previously, a shortage of suitable spaces on the mainland have been factors delaying moves.
"Among other things this has contributed to serious overcrowding of facilities built for far fewer people, and increased protection risks," he added.
Justin Trudeau moved to tears when reunited with refugee family he welcomed last year
In December, the EU, aid groups and the Greek authorities were accused of bungling the handling of €90 million worth of jointly-managed funding which was supposed to be set aside for "winterising" camps before the first snows fell last month.
The European Commission said in a statement on Monday that the Greek refugee situation is "first and foremost" the responsibility of the Greek authorities.
A total of 182,500 refugees and migrants reached Greece in 2016, the UN says, down one third on 2015, largely thanks to the EU policy implemented early last year of detaining people on the Greek islands and deporting them to Turkey.
Join our new commenting forum
Join thought-provoking conversations, follow other Independent readers and see their replies