G20 Summit: Refugees call Hamburg rioters 'crazy' after third night of violence
'They have such a beautiful country and they are destroying it'
Kenza Bryan
Sunday 09 July 2017 12:33 Comments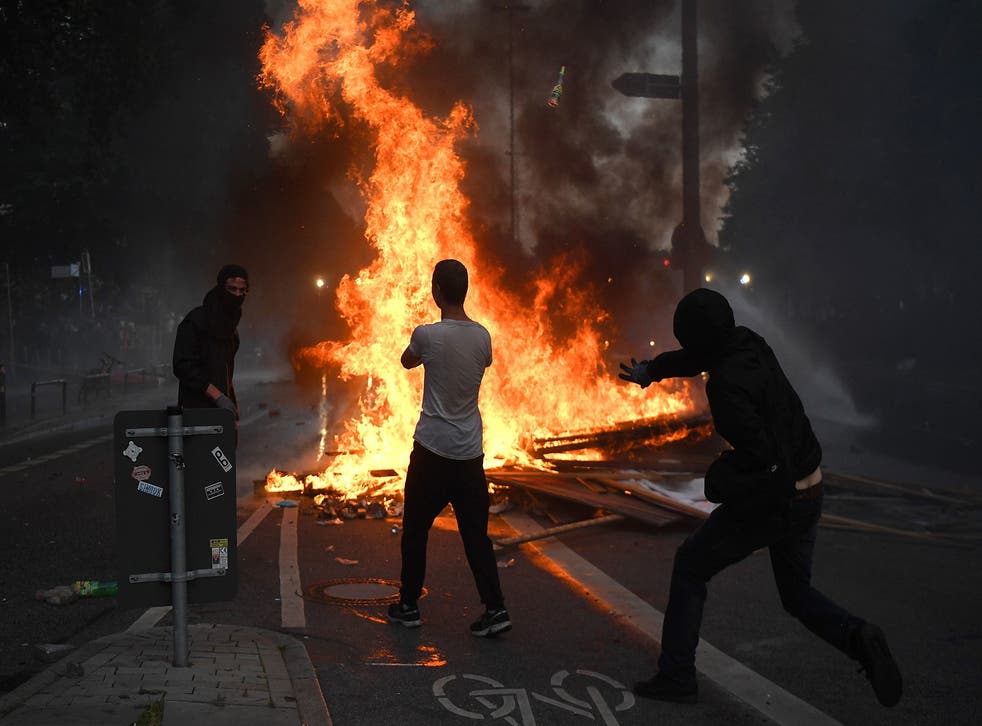 Anti-globalisation protesters involved in a third consecutive night of clashes with police in Hamburg are 'crazy', according to some refugees in the city.
Police used water cannon trucks against rioters, who hurled iron rods and pavement blocks at authorities, even after G20 leaders had left the city.
"If people did this in Egypt they would be shot," said Ibrahim Ali, a 29-year-old Egyptian who came to Hamburg in 2011.
"The state provides everything: housing, unemployment benefits and education. Yet those people are not happy. I don't get it."
Ali was one of three refugees serving beer, falafel and humus to protesters leaving the Sternschanze quarter, as rioters came under pressure from police special units.
"They are crazy. I can't believe my eyes," said Mohammad Halabi, 32, a Syrian who arrived in Germany as a refugee some 18 months ago.
G20 Protesters take Hamburg

Show all 8
"They have such a beautiful country and they're destroying it."
But Halabi says he cannot be angry at the German chancellor Angela Merkel, who took the decision to welcome refugees into the country.
"Without her I wouldn't be here," he said.
Tens of thousands of demonstrators have been protesting at the G20 international forum of world leaders.
German chancellor Angela Merkel has condemned their actions.
"I have every understanding for peaceful demonstrations but violent demonstrations put human lives in danger," she said.
More than 200 officers have been injured, although it is not clear how many protesters were injured.
Many have been gathering in black bloc formations with dark clothing and masks, a protest tactic used by demonstrators associated with the anarchist movement.
Reuters.
Register for free to continue reading
Registration is a free and easy way to support our truly independent journalism
By registering, you will also enjoy limited access to Premium articles, exclusive newsletters, commenting, and virtual events with our leading journalists
Already have an account? sign in
Join our new commenting forum
Join thought-provoking conversations, follow other Independent readers and see their replies