Refugees break through Macedonia border fence using 'home-made battering ram'
Thousands of refugees have become stuck at Greece's border with Macedonia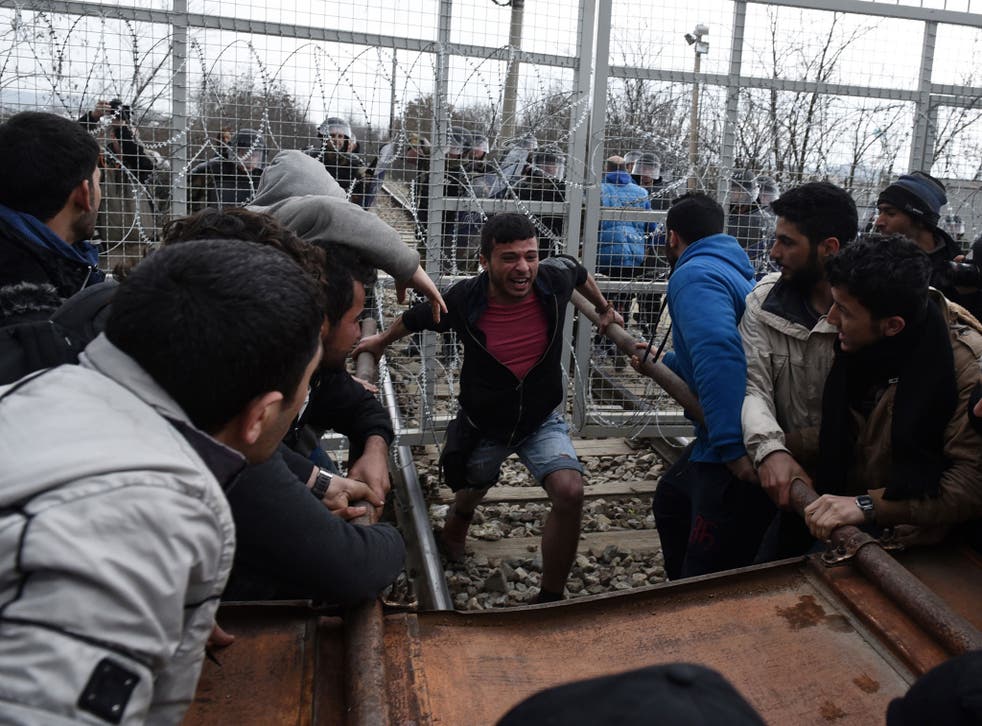 Refugees have reportedly broken through a fence on the Macedonian and Greek border using a home-made battering ram.
BBC footage shows refugees ripping away barbed wire and pushing against the fence to get through.
Protesters clashed with authorities as they chanted "Open the border!" and threw stones at Macedonian police as a few hundred people managed to break through a gate at the border.
Police fired tear gas and stun grenades at the protesters, though no arrests or injuries have been reported. It is not known how many people crossed the border during the incident.
The gate has been used to let trains through at the border crossing and around 500 people forced their way past Greek police to reach it, authorities said.
Thousands of refugees have become stuck at Greece's border with Macedonia as they wait for the Balkan nation's authorities to allow them through and to continue on their route.
Refugees break through Macedonia border fence in February

Show all 15
Overflowing from a packed refugee camp nearby, around 6,500 people are understood to be at or near the Idomeni border crossing, while another 500 people have been moved to a newly created camp on a concrete landing strip 13 miles away, according to police.
Many have been there for up to eight days with minimal food and shelter as they wait to cross the border in to Macedonia, which has said it will only let in as many refugees as neighbouring Serbia will accept.
The crossing has been closed since 4am on Monday, when a total of 300 Syrian and Iraqi refugees were allowed over the border after it opened at 11pm on Sunday night.
Authorities said this system has led to a huge bottleneck being created in Greece where more than 22,000 refugees have become stuck.
Additional reporting by AP
Register for free to continue reading
Registration is a free and easy way to support our truly independent journalism
By registering, you will also enjoy limited access to Premium articles, exclusive newsletters, commenting, and virtual events with our leading journalists
Already have an account? sign in
Register for free to continue reading
Registration is a free and easy way to support our truly independent journalism
By registering, you will also enjoy limited access to Premium articles, exclusive newsletters, commenting, and virtual events with our leading journalists
Already have an account? sign in
Join our new commenting forum
Join thought-provoking conversations, follow other Independent readers and see their replies