Reinhold Hanning trial: Holocaust survivor urges former Auschwitz guard to 'tell the truth' about mass murder committed at Nazi death camp
Death camp guard, 94, in court charged with complicity in 170,000 murders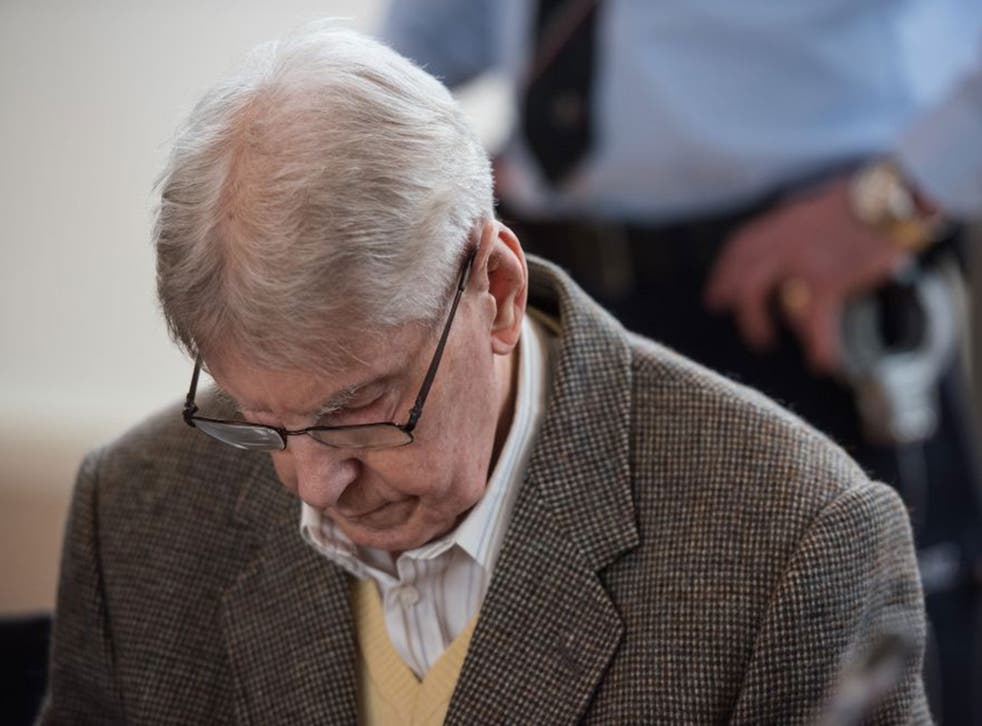 Standing face to face with an elderly former Auschwitz SS guard, 95-year-old Holocaust survivor Leon Schwarzbaum held back tears as he pleaded with the man to "tell the truth" about the mass murder committed at the infamous Nazi death camp.
A former Auschwitz inmate, Mr Schwarzbaum was giving evidence at the opening of the trial in Detmold of Reinhold Hanning, 94. Hanning faces charges of complicity in the murder of 170,000 Holocaust victims during the Second World War, having worked as an Auschwitz guard in the camp's "Death's Head" SS division from January 1943 until June 1944.
Standing up and looking straight at Hanning, Mr Schwarzbaum visibly shook with emotion as he told the him across a hushed courtroom: " You and I are almost the same age and we will soon be meeting our maker. Why don't you tell the historical truth about what you and your comrades did – just as I do."
However 94-year-old Hanning, who appeared neatly dressed in a brown tweed jacket and bright yellow pullover, refused to respond. Instead the former guard, who worked as a small company director after the war, simply stared at the courtroom floor, his head under a mop of thick grey hair, his eyes partially concealed behind the thick glass of his spectacles.
Mr Schwarzbaum, one of more than 40 Holocaust survivors who are co-plaintiffs in the case against Hanning gave a harrowing account of how he saw a 17-year-old Jewish girl being shot at point blank range in the head at Auschwitz. He also recalled seeing a lorry packed with "screaming naked Jews who were all waving their arms in the air" as they were driven towards the Auschwitz gas chambers.
"It was Dante's Inferno," he told the court.
Hanning, has admitted serving in the SS at Auschwitz. However, he denies any involvement in mass murder. Prosecutors argue that by serving as a guard at the death camp, he facilitated the murder of thousands Holocaust victims.
Doctors have ruled that Hanning is psychologically capable of spending only two hours a day in court. His lawyers said he had been "overwhelmed" by the charges and "did not understand" much of what he was accused of. They said he was still considering whether to speak during his trial.
Remembering the Holocaust

Show all 16
Like the vast majority of former SS guards, Hanning escaped prosecution when he was released from prisoner of war captivity after 1945. He married and lived an unassuming life as the director of a dairy goods company in the German region of Lippe until early last year when prosecutors identified him as one of the last living Auschwitz guards.
His case follows the prosecution of former Sobibor Nazi death camp guard John Demjanjuk in 2012 and former Auschwitz SS guard Oskar Gröning last year. Both were convicted on the basis that their mere presence at the death camps meant that they were complicit in mass murder. Both cases marked a sea change in the attitude of German prosecutors to Holocaust perpetrators. Until 2012, German judges had demanded specific eyewitness evidence directly implicating the accused which in most cases proved impossible to find.
Hanning is one of three other elderly former death camp guards German prosecutors want to put on trial this year. If convicted, he faces a maximum 15 year jail term.
Justin Sonder, a 90-year-old Auschwitz survivor and co-plaintiff insisted: "It is never too late to put the perpetrators of the Holocaust on trial. What the German judiciary is doing is absolutely right."
Register for free to continue reading
Registration is a free and easy way to support our truly independent journalism
By registering, you will also enjoy limited access to Premium articles, exclusive newsletters, commenting, and virtual events with our leading journalists
Already have an account? sign in
Register for free to continue reading
Registration is a free and easy way to support our truly independent journalism
By registering, you will also enjoy limited access to Premium articles, exclusive newsletters, commenting, and virtual events with our leading journalists
Already have an account? sign in
Join our new commenting forum
Join thought-provoking conversations, follow other Independent readers and see their replies