'Remorseless' Breivik retraces his fatal route, shadowed by police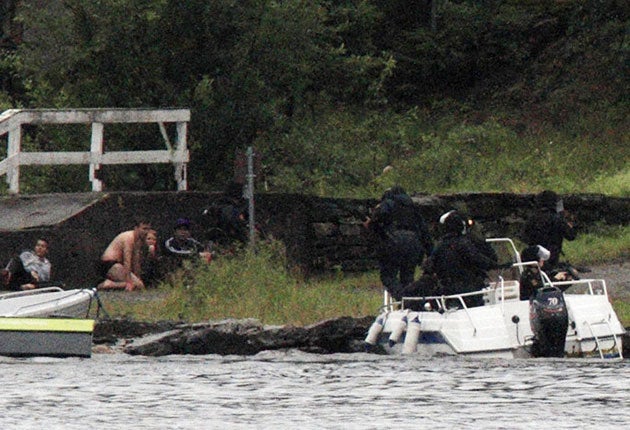 Restrained like a dog on a police leash, Norway's self-confessed mass killer Anders Breivik has been taken back to the island where he shot dead 69 of his country's Labour Party youth members to show investigators exactly how he carried out his massacre.
Police said yesterday that the 32-year-old far-right gunman was driven to the scene of his crime on Norway's Utoya island, north-west of Oslo, on Saturday where he spent eight hours reconstructing the shooting carried out only hours after he killed eight others in a bomb attack in the capital.
"The suspect wasn't emotionally unaffected by being back on Utoya, but he did not show any remorse," is how Paal-Fredrik Hjort Kraby, the Norwegian prosecutor handling the case, described Mr Breivik's demeanour. Eerie photographs of Mr Breivik's return to Utoya were published in Norway's Verdens Gang newspaper yesterday. They showed the killer wearing a bullet-proof vest and tied to a leash held by an officer restraining him. Police helicopters hovered overhead. Mr Breivik was said to have taken the same ferry to the island that he used on the day of the massacre.
One of the photographs published showed him standing and pretending to aim a rifle towards the fjord waters surrounding Utoya where he shot and killed several of his panic-stricken victims as they tried to swim away from the island.
Mr Hjort Kraby said Mr Breivik walked along the same route that he took on the day of the massacre and was encouraged to explain exactly what happened with minimum interruption.
"He has been questioned for about 50 hours on this and he has always been calm, detailed and collaborative. This was also the case on Utoya," he said.
Police said Mr Breivik was filmed as he described the events of the massacre. They said the reconstruction had been arranged soon after the crime in order to help him to recall as much detail as possible. The material is expected to be used as evidence at Mr Breivik's trial next year. Geir Lippestad, Mr Breivik's lawyer, said yesterday that his client had been able to recall in detail each shot he fired and every person he had killed on the afternoon of 22 July, with the assortment of high-powered rifles and automatic weapons he had taken to the island.
Surgeons who operated on many of Mr Breivik's wounded victims said he had clearly wanted to kill and had aimed to hit the upper parts of their bodies. The gunman was also said to have used so-called "dum-dum" bullets which cause devastating wounds.
Mr Breivik's car-bomb attack on the centre of Oslo and his subsequent massacre on Utoya island killed a total of 77 people. Sixty-nine of his victims were youth members of Norway's ruling Labour Party, which Mr Breivik said he wanted to punish for embracing multiculturalism.He told police during questioning that he believed the killing was necessary to save Norway and Europe from "Muslim domination". Police confirmed yesterday that Breivik had called them several times himself during the attacks in what appeared to be an attempt to give himself up.
Mr Lippestad has said that his client is probably insane. But police psychiatrists have said that Mr Breivik appeared to be fully in control and aware of his actions during both attacks and that the courts would be unlikely to accept a plea of insanity.
If convicted, Mr Breivik would face a maximum 21-year jail sentence. However, under Norwegian law, he could remain in custody indefinitely after serving his sentence, if still considered a danger to the public.
Join our commenting forum
Join thought-provoking conversations, follow other Independent readers and see their replies