Rhino horn stolen from Lord of the Dance star Michael Flatley
Item believed to have been cut from stuffed head in Cork mansion safari room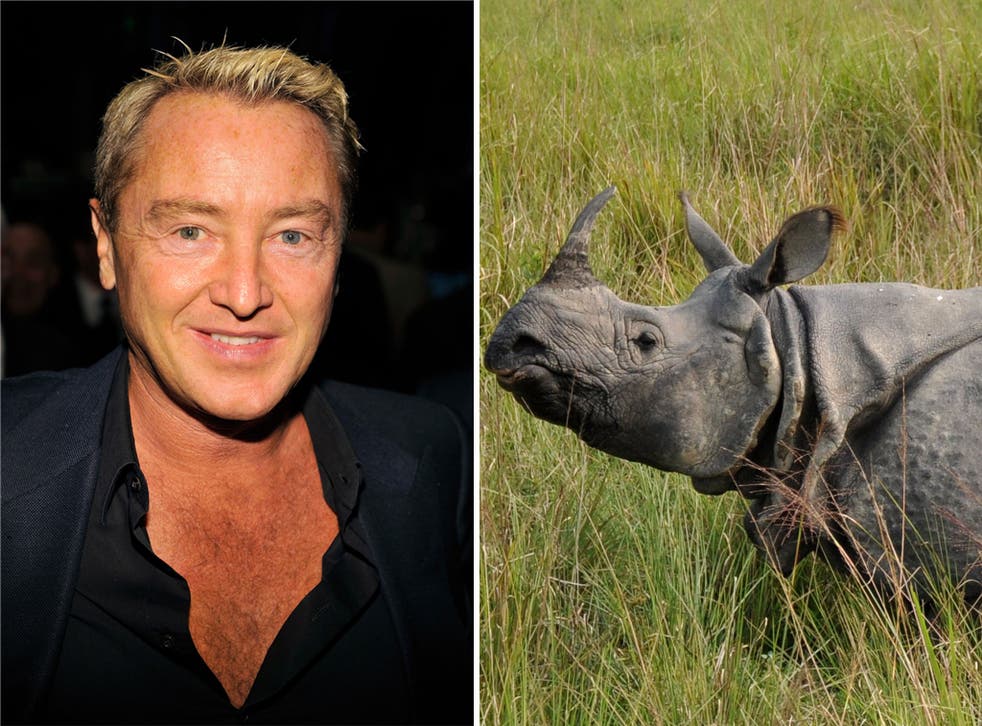 A rhino horn belonging to Riverdance star Michael Flatley has been stolen during a suspected burglary at his mansion.
Valued at €200,000 (£164,000), the horn was believed to have been cut off a stuffed rhino's head mounted in a safari themed room at the 55-year-old's Castlehyde home overlooking the river Blackwater, Ireland.
The police said the burglary was reported at 6:20pm yesterday, and no arrested have yet been made.
The dancer is understood to have been at home during the incident with his wife Niamh and their son Michael junior. No one was injured.
It is suspected that a gang known as the Rathkeale Rovers, which targets museums, country estates, auction houses, galleries and collectors for rhino horns, are responsible for the theft.
International policing agency Europol has issued a threat notice about the gang that it believes is behind a spate of similar robberies across Europe.
One gang targeted a special storage unit used by the National Museum of Ireland in Dublin last year and got away with four horns. They had been taken off public display amid concerns of a theft.
The valuable horns can fetch up to $65,000 per kilo on the black market.
CCTV is being recovered from Flatley's mansion, which he bought in 1999, as part of the investigation.
The 18th century castle was the ancestral home of Ireland's first president Douglas Hyde and has been extensively refurbished.
Flatley's website states that it sits on 150 acres of pasture and woodland is worth an estimated 100 million euros.
Animal rights activist group Aran said it was incensed that Flatley would have an item of immense cruelty on display at his home.
In an open letter to Flatley, the group said: "Whilst I am sure the break-in was traumatic and stressful on you and your family's part, has it set in or even occurred to you that neither you nor those who stole the horn are the rightful owners.
"The animals are literally on the brink of being wiped off the face of the planet."
Aran suggested that if the horn is recovered, Flatley should hand it over to the group for a public burning.
Additional reporting by PA
Register for free to continue reading
Registration is a free and easy way to support our truly independent journalism
By registering, you will also enjoy limited access to Premium articles, exclusive newsletters, commenting, and virtual events with our leading journalists
Already have an account? sign in
Register for free to continue reading
Registration is a free and easy way to support our truly independent journalism
By registering, you will also enjoy limited access to Premium articles, exclusive newsletters, commenting, and virtual events with our leading journalists
Already have an account? sign in