Chapel on Greek island Rhodes bans foreign weddings after British couple's 'sex' photo goes viral
'We cannot allow this disgusting behaviour to prevail'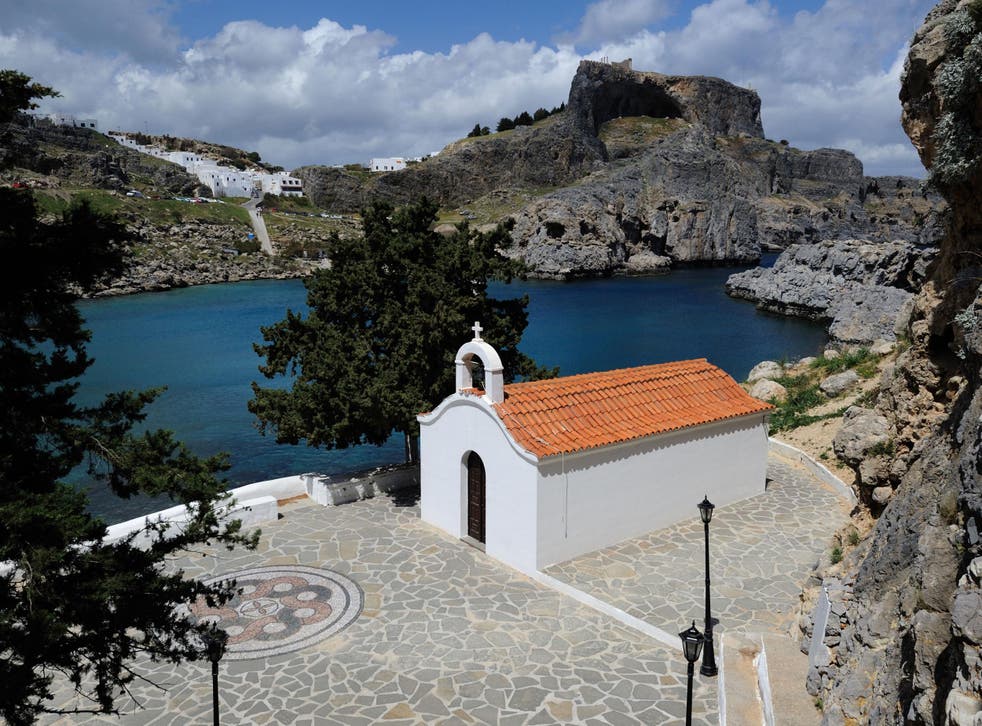 Rhodes' famous St Pauls Chapel has reportedly banned foreigners from getting married there, after a photo of a British couple simulating a sex act went viral.
Newlyweds Carly and Matthew Lunn stunted up the picture and posted it on Facebook, shortly after they were married.
But while their friends and family saw the funny side, after it was shared multiple times it came to the attention of the religious authorities responsible for the chapel who were said to be "outraged" by the image.
Bishop Kyrillos of Rhodes then took the decision to ban foreigners from getting married at the picturesque location, leaving the fate of thousands of couples hanging in the balance. A number have already cancelled to make alternative plans for their big day.
"We are Greek and we cherish our traditions and the sanctity of our religious sites," community leader Giorgos Eleftheriou told The Times: "We cannot allow this disgusting behaviour to prevail."
Mr Eleftheriou, who performed the couple's ceremony, added: "Shame on those two for the damage they have done. Would they have done the same in their homeland; in front of a British chapel, a Jewish temple, a Muslim mosque?
"I have hundreds of soon-to-be brides from Britain and all over the world calling me today in tears because of this decision. It's a huge damper on our society here. We are one of the most famous wedding destinations in the world and we are booked solid through to 2021."
A local resident told the The Sun that after the story broke in British media, it was published by Greek TV and newspapers.
"Even though it was a simulated act they felt it defiled the church," they said. "The situation was really that the local priest and church and the mayor had no choice but to say that there will be no further weddings - 99 per cent of the weddings are British.
"People are outraged and talking about suing the couple involved. They want the couple to publicly apologise to Rhodes and particularly the church."
The local mayor has not yet endorsed the decision but is expected to after the season is over, leaving the location of ceremonies booked years in advance in doubt.
Chimney sweeps at weddings - in pictures

Show all 4
The sudden loss of weddings could be a major blow to the local economy, which is highly dependent on tourism and hospitality. Greece is still recovering from a severe economic crisis.
Mr Eleftheriou said he was looking at relocating thousands of other scheduled weddings to other locations on Rhodes.
Speaking before the ban was invoked, Mrs Lunn said: "It was something we said we'd do for a joke. "We expected a lot of laughs and jokes from people, but didn't expect it to be as popular as it was. People back in England were commenting on it, the whole thing went mad."
Register for free to continue reading
Registration is a free and easy way to support our truly independent journalism
By registering, you will also enjoy limited access to Premium articles, exclusive newsletters, commenting, and virtual events with our leading journalists
Already have an account? sign in
Register for free to continue reading
Registration is a free and easy way to support our truly independent journalism
By registering, you will also enjoy limited access to Premium articles, exclusive newsletters, commenting, and virtual events with our leading journalists
Already have an account? sign in
Join our new commenting forum
Join thought-provoking conversations, follow other Independent readers and see their replies