Rinat Akhmetov: Is this the man who can end the Ukraine crisis?
Russian army readying for return from the border, claims leadership
Vladimir Isachenkhov
Tuesday 20 May 2014 20:18 Comments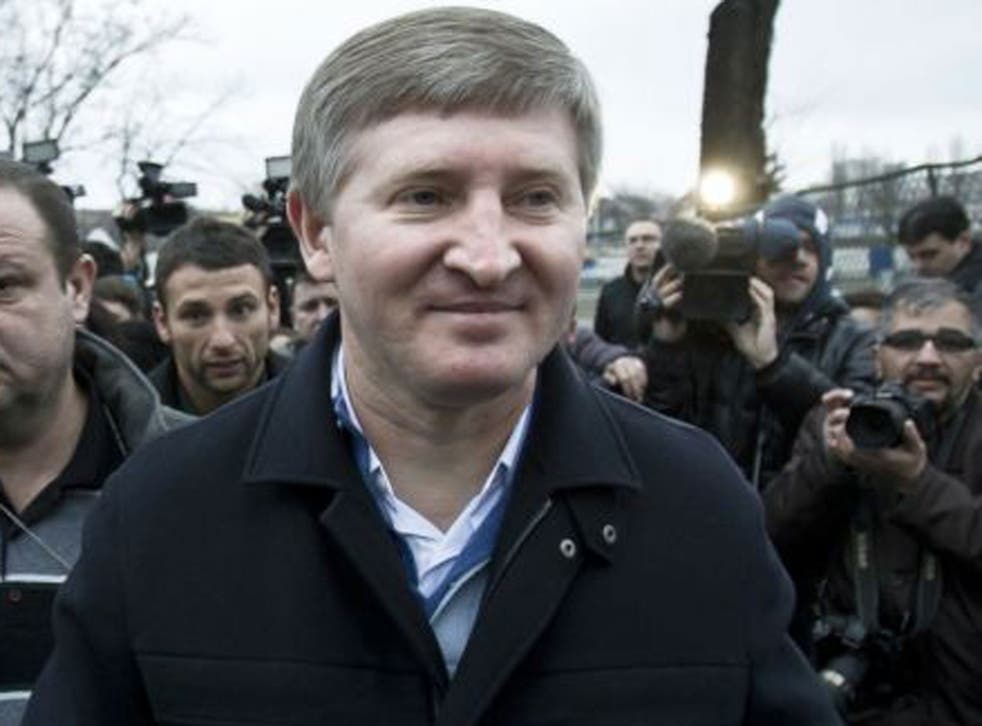 Pro-Russian insurgents fighting Ukrainian government forces faced public dismay and a new challenge from the country's richest man today as Russia's Defence Ministry said its units have started dismantling their camps in the border regions.
A day after President Vladimir Putin issued a pullout order in an apparent bid to ease tensions with the West over Ukraine, the Russian Defence Ministry said that its forces in the Bryansk, Belgorod and Rostov regions were preparing for a journey to their home bases.
Nato, which estimates that Russia has 40,000 troops along the border with Ukraine, said it is watching the situation closely, but could not yet confirm a change. Nato spokeswoman Oana Lungescu challenged the Russians on Tuesday "to prove that they are doing what they are saying."
The developments happened on the same day the country's richest man, steel magnate Rinat Akhmetov, warned that the country was sliding towards a potential "genocide" as fighting between pro-Russian separatists and pro-Kiev supporters continues.
The Russian Defence Ministry said it would take time for troops to dismantle their camps and load equipment on trucks for a march to railway stations. It didn't say how many troops were being pulled out from the three regions or how long it would take.
Footage broadcast by Russian television showed what it said were troops on their way out, but their exact locations and routes remained unclear.
In pictures: The Ukraine crisis

Show all 66
Putin's order made it clear that he has no immediate intention of sending the Russian army into eastern Ukraine, where pro-Russian insurgents have seized government buildings and clashed with Ukrainian government forces in weeks of fighting that has left dozens dead.
On Tuesday, the rebels continued to exchange fire with government forces on the outskirts of the eastern city of Slovyansk, which has been the epicentre of clashes.
Yekaterina Len, a 61-year-old resident of the city, whose house was hit by a mortar shell that appeared to be fired by government troops, burst into tears as she looked at the wreckage. She survived the shelling by spending the night with neighbours.
Len and other residents of Slovyansk sounded exasperated and angry with both the warring sides. Some said that many houses were hit when rebels moved around the area, shooting at government troops and drawing retaliatory fire.
"They must stop with this banditry so that there can be peace," said another Slovyansk resident, Lina Sidorenko. "How much longer can this go on? We had a united country and now look what's happened."
Multi-billionaire Akhmetov, who owns factories across the troubled east, called on his employees to hold peaceful protests on Tuesday in defiance of separatists who plan to disrupt a May 25 presidential election.
In his strongest condemnation yet of the separatists, who have seized strategic points in towns in the heavily industrialised Russian-speaking east, Akhmetov urged people to unite "for Donbass without weapons! For Donbass without masks!"
Akhmetov, a coal and steel magnate who has an estimated 300,000 employees on his payroll, said Ukrainians should stage a "peaceful warning protest" at their companies from noon on Tuesday when sirens would sound across the region.
He said the action should continue daily "until peace is established" and he also urged motorists to join in the protest by sounding their horns.
The sharpness of Akhmetov's attack on the separatists, who he accused of waging a "genocide of the Donbass", appeared to confirm that he was now committed to supporting the efforts of the struggling interim government in Kiev to stabilise the situation in Ukraine with Sunday's presidential election.
Akhmetov, whose fortune is estimated by Forbes magazine at $11.4 billion, is the most powerful single person in the east because of the huge reach of his business empire.
But his full support for the Kiev authorities had been in doubt until recently, given his past association with Moscow-backed president Viktor Yanukovich who was ousted by mass street protests in Kiev in February. Yanukovich has fled to Russia.
Separatist rebellions erupted in the east after the Kiev "Euromaidan" uprising, fuelled by cross-border propaganda from Moscow critical of Kiev's pro-Western authorities. Russia also seized Ukraine's Black Sea peninsula of Crimea.
Earlier this month, Akhmetov's Metinvest company, one of the most powerful in the region, sent miners and metalworkers to the town of Mariupol to join police on patrol, in a further sign the tycoon had decided to enter the political fray.
In his latest statement, issued overnight, Akhmetov sharply attacked for the first time separatists in Donetsk who have proclaimed an independent Donetsk People's Republic (DPR) and have called for it be absorbed into Russia.
"Does anyone in Donbass know at least one representative of this DPR? What have they done for our region? What jobs have they created?
"Does walking around Donbass towns with guns in hands defend the rights of Donetsk residents in front of the central government? Is looting in cities and taking peaceful citizens hostages a fight for the happiness of our region? No, it is not!
"It is genocide of Donbass!,
Russia has scathingly criticised the new Ukrainian authorities, who came to power in February after the toppling of a pro-Russian president, for using the military against the rebellion. The rebels declared the Donetsk and Luhansk regions independent following referendums earlier this month, which Ukraine and the West have denounced as a sham.
However, Putin's order to withdraw troops from areas near the border and his support for Ukraine's presidential vote this Sunday, which he had previously sought to postpone, appeared to reflect a desire to de-escalate the worst crisis between Russia and the West since the Cold-War era and avoid further Western sanctions.
The US and the European Union have imposed travel bans and asset freezes on members of Putin's inner circle over Russia's annexation of Crimea. They have threatened to target entire sectors of the Russian economy with sanctions if Russia tries to grab more land or attempts to derail Ukraine's presidential election.
AP; Reuters
Register for free to continue reading
Registration is a free and easy way to support our truly independent journalism
By registering, you will also enjoy limited access to Premium articles, exclusive newsletters, commenting, and virtual events with our leading journalists
Already have an account? sign in
Join our new commenting forum
Join thought-provoking conversations, follow other Independent readers and see their replies