Roma gypsies most negatively perceived European minority group, survey finds
YouGov poll was conducted in June of this year
Rose Troup Buchanan
Thursday 19 November 2015 17:10 Comments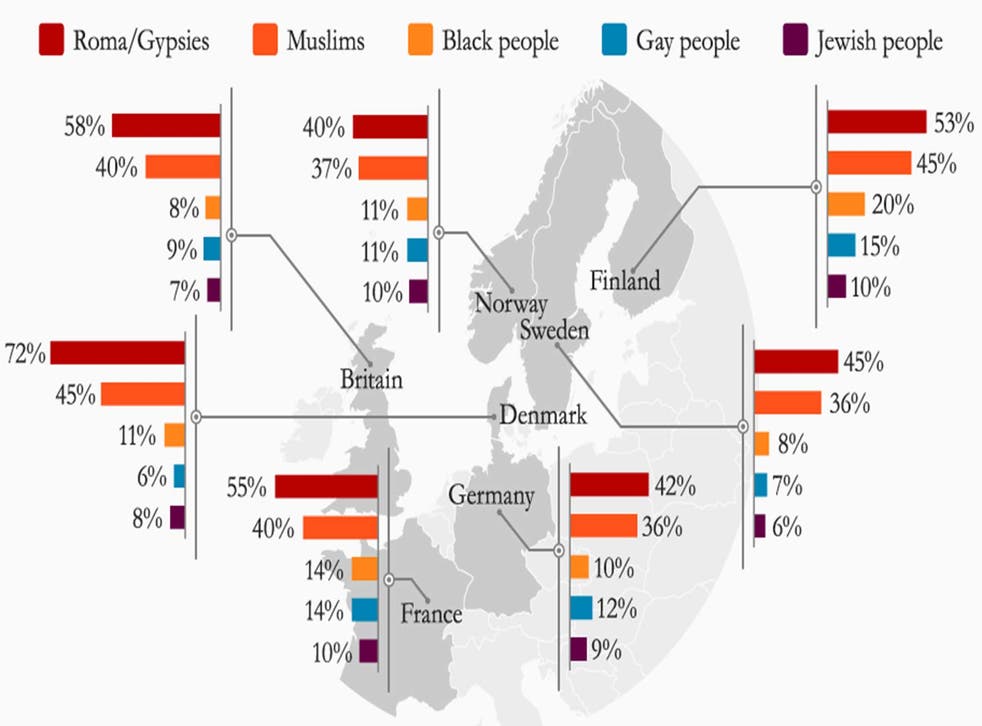 The Roma and Gypsy communities are regarded the most negatively by northern Europeans, a study has found.
The YouGov poll also found 40 per cent of the French had a negative impression of Muslims - the same as the UK. Only the Danes and Finish populations polled at higher levels (45 per cent).
Overall, Jewish communities were the least negatively perceived, with LGBT groups polling just above.
Overall, the Finnish and Danes were found to have the most negative impressions of minority groups, in particular the Roma or Gypsy people.
Germans were found to hold the least negative views about minority groups in Europe.
However, the survey's sampled only 7,230 people in total. 1667 British adults, 1016 German adults, 1004 French adults, 1009 Danish adults, 1010 Swedish adults, 970 Finnish adults and 554 Norwegian adults responded to the study.
The survey was conducted in June prior to the Paris attacks, claimed by terror organisation Isis, which killed 129 people and injured hundreds more.
The poll's results come following another YouGov poll in November conducted for The Times that appeared to show British support for accepting Syrian refugees had dramatically fallen following the attacks on the French capital.
Register for free to continue reading
Registration is a free and easy way to support our truly independent journalism
By registering, you will also enjoy limited access to Premium articles, exclusive newsletters, commenting, and virtual events with our leading journalists
Already have an account? sign in
Join our new commenting forum
Join thought-provoking conversations, follow other Independent readers and see their replies