Fury and celebrations as Russia brokers peace deal to end Nagorno-Karabakh war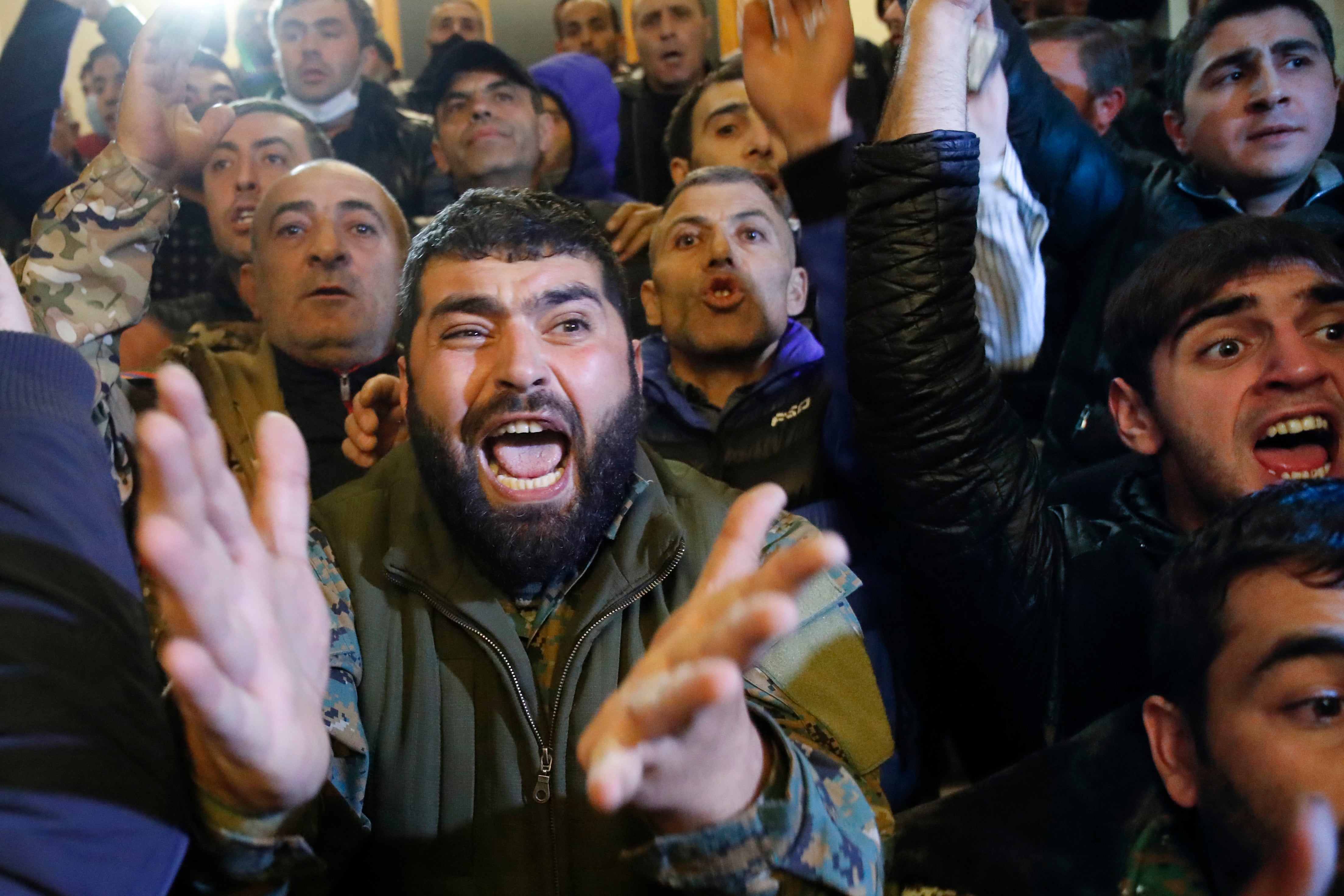 A ferocious six-week war between Azerbaijan and Armenia over a disputed region in the southern Caucasus came to an abrupt end early Tuesday after the surprise announcement of a Russian-brokered peace deal.
The deal allows Azerbaijan to reclaim huge swaths of the mountainous Nagorno-Karabakh region and its surroundings that it lost to war in Armenia nearly three decades ago. It will be enforced by roughly 2,.000 Russian troops along the demarcation lines spelled out in an agreement signed by the Russian president, Vladimir Putin, Azerbaijani president, Ilham Aliyev, and Armenian prime minister, Nikol Pashinyan.  
"This is a victory for the peoples of the two countries, of both Azerbaijan and Armenia, because war has stopped," Kremlin spokesman Dmitry Peskov told reporters in Moscow on Tuesday.  
Russia estimated last month that nearly 5,000 people had been killed in the conflict, including nearly 150 civilians from both sides. Armenia has reported at least 1,221 military personnel dead, while Azerbaijan has yet to disclose armed forces casualty numbers.  
The deal represents a significant victory for Baku, which managed to make major battlefield gains in pursuit of ethnically Armenian territory that is internationally recognised as part of Azerbaijan. It came after Azerbaijan captured the city of Shusha, long considered the centrepiece of the ethnic Azeri presence in Nagorno-Karabakh.  
"The capture of Shusha made an Azeri assault on the region's capital, Stepanakert, all but inevitable, prompting Armenia to accept the humiliating ceasefire," wrote James M Dorsey of the National University of Singapore's Middle East Institute in an analysis.  
It also amounts to yet another significant diplomatic win for the Kremlin, which has sought in recent years to rebuild its status as an indispensable global diplomatic power.  
But the accord is a defeat for Armenia and could possibly spell the end of the political career of Mr Pashinyan, who came to power in 2018 in a popular uprising. Hundreds of enraged protesters in Yerevan swarmed his official residence after word of the peace deal spread, attempting to storm through the front doors.  
In a post on Facebook, Mr Pashinyan described the decision to sign the deal as "hard" and "painful", but rooted in battlefield calculations and consultation with experts; Armenia was rapidly losing the conflict, outgunned by cutting-edge Azerbaijani drone and missile technology acquired in recent years.  
Mr Aliyev celebrated the deal as a victory, describing Armenia's "capitulation" in a series of English-language Tweets.  
"This is a historic day," he wrote. "An end is being put to the Armenia-Azerbaijan Nagorno-Karabakh conflict. For our people, these days are the happiest ones. And I am also happy to deliver this pleasant news to my people."
Turkey, Baku's primary backer, will also count the deal as a victory that bolsters its status in the region; Ankara has long pined for a seat along with Russia, the United States and France at the negotiation table over Nagorno-Karabakh.  
"Armenia has accepted defeat," the pro-government A Haber news channel said in a caption.
The accord came hours after Azerbaijan said it accidentally shot down a Russian helicopter over Armenia, killing two military personnel.
Under the terms of the deal, Armenia will hand over several regions in Nagorno-Karabakh and surrounding occupied lands to Russian peacekeeping forces by 20 November, with troops remaining for at least five years. A ceasefire enforcement centre will resolve border disputes between the two nations. Prisoners will be handed over.  
Diplomats and human rights observers have voiced concern about the fate of ethnic Armenians who regard Nagorno-Karabakh as their home. Azerbaijan has repeatedly insisted it will protect them. Aliyev described mostly Shia Muslim Azerbaijan as a "multinational and multiconfessional" nation which will welcome ethnic Armenians. The Russian-brokered deal calls for the establishment of transport links across the disputed territories to allow for the normalisation of commerce and travel.  
But Armenians and Azerbaijanis have been locked for more than a century in cycles of violence and ethnic cleansing. In July, fighting broke out in a northern region far from the disputed territory.  
Join our commenting forum
Join thought-provoking conversations, follow other Independent readers and see their replies