Russia launches biggest war games since Cold War with more than 300,000 troops
Drills are largest since fall of Soviet Union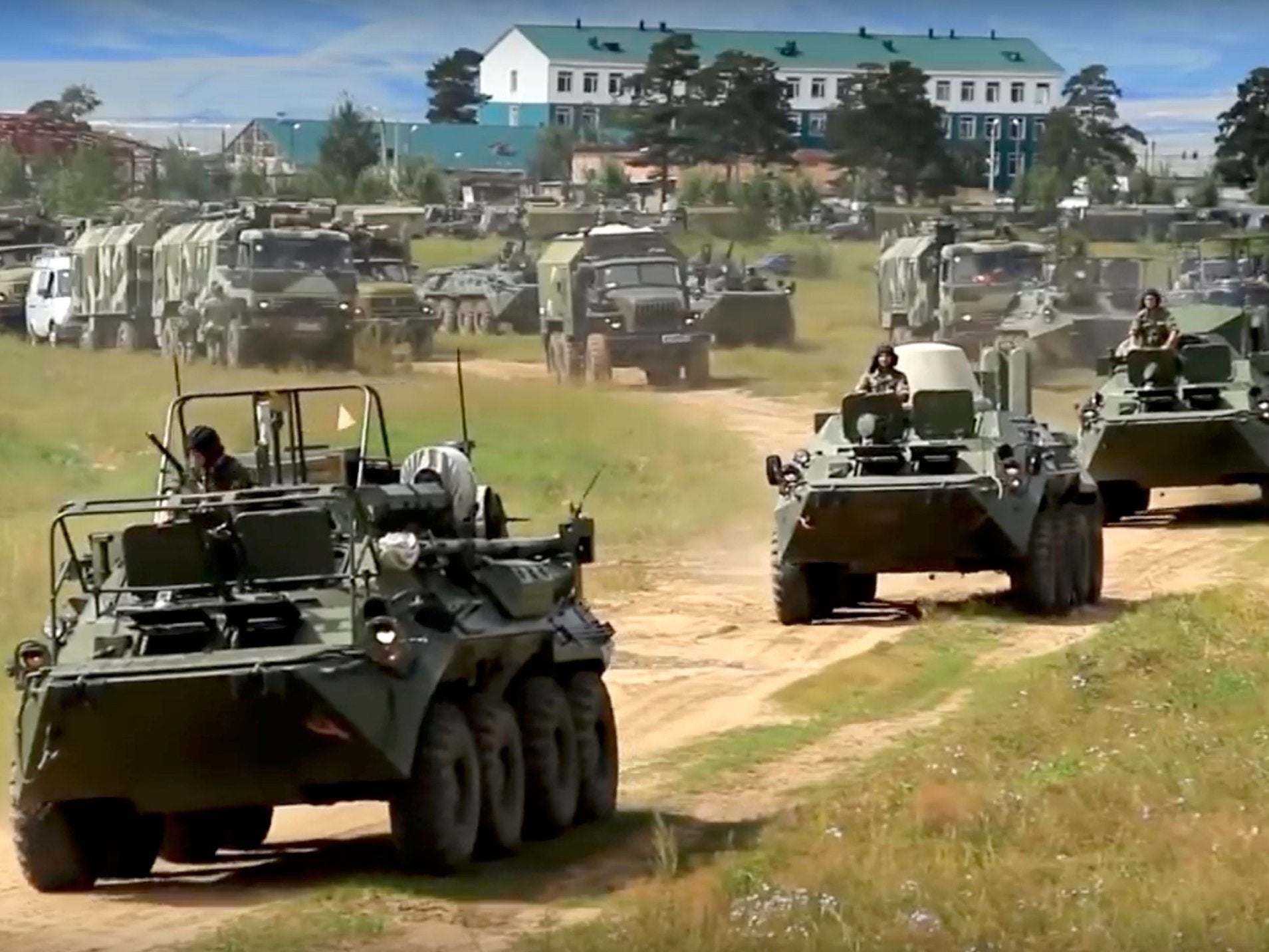 Russia has launched its largest military exercises since the Cold War, with more nearly 300,000 troops taking part.
Thousands of Chinese and Mongolian service personnel will also be involved in the Vostok 2018 drills, set to include "massive" mock airstrikes and the testing of cruise missile defence systems.
The war games in eastern Siberia launched on Tuesday at a time of heightened tensions between Russia and Nato.
Moscow said the exercises – the largest since 1981 – were purely "defensive in character".
Ahead of the drills, Russian president Vladimir Putin met his Chinese counterpart Xi Jinping in the eastern city of Vladivostok and told him the two countries relations were based on trust "in the sphere of politics, security and defence".
Russia's armed forces are to deploy 1,000 aircraft, 36,000 tanks and armoured vehicles, and up to 80 ships in the week-long drills.
China is sending 3,200 troops, 900 tanks and 30 jets and helicopters as it takes part in the exercises for the first time, in an indication of a significant geopolitical shift in the region.
Moscow has previously viewed China, its richer and more populous neighbour, with suspicion.
"It sends a very strong message to China, saying that Russia doesn't see China as an adversary or a military threat any more," said analyst Alexander Gabuev, an expert in Russia-China relations at the Carnegie Institute in Moscow.
He added: "It also sends a signal to Washington DC, saying that if the US continues on its current course by pressuring Russia and imposing more sanctions, Russia will fall even more into the firm embrace of China, America's only strategic competitor in the 21st century."
World news in pictures
Show all 50
Relations between Russia and Nato, the 29-member international defiance alliance dominated by the US, have deteriorated since Russia annexed Crimea from Ukraine four years ago.
Last month Nato moved 4,000 troops closer to Russia's western border "to deter any possible aggression", prompting criticism from Mr Putin.
This week's drills are designed to hone the combat readiness of Russian troops and practice co-operation between the army, navy and air force, said Moscow.
"The manoeuvres are not directed against other countries and are in line with our military doctrine, which is defensive in character," Valery Gerasimov, the chief of Russia's general staff, told Interfax news agency.
The most intensive part of the exercises will be in the Tsugol training range, about 90 miles from the Chinese and Mongolian borders, where the two nations' forces will practice against Russian formations.
Tuesday and Wednesday will involve planning and preparation before operations launch fully on Thursday, lasting five days, said Mr Gerasimov.
The Kremlin has defended the high cost of the drills, the largest since the fall of the Soviet Union.
"The country's ability to defend itself in the current international situation, which is often aggressive and unfriendly towards our country, means [they are] justified," said government spokesperson Dmitry Peskov.
Nato said it had been briefed by Russia on the planned exercises and would be monitoring the situation.
"All nations have the right to exercise their armed forces, but it is essential that this is done in a transparent and predictable manner," said spokesman Dylan White.
"Vostok demonstrates Russia's focus on exercising large-scale conflict," he added. "It fits into a pattern we have seen over some time: a more assertive Russia, significantly increasing its defence budget and its military presence."
Join our commenting forum
Join thought-provoking conversations, follow other Independent readers and see their replies