Russia takes dig at Trump over Syria missile threat: 'We do not participate in Twitter diplomacy'
Kremlin responds after US president says Russia should 'get ready' for Syria air strikes
Oliver Carroll
Moscow
Thursday 12 April 2018 04:40 Comments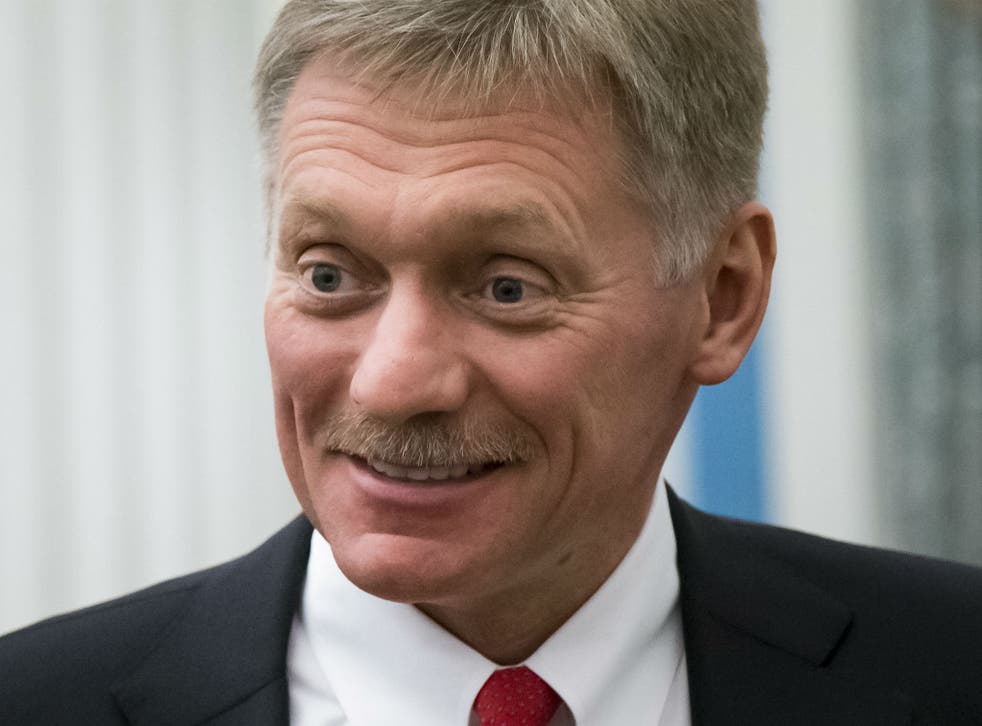 It seemed almost appropriate for such strange times that the international crisis over the suspected chemical attack in Syria would be be played out in 280 characters or less.
"Get ready Russia, because [the missiles] will be coming, nice and new and "smart!" wrote President Donald Trump in what seemed to be his first breath of the day. The belligerent message — which chopped 3% off the beleaguered Russian rouble in a quarter of an hour — was soon followed by a flourish of diplomacy.
"Our relationship with Russia is worse now than it has ever been, and that includes the Cold War. There is no reason for this… Stop the arms race?," the US commander-in-chief wrote
There was no immediate reaction from The Kremlin — it instead insisted it would not stoop to play Mr Trump's game.
"We do not participate in Twitter diplomacy," presidential spokesman Dmitry Peskov declared to journalists at an event in the Kremlin. "We support serious approaches. We continue to believe that it is important not to take steps that could harm an already fragile situation."
The comments were immediately seized on by observers of Moscow's own often cynical, sometimes brilliant social media strategies. (Plural strategies since they seem to be very loosely coordinated.)
The social media accounts associated with the Ministry of Foreign Affairs have in particular excelled in their insurgency.
World news in pictures

Show all 50
Over the last three years or so, the Twitter blogs of embassies in London, Washington, Ottawa and elsewhere have dispensed of almost every rule of diplomatic etiquette. They haven't been afraid to take sides. During the US elections, they amplified the messages of "Crooked Hillary," and, before that, they supported Brexit.
In more recent weeks, they have thrown in any number of whataboutisms and counter-narratives to the official British line blaming Moscow for the poisoning of former spy Sergei Skripal and his daughter Yulia poisoning.
Their criticism is often accompanied with weird humour. When, for example, Barack Obama threw out 35 Russian diplomats in one of his final moves as president, the London embassy twitter account posted a picture of a duck with the word "lame" written on it.
During the Skripal scandal, Russia responded to Theresa May's ultimatum with a meme about the laws of physics: actions have reactions. "Any threat to take "punitive" measures against Russia will meet with a response. The British side should be aware of that."
But today Russia turned the tables — criticising Washington for the use of inappropriate channels for diplomacy.
"Newsflash: "Trump proposes Russia stop the arms race — on Twitter" sarcastically snarled Foreign Ministry spokeswoman Maria Zakharova. "It's a great idea! Let's start with destroying chemical weapons. American ones"
The forum Ms Zakharova chose to issue her admonishment?
Facebook.
Register for free to continue reading
Registration is a free and easy way to support our truly independent journalism
By registering, you will also enjoy limited access to Premium articles, exclusive newsletters, commenting, and virtual events with our leading journalists
Already have an account? sign in
Join our new commenting forum
Join thought-provoking conversations, follow other Independent readers and see their replies