Russian court ruling could stop opposition leader Alexei Navalny from standing in presidential election
Dissident seen as biggest challenger to Vladimir Putin, though he retains overwhelming popularity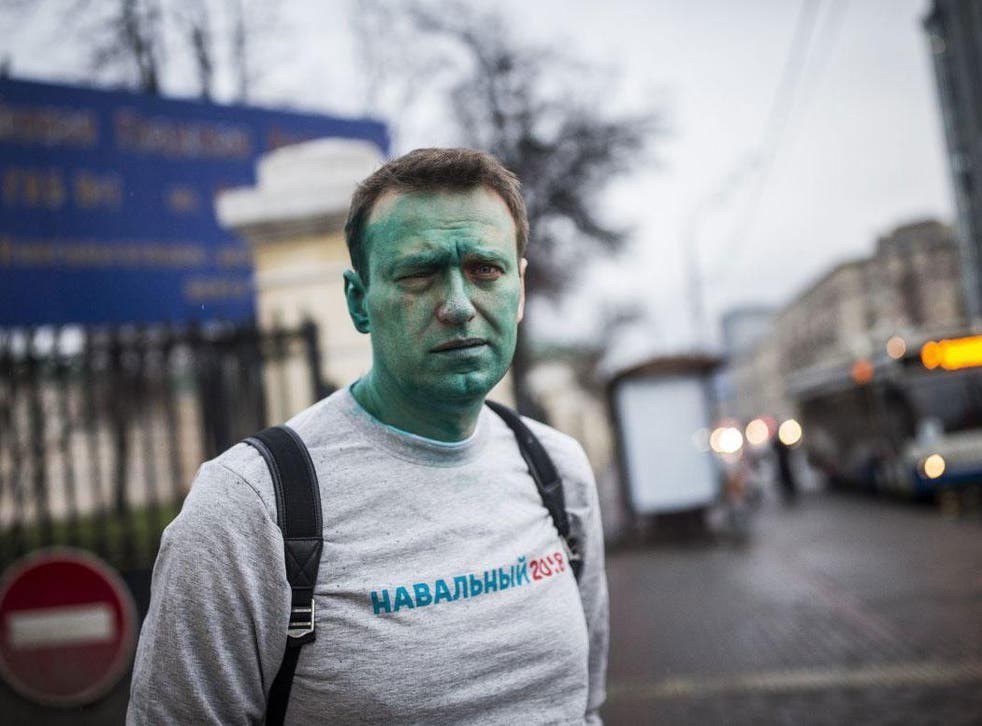 Prominent Russian dissident Alexei Navalny is unlikely to be able to run in the country's presidential elections after a court upheld an embezzlement conviction.
Mr Navalny was behind some of the largest anti-government protests Russia has seen for years in March and is seen as the main challenger to strongman ruler Vladimir Putin.
He has insisted the five year suspended sentence for embezzlement, which was upheld in an appeals court, was politically motivated. Mr Navalny's team now wants the case to go to the European Court of Human Rights. The ECHR previously determined the case to be "arbitrary".
Hundreds protest at Russian embassy over 'gay concentration camps' in Chechnya
The law surrounding entry into Russian presidential elections is open to interpretation on whether a candidate could run with a suspended sentence. Mr Navalny has said the law only applies to candidates in prison and has been holding events and rallies around the country regardless.
Even if Mr Navalny was able to run in the election, polls have suggested Mr Putin would still win comfortably.
Supporters of Mr Navalny, a former lawyer who now investigates corruption and has a massive social media following, have vowed to push on with his campaign.
Both his lawyer and campaign manager told media the electoral bid would continue despite the court's decision.
"Nobody promised it would be easy," said another ally, Leonid Volkov, on social media following the decision. "Navalny has the right to run, but ensuring he is able to exercise it won't be easy."
Electoral officials have said Mr Navalny's conviction must be quashed if he is to be allowed to run.
"He [Navalny] is already trying to conduct a presidential campaign and, it seems to me, is manipulating people's understanding about how the law, allegedly, does not apply," Nikolai Bulayev, deputy chairman of Russia's Central Election Commission told the RIA news agency.
"It's a delusion. If he's doing this deliberately he's deluding other people. For now, as far as I understand, he does not have the right to stand for election and in order to get it he needs to act via the courts. There is no other way."
World news in pictures

Show all 50
Despite the case, Mr Navalny has remained politically active, though it has come at a cost. He recently lost much of his sight in his right eye after pro-Kremlin activists threw a green chemical dye on his face. It was the second such attack Mr Navalny has suffered.
Some analysts believe the Kremlin may ultimately allow Mr Navalny to run in order to boost turnout and create the impression of genuine political competition.
However, having Mr Navalny on the ballot paper could be an irritant for the Kremlin by providing a focus for anti-government protests, especially in the big urban centres where he draws most of his support.
Additional reporting by Reuters
Join our new commenting forum
Join thought-provoking conversations, follow other Independent readers and see their replies