Russia launches 'unprecedented' Crimea army drills to test rapid reaction forces
Nato says it was not informed of the exercise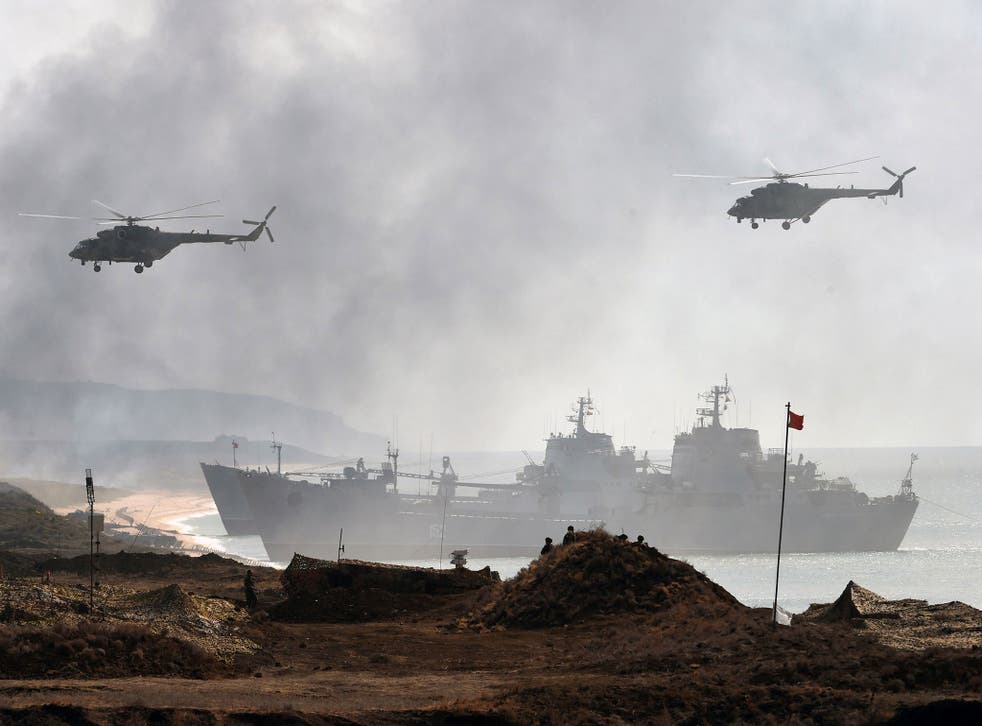 Russia has launched unprecedented land, air and sea drills in annexed Crimea in a coordinated training exercise involving thousands of troops.
The action is billed as significant by the military as it is said to be the first time in the history of the Russian army that three large Airborne units have been "simultaneously alerted".
The commander in charge of the exercise, Colonel-General Andrei Serdyukov, said the drill was prompted by an "increased terrorist threat" in the region.
It will see more than 2,500 paratroopers and 600 pieces of equipment deployed to the disputed peninsula, which was under the control of the Ukrainian government until Russia illegally annexed it in February 2014.
Russian troops will practice amphibious landings and airdrops and carry out firing drills during "offensive and defensive operations".
Col Serdyukov said: "For the first time in the Russian army's history the Airborne Forces' three large units were simultaneously alerted as part of the drills and partly redeployed to Crimea with weapons and equipment."
Western nations continue to condemn the annexation of Crimea as a blatant breach of international law.
Nato, of which Ukraine is not a member, expressed alarm at having not been informed of the exercise, calling it illegal.
Spokesperson Oana Lungescu told The Independent: "Any Russian military exercises in occupied Crimea are illegal under international law as they do not have the consent of the Ukrainian government.
"Since 2014, Russian military activity in the Black Sea region has increased significantly. Russia's wide-ranging military build-up in Crimea poses a challenge to regional stability and international security.
"In response to Russia's military build-up, Nato has increased its military presence in region.
"This is being done in a defensive and proportionate way and is fully in line with our international obligations."
Russian military activity in Crimea

Show all 11
The drills come amid a build-up of North American and European troops along Russia's border.
From next month, a US-led battalion of more than 1,100 soldiers – including 150 British personnel - will be deployed in Poland.
US Army Lt. Colonel Steven Gventer described the movement as "a mission, not a cycle of training events".
Putin joins celebration marking takeover of Crimea
Britain, Canada and Germany are leading the other three battle groups in Estonia, Latvia and Lithuania, which are due to be operational by June.
In total, around 4,000 Nato troops - equipped with tanks, armoured vehicles, air support and hi-tech mission information rooms - will monitor for and defend against any potential Russian incursions.
The alliance is seeking to show ex-Soviet countries that they are protected from the kind of annexation Russia orchestrated in Crimea.
Russia plans to stage large-scale war games near its western borders this year, but has not said how many troops will take part.
Join our new commenting forum
Join thought-provoking conversations, follow other Independent readers and see their replies