Nephew of Russia's 'propagandist-in-chief' jailed over role in Ukrainian conflict
Sergei Kiselyov says he travelled to Ukraine to 'defend Russian-speaking populations' and did not kill anyone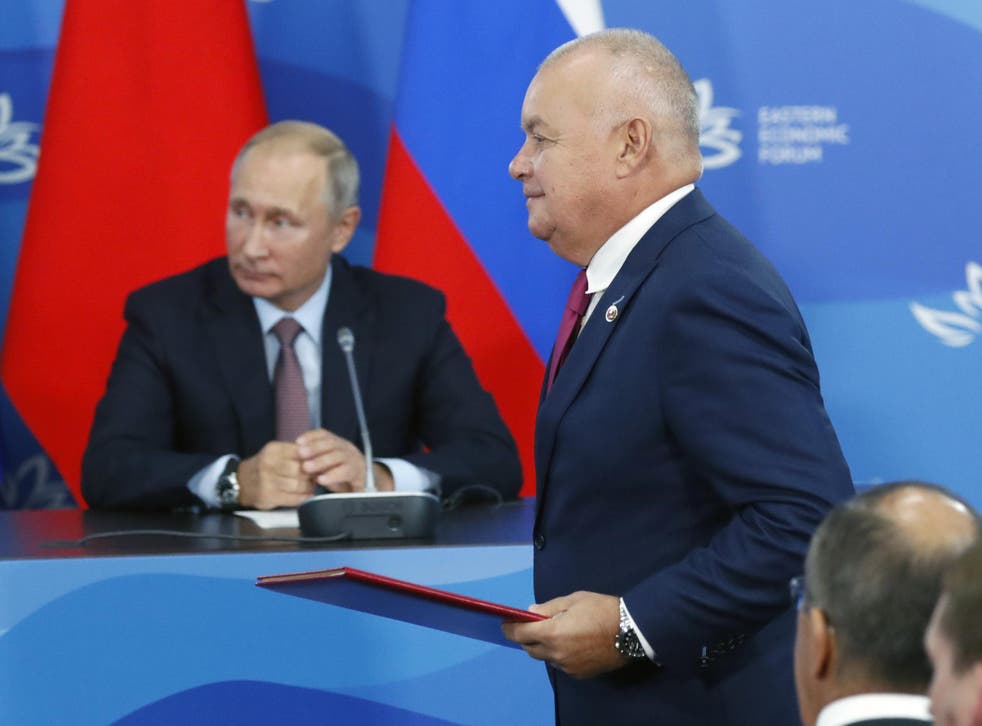 The nephew of a key player in Russian state propaganda has been convicted in Germany for state security offences relating to eastern Ukraine — three years after his uncle unwittingly boasted about his participation in the conflict there.
Sergei Kiselyov, a German resident and the nephew of Russian state news anchor Dmitry Kiselyov, was Thursday sentenced to 2 years and 3 months imprisonment by a court in Munich. The verdict was made in relation to two narrow allegations: that Sergei Kiselyov violated arms laws; and that he underwent military training in St Petersburg in August 2014 ahead of travelling to Ukraine.
Mr Kiselyov, who was pictured holding rifles and other weapons in eastern Ukraine, says he travelled to Ukraine to "defend Russian-speaking populations" there. He insists he did not kill anyone.
On announcing his verdict, the judge noted that the prosecution had not managed to prove conclusively that the defendant underwent military training — though there was "much" that suggested so. The sentence, which was reduced from a maximum of 10 years, came as the result of a bargain between defence and prosecution.
World news in pictures

Show all 50
Mr Kiselyov was arrested in Bulgaria in 2018, three years after his famous uncle revealed he fought for Russian-backed separatists near Horlivka, the site of one of the war's bloodiest exchanges.
The senior Kiselyov is the host of Vesti Nedeli, a weekly news programme noted for jingoistic propaganda content. He came to prominence in 2013 with homophobic comments suggesting gay men and women should have their hearts burned after dying in car crashes. But his big break came a year later, when Vladimir Putin appointed him head of Russia's most prominent state news agency, just in time for the start of the Ukrainian crisis.
More woe may be in store for the younger Kiselyov. Thursday's verdict was explicit in not relating to crimes committed while fighting in Ukraine itself. If Mr Kiselyov is accused of such crimes, the case will be transferred to a federal court.
Register for free to continue reading
Registration is a free and easy way to support our truly independent journalism
By registering, you will also enjoy limited access to Premium articles, exclusive newsletters, commenting, and virtual events with our leading journalists
Already have an account? sign in
Register for free to continue reading
Registration is a free and easy way to support our truly independent journalism
By registering, you will also enjoy limited access to Premium articles, exclusive newsletters, commenting, and virtual events with our leading journalists
Already have an account? sign in
Join our new commenting forum
Join thought-provoking conversations, follow other Independent readers and see their replies