Russian police round up LGBT activists demonstrating against persecution of gay men in Chechnya
Officers in riot gear forcibly arrest protesters on day of worldwide action against autocratic governmet, poor pay and conditions for workers, and austerity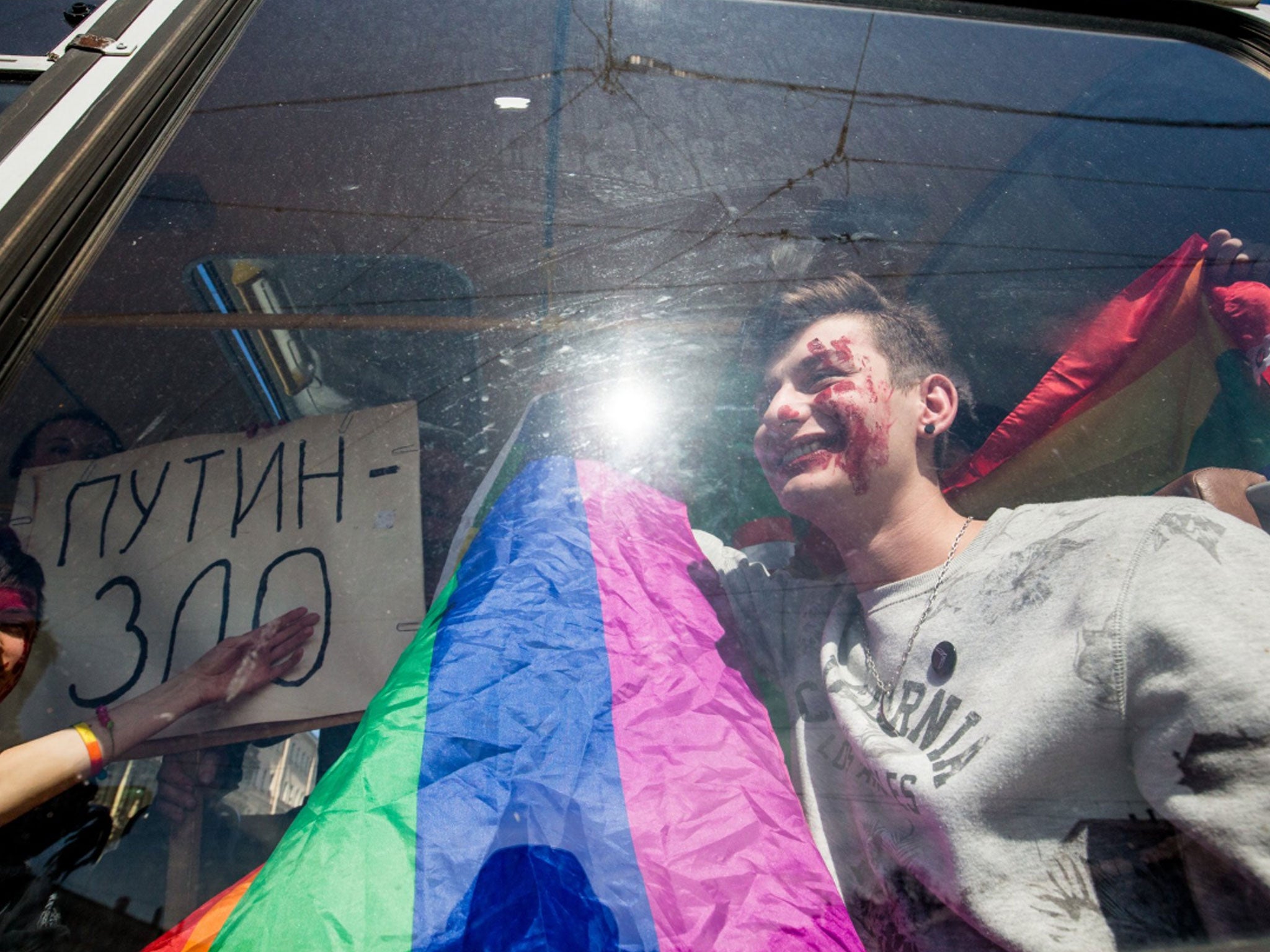 Russian police have detained LGBT activists attempting to raise awareness about the persecution of gay men in Chechnya.
The demonstration was held during a May Day march in St Petersburg, with a group of around 10 protesters arrested near the Anichkov Bridge in the centre of Russia's second city.
Images shared on Twitter showed activists lying on the road pretending to be dead, with fake blood smeared across their faces and covered with rainbow and Chechen flags.
Officers in riot gear were shown arresting protesters and dragging them to a police van.
A separate group of gay-rights protesters were detained with placards that called for the Chechen leader, Ramzan Kadyrov, to be tried at the International Court of Justice in The Hague.
One activist was taken away in an ambulance after he appeared to have fainted.
The action was in protest at the systemic persecution of gay men in the Russian republic of Chechnya.
More than 100 men have been rounded up and detained in secret prisons by authorities in recent weeks, with many beaten and tortured, the Russian newspaper Novaya Gazeta claimed.
At least four are alleged to have been killed.
A spokesman for Mr Kadyrov said the report was "absolute lies and disinformation" and claimed gay people did not exist in the state.
"You cannot detain and persecute people who simply do not exist in the republic," he told Interfax news agency.
"If there were such people in Chechnya, the law-enforcement organs wouldn't need to have anything to do with them because their relatives would send them somewhere from which there is no returning."
Russian President Vladimir Putin's spokesman has backed the Chechen government's denials that men suspected of being gay are being detained, tortured and killed.
Hundreds protest at Russian embassy over 'gay concentration camps' in Chechnya
Human Rights Watch (HRW) is scathing about the Russian government treatment of LGBT citizens.
The group accuses the Kremlin of "failing in their obligation to prevent and prosecute homophobic violence".
"Growing numbers of LGBT people have been attacked and harassed across Russia in the lead-up and aftermath of the adoption of the federal anti-LGBT 'propaganda' law in June 2013.
"The law effectively legalised discrimination against LGBT people and cast them as second-class citizens."
In interviews it conducted with gay and lesbian Russians, HRW said LGBT people described being "physically attacked by strangers during their everyday activities".
The May Day march in St Petersburg was one of dozens around the world.
In many countries, including Turkey, Cambodia, the Philippines and Bangladesh, workers took to the streets to protest about poor conditions and pay.
In Greece, several thousand protesters gathered outside the parliament to rally against draconian public spending limits.
Join our commenting forum
Join thought-provoking conversations, follow other Independent readers and see their replies