War on the grapevine? Russia ups control on Georgian wine imports
Georgian wine was target of Russian sanctions before 2008 war between the two former Soviet countries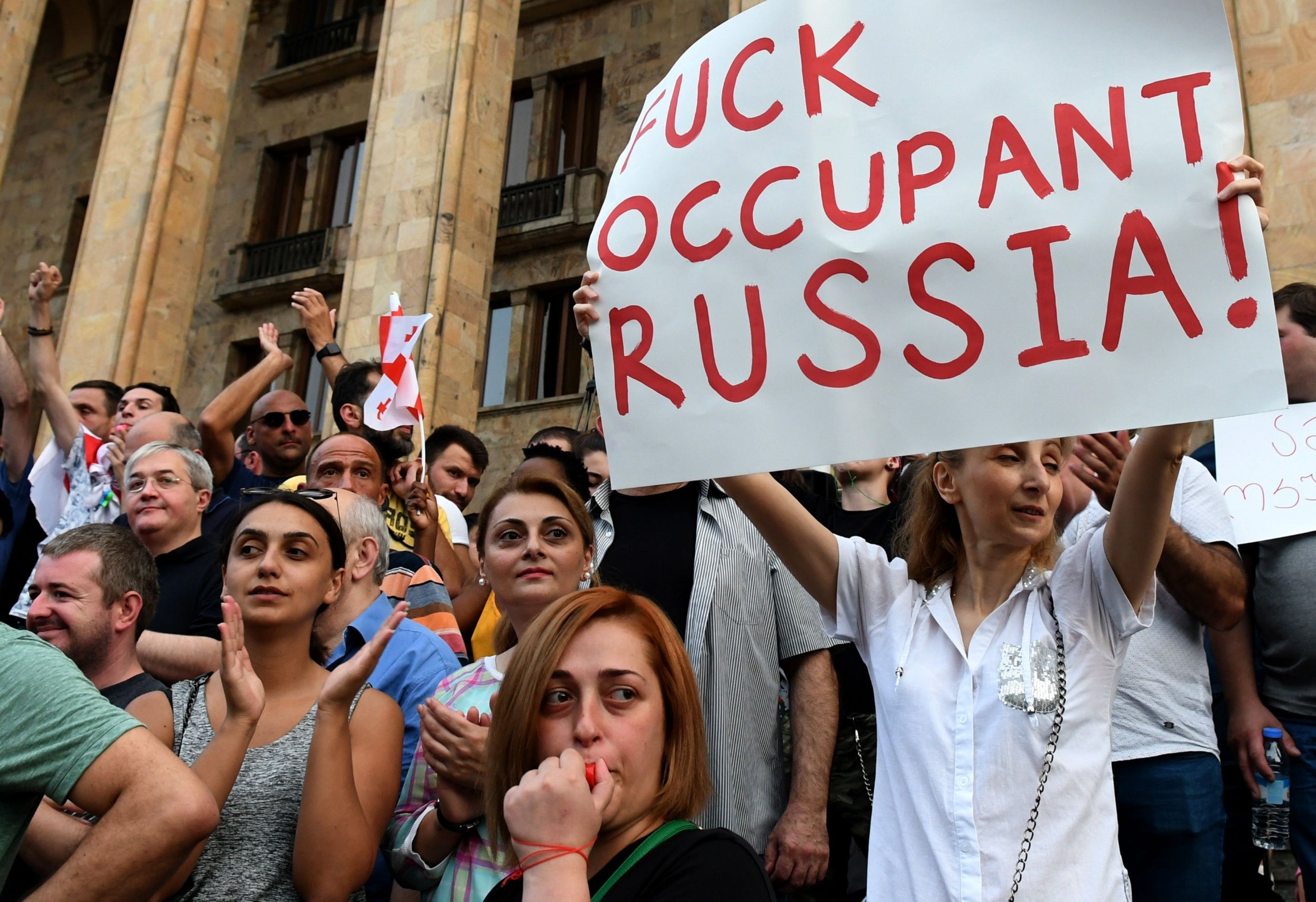 It was a case of new wine into old bottles, as the Kremlin returned to past practice in its response to growing tensions with Georgia.
Moscow would be stepping up scrutiny of Georgian alcohol products, the Russian trading standards body said on Monday. It was a change being made purely on public safety grounds, the watchdog insisted. But the timing of the sudden announcement – in the middle of an escalation between the two former Soviet states – left little to the imagination.
The hint at a return to a trade embargo previously introduced in 2006 seemed to be a clear warning to Tbilisi to bring anti-Russian protests under control.
Those protests, now in their fourth day, began on Thursday in response to outrage over the appearance of a Russian lawmaker in the speaker's chair of Georgia's parliament. On the first, most violent day of rallies, 240 people were injured, and four lost an eye in clashes with police.
The Kremlin has responded to what it describes as "Russophobia" with stark rhetoric and an equally sharp policy response. On Friday, President Vladimir Putin signed an edict banning Russian airlines from travelling to Georgia. On Sunday, that ban was extended to include Georgian airlines travelling to Russia. Both "public safety measures" would be effective from 8 July, the start of the Russian holiday season.
Georgia and Russia resume hostilities – on the big screen
Show all 2
The prospect of a wine embargo was trailed on Russian propaganda shows on Sunday evening.
"Why do we even need Georgian wine?" Dmitry Kiselyov asked viewers on Vesti nedeli, the state's flagship news round-up programme. Russia had "plenty of experience" in trade wars, he said. "No one is going to die of thirst without these bottles on Russian shelves."
On Monday, Salome Zurabishvili, the Georgian president, blamed a "fifth column loyal to the Kremlin" for provoking the trouble.
Georgian parliament speaker quits after anti-Russian protests leave hundreds injured
Anger towards the Kremlin remains high in Georgia, following Russia's 2008 incursion into the country and Moscow's subsequent recognition and military presence in the breakaway regions of Abkhazia and South Ossetia.
The prospect of a new embargo brought back obvious memories of the years immediately before that war.
Then as now, Russia ratcheted up economic tensions by masking economic sanctions under the pretext of sanitary norms. Then, the sanctions were a thinly veiled – and poorly heeded – warning to then-president Mikheil Saakashvili about his Euro-Atlanticist intentions.
The 2006 embargo cut out not only wine but also Borjomi, fizzy mineral water once ubiquitous across Russia. At that moment of the ban, Borjomi took up as much 13 per cent of the local market. It never recovered its former dominance when Moscow removed the ban in 2013.
The Russian market for Georgian wine, however, rebounded quickly after the embargo, and now makes up over 70 per cent of all Georgian exports. Up to now, Russia has not been able to produce anything as good as Georgia's famed dry reds, but is looking to stimulate its own wine-producing industry, and that may influence its future policy course.
In threatening more restrictions, the Kremlin is also consciously hitting a culturally sensitive spot. Georgia is steeped in the traditions of wine-making, and has reasonable claims to be the oldest grape wine producer in the world.
In his Monday conference with journalists, Kremlin spokesman Dmitry Peskov insisted that the new controls were not politically related.
They were a "temporary restriction," he said, and would be removed "once Georgia returns to a non-Russophobic vector."
Georgia has yet to respond officially to the threats of an embargo, but on Monday its tourism agency confirmed that it would be resuming a practice of handing out a free bottle of wine to every tourist arriving at its airports.
Join our commenting forum
Join thought-provoking conversations, follow other Independent readers and see their replies