'No need to steal anything!': Russia responds to coronavirus vaccine hacking claims with hubris and derision
'The Brits are trying to cover their backs and the story that little, poor, backward Russia has in fact overtaken them in vaccine research,' says pseudo-opposition party
Oliver Carroll
Moscow
Friday 17 July 2020 19:42 Comments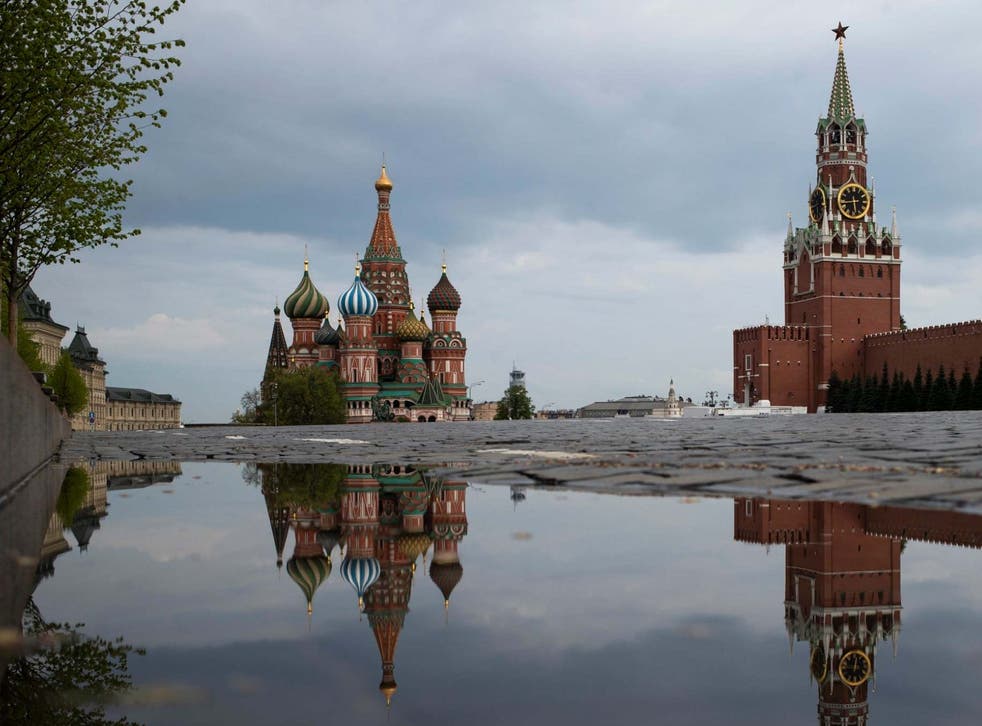 Russia has responded to allegations it attempted to steal British Covid-19 vaccine research with derision, with authorities and state media suggesting the local vaccine was sufficiently ahead of the competition to have "no reason" to snoop.
Moscow poured scorn on the language contained in various UK government statements that Russia was "almost certainly" behind the "APT29" hacking group, and that it was "highly likely" the group attempted to hack vaccine development at the University of Oxford in particular.
"The British say that they are almost certain, or 95 per cent, confident in what they say," Kremlin spokesperson Dmitry Peskov said in his Friday press conference. "Why not 96 per cent? Or 94 per cent? It seems their security services have very peculiar calculation methods."
A day earlier, Maria Zakharova, Russia's combative foreign ministry spokesperson, picked up on the appearance of a new "almost certain" term in UK security assessments.
That was "recognition" the previous "highly likely" accusations directed against Russia had lost credibility, she claimed.
On Friday, daytime propaganda talk shows on Kremlin-sponsored TV networks adopted a similar line, focusing on what they portrayed as untrustworthy UK intelligence.
"We're told bloodthirsty Russian spies tried to abduct a British vaccine," ironised Olga Skabeyeva, co-host of 60 minutes on Channel One. "We're told that the confidence has gone up a level to 'almost certainly', or 95 per cent. So when they accused Russia of all kinds of crimes before, does it mean they were even less sure?"
The Brits were demonstrating "off-the-charts cynicism" in blaming Russia, Ms Skabeyeva told her audience.
"Russia does not need to steal anything!" she said. "No country has a vaccine, but we are the closest of any to developing one!"
Russia's most advanced Covid-19 vaccine project is one of 23 currently undergoing clinical trials worldwide.
On Thursday, Kirill Dmitriev, the head of the country's sovereign wealth fund, announced plans to produce 30 million doses of the still-experimental vaccine.
But the British vaccine being developed by the University of Oxford and AstraZeneca is actually one stage ahead in clinical testing, with Phase III trials already under way.
None of that, of course, mattered much to the 60 Minutes guests, one of whom who described vaccine development as a "national security issue ... as important as the development of nuclear weapons".
Oleg Nilov, spokesperson for "Just Russia", a pseudo-opposition party, said the UK accusations amounted to a "cover operation" against Moscow. "The Brits are trying to cover their backs and the story that little, poor, backward Russia has in fact overtaken them in vaccine research," he said.
UK-Russia bilateral relations have hovered at the lowest of ebbs since the 2006 assassination of double agent Alexander Litvinenko in London.
Diplomatic niceties have hardly improved from the latest major shock — the poisoning of double agent Sergei Skripal in Salisbury in March 2018 and the subsequent tit-for-tat expulsions.
Last month, the UK announced it would be extending personal sanctions against 25 Russians it says have been involved in human rights abuses.
Those close to Russian foreign policy-making circles say there is little expectation relations will improve soon.
Fyodor Lukyanov, member of a policy council advising the Kremlin, says Moscow had developed an "immunity" to hacking allegations — and now considered them a "norm of diplomatic communication".
"Allegations have become so routine, so devalued, that Moscow can't take them seriously any more," he said.
This week's hacking claims foreshadowed the long-awaited publication of the report into alleged Russian interference in the 2016 Brexit vote and 2017 election next week. The Independent understands the report will prove embarrassing for several actors in Britain and Russia, but fail to deliver major shocks.
But the prospect the report may document unsavoury links between Russian money and the Conservative Party has led some to wonder if the hacking allegations, in fact, were intended to deflect media coverage.
"The timing is too good and it made me smile," said Philip Ingram, a former UK intelligence officer. "Of course, the Russians are in the business of vaccine intelligence, but the Chinese are much more active. They also have a clearer motive to get the first vaccine to market, given the origin of the virus."
Mr Ingram, referring to "inside knowledge" about the latest alleged hacking attempts, said while Russian groups were content to leave a "heavy footprint", the Chinese were "more pervasive, more covert".
"The one big difference from London's perspective is that it doesn't have to do a major trade deal with Moscow," he said.
Register for free to continue reading
Registration is a free and easy way to support our truly independent journalism
By registering, you will also enjoy limited access to Premium articles, exclusive newsletters, commenting, and virtual events with our leading journalists
Already have an account? sign in
Join our new commenting forum
Join thought-provoking conversations, follow other Independent readers and see their replies