Russia hands over puppy to replace French police dog Diesel killed in Paris attacks raid
'They are waiting for this puppy in Paris,' French ambassador says
Serina Sandhu
Tuesday 08 December 2015 12:04 Comments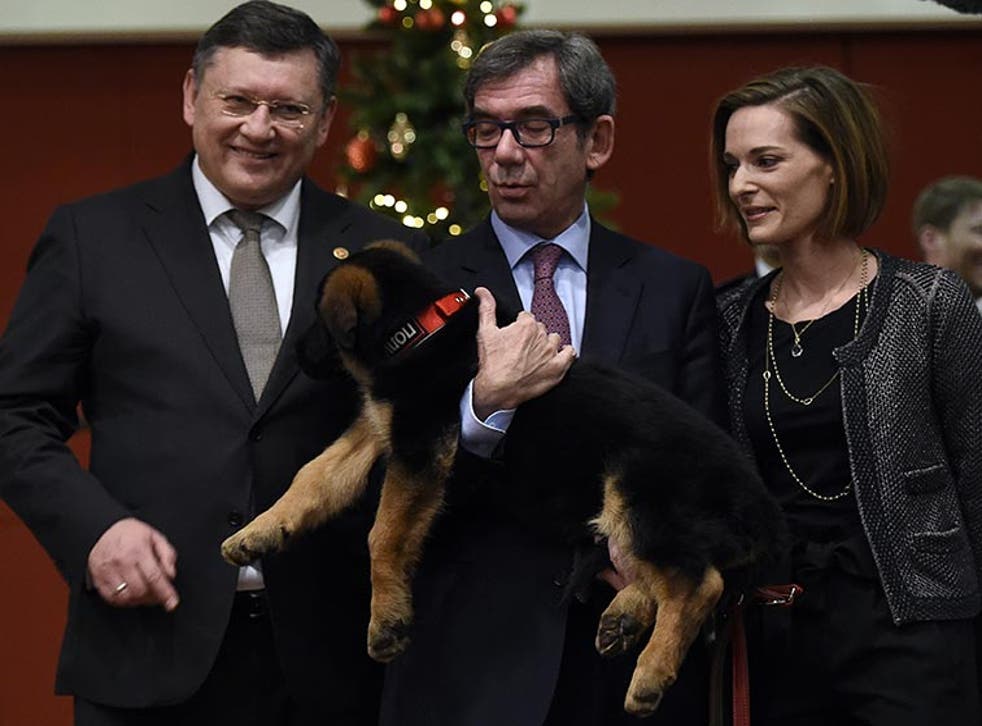 Russian police have given France a puppy to replace police dog Diesel, who was killed in a raid following the Paris attacks.
The seven-year-old Belgian Malinois was shot during a raid in Saint-Denis which targeted Abdelhamid Abaaoud, the alleged mastermind of the co-ordinated killings.
But during a ceremony in Moscow, Russia's Interior Ministry handed over Dobrynya, a German shepherd puppy, to French ambassador Jean-Maurice Ripert in a gesture of solidarity and "friendship" with France.
Dobrynya, who was named after a Russian fairytale knight, will be trained to form part of the French police's dog team.
According to TASS news agency, Mr Ripert said: "The puppy you are giving us today will replace Diesel and proves your friendship. They are waiting for this puppy in Paris."
He said the gift was "a gesture that comes from the heart".
Russia Today reported that Igor Zubov, the Russian Deputy Interior Minister, said: "I do not think it is a gift. I would rather say we are sending our employee to serve in the French Ministry of the Interior."
Following Diesel's death, the dog became the subject of viral social media trend with thousands of people paying tribute with the hashtag #JeSuisChien.
Additional reporting by AP
Register for free to continue reading
Registration is a free and easy way to support our truly independent journalism
By registering, you will also enjoy limited access to Premium articles, exclusive newsletters, commenting, and virtual events with our leading journalists
Already have an account? sign in
Join our new commenting forum
Join thought-provoking conversations, follow other Independent readers and see their replies