Almost one in three Russians would disown a gay friend, study finds
But researchers see some signs tolerance may be increasing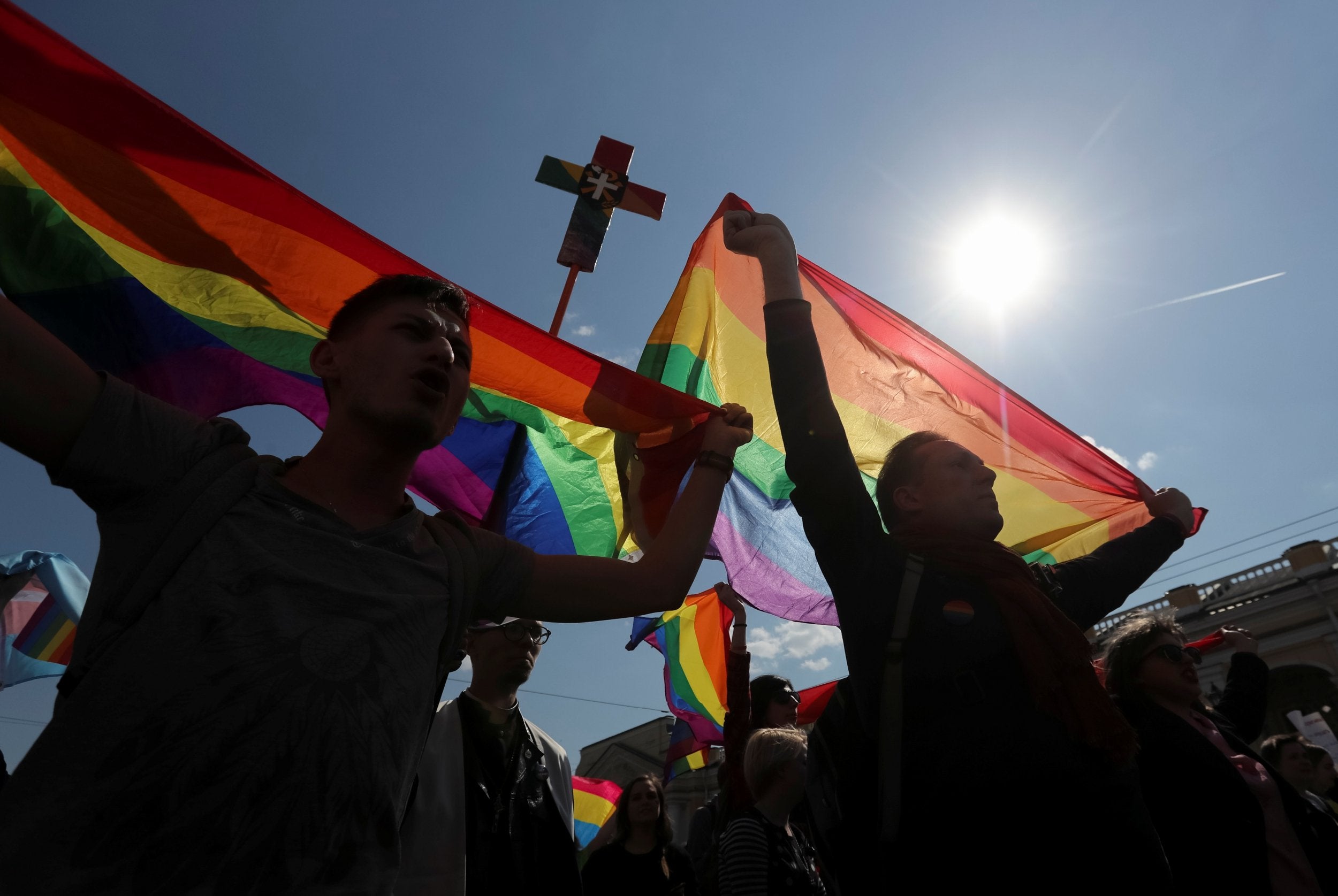 A new poll of Russians has revealed a complicated picture of homophobia — falling slightly, but from exceptionally high levels.
The Levada Centre study, published on Thursday, indicated that more than half the population still had a negative opinion on LGBT+. Nearly a third said they would disown a friend if they found out they were gay, while only three percent suggested they had a favourable opinion.
On a positive note, the polls showed nearly half (47%) believed LGBT+ people should be treated equally in front of the law. This was the highest number since 2005 (51%), when polling on the question began.
That, suggested the study's authors, was evidence that the power of the state's propaganda was beginning to wear off.
"There are some positive dynamics in the monitoring," says Denis Volkov, deputy head of Levada Centre.
He tells The Independent the shift is down to two things: "One the Kremlin's anti-gay campaign appears to have subsided. Two, it provoked a wave of coming-outs in defiance, and that appears to have had an effect on numbers."
The worst destinations for LGBT+ holidaymakers
Show all 10
Mr Volkov said it was notable that acceptance was highest among those who said they knew someone who was gay: "They understand that LGBT+ people are like everyone else."
Activists say the new Levada poll fell in line with their own data. Igor Kochetkov, head of the Russian LGBT+ network, said homophobia in Russia had "peaked" and an aggressive Kremlin campaign had "failed."
"Of course, Russian society remains extremely homophobic, but it's less than at the beginning of the decade," he says. "The good news is that it isn't getting worse."
While homosexuality was decriminalised following the fall of the Soviet Union in 1991, life in Russia has never been easy for sexual minorities — especially away from more progressive cities such as Moscow and St Petersburg. But in recent years, things have taken a dramatic turn for the violent.
The situation became especially tense around the time that the Kremlin adopted its anti-gay propaganda law in 2013, ostensibly to protect children.
In May that year, a 23-year-old gay man was murdered in the central Russian city of Volgograd. He was found naked, his skull smashed, having been raped with a beer bottle. Six months later, unknown gunman opened fire outside Moscow's most famous gay club.
Then in a series of attacks beginning in spring 2017, at least five men were killed and hundreds tortured in what appeared to be an anti-gay purge in Chechnya, in Russia's North Caucasus. Survivors' testimony links the purge to local law enforcement bodies, and men with close links to the republics's irascible president, Ramzan Kadyrov. Mr Kadyrov responded to the allegations by declaring there were "no gays" in Chechnya.
Mr Kotchekov, whose LGBT+ Network has been at the forefront of efforts to evacuate at-risk people from the North Caucasus, says the purge and lack of investigation demonstrated a "homophobic rot" at the heart of the state. But, he said, Russia's youngest generation gave him hope.
In a 2018 poll, half of Russians aged 18-28 said they refused to recognise there was such a thing as gay propaganda – more than twice the level in the general population.
"This is the very age group that were minors at the time of the law's adoption," says Mr Kochetkov. "The law was cooked up to be protecting them, and yet they reject its very premise."
Join our commenting forum
Join thought-provoking conversations, follow other Independent readers and see their replies