Tear gas and inside knowledge: Why the stabbing of a liberal journalist in Russia raises serious questions
Investigators say a lone attacker executed a careful plan to stab radio host Tatyana Felgenhauer in Moscow, with independent Russian journalists subject to increasing levels of hostility
Oliver Carroll
Moscow
Monday 23 October 2017 16:59 Comments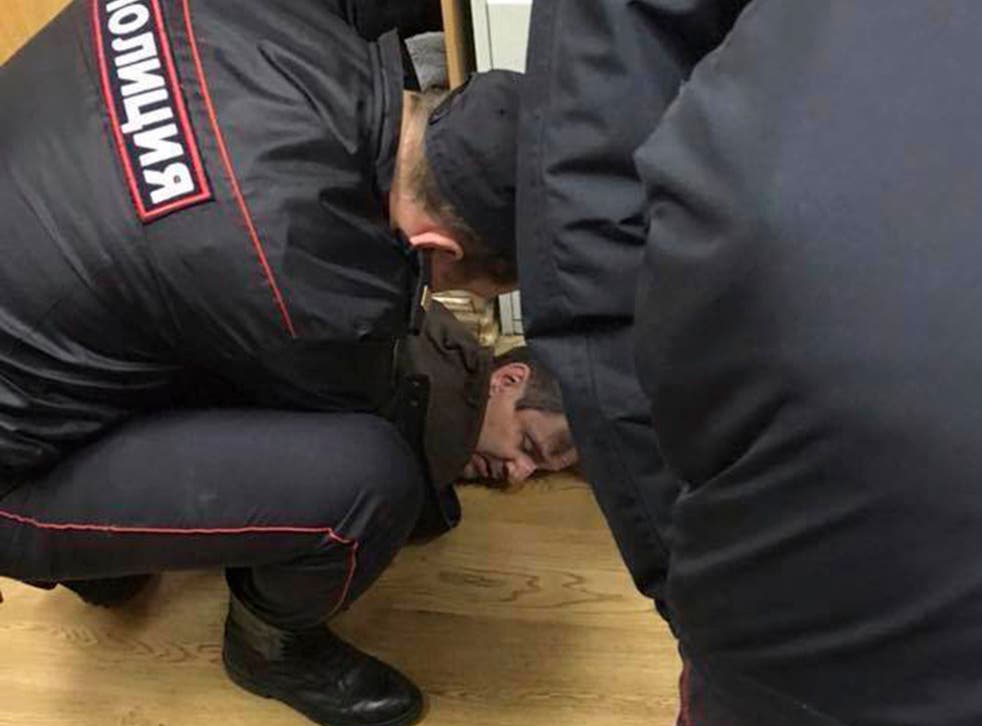 In the minutes before he plunged a knife into the neck of radio presenter Tatyana Felgenhauer, the assailant carried out a series of improbable tasks.
First, firing tear gas from a distance of 15 cm, he would incapacitate the ground floor security guard. Then, after running down the corridor, and somehow catching a lift that usually isn't working, he would go up to the fourteenth floor. Turning right, he would enter the editorial offices of Moscow's leading liberal radio station, and turn left into the correct room. There, he would approach Ms Felgenhauer, embrace her, and stab her just below the jawline.
The man was eventually detained by a second security guard, Alexander Usachyov, who had noticed his "strange behaviour." Speaking to The Independent at the Echo of Moscow's central Moscow HQ, Mr Usachyov revealed the man "said nothing," and only offered minimal resistance while being detained. The security guard was wearing a bandage on his left arm but said his injuries were "inconsequential."
Ms Felgenhauer's condition is less straightforward. The 32-year-old is being kept in a medically-induced coma at the city's Sklifosovsky Accident and Emergency Unit. She remains in a "moderately serious" condition but her injuries are not believed to be immediately life-threatening.
The radio station's deputy editor, Olga Bychkova, described the immediate scene as being "bloody" and "confusing," but that her immediate concern was for her colleague.
"Tanya's injuries were very serious, an obvious laceration of the neck," she told The Independent. Ms Bykova followed her colleague out of the radio station's offices, into the lift and down the fourteen floors to street level. "Mercifully the emergency services came very quickly, and did everything they had to, ensuring she could breathe."
The man who committed the attack has been identified in local media as 49-year-old Boris Grits, and a citizen of Israel. It is not yet clear if the man had dual Russian citizenship, or ever had Russian citizenship, though he did communicate to investigators in Russian.
Later, investigators released a video of the initial questioning. In it, the man claims to have been tormented by Ms Felgenhauer "telepathically." Blog posts, apparently written by the assailant, also indicate an unhealthy obsession with the radio presenter. Interfax news agency reported an unnamed investigation source saying that the man would undergo a psychiatric assessment.
Colleagues, however, expressed doubts that the man was acting out a purely personal vendetta.
Russian journalist stabbed in neck inside Moscow radio station

Show all 7
"Everyone knows us and everyone has an opinion about us," Olga Bychkova told The Independent. "I can't tell you for sure if what we are seeing is a result of hatred of independent journalists, or a psychiatric issue, or both."
Ms Felgenhauer, predominantly a talk show host, was not known for investigative work, and there is nothing to suggest she was on the verge of uncovering a major economic or political scandal. That said, independent Russian journalists are subject to increasing levels of hostility and threats. Life has never been easy, but government propaganda, which regularly criticises disloyal journalists for betraying national interests, has upped the stakes.
It was not the first time that Echo of Moscow journalists were targetted. In the last month alone, the station was forced to evacuate another journalist, Yulia Latynina, after she was targeted in an arson attack.
The state TV channel Russia 24 put out a report two weeks ago that described the station as an "arm of the US State Department," saying it was getting paid for "destabilising society" ahead of Russia's presidential election in March.
The report identified Ms Felgenhauer personally, running her picture, and compared foreign NGOs funding Echo of Moscow with the threat posed to Russia by Isis.
Alexei Venediktov, the radio station's veteran and wily editor, said he believed the attack was connected with Ms Felgenhauer's work. The assailant was acting out what seemed to be a well-informed plan, he said. The man was caught with a map of the editorial offices and scribbled notes in English.
"It's clear — the level of threats against our team is on the increase," Mr Venediktov said.
At this point, the editor turned to journalists from Russia 24. "It is good that so many of you are here," he said. "It's important to show solidarity whatever your political colour."
Just a few minutes earlier, the same reporter encountered a less welcoming voice from another employee of the radio station.
"Thank you for your work," that employee said. "This is all thanks to you."
Police are treating the crime as attempted murder.
Register for free to continue reading
Registration is a free and easy way to support our truly independent journalism
By registering, you will also enjoy limited access to Premium articles, exclusive newsletters, commenting, and virtual events with our leading journalists
Already have an account? sign in
Join our new commenting forum
Join thought-provoking conversations, follow other Independent readers and see their replies