UK accuses Russia of using Mariupol ceasefire to 'reset' troops
Ministry of Defence casts doubt over Moscow's intentions for 'humanitarian corridors' in Donetsk region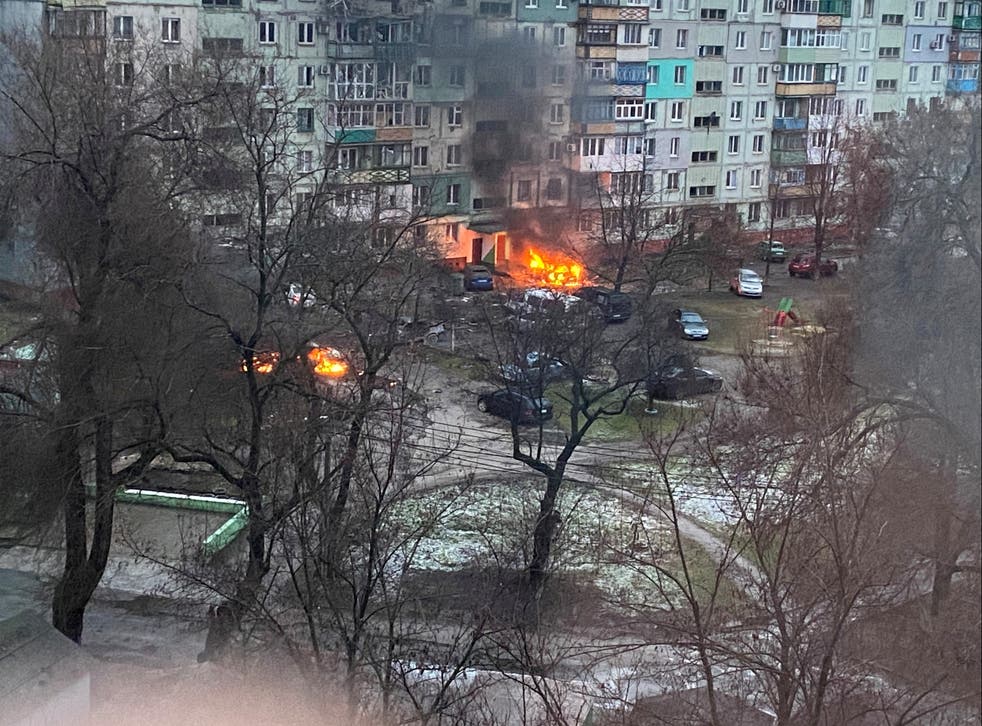 The UK government has accused Russia of proposing the failed ceasefire in Mariupol as cover to reshuffle its military for a renewed assault on Ukraine.
In an "intelligence update", the Ministry of Defence said the brief pause in fighting on Saturday – which it was hoped would allow for mass civilian evacuations – "was likely an attempt to deflect international condemnation while resetting its forces for renewed offensive activity".
Russia said earlier it had opened humanitarian corridors near the besieged eastern cities of Mariupol and Volnovakha – but local authorities soon urged residents to return to shelters, accusing Russia of continued shelling and bombing in Mariupol and its outskirts.
Moscow's defence ministry, however, accused Ukrainian "nationalists" of preventing civilians from leaving, the RIA news agency reported.
"By accusing Ukraine of breaking the agreement, Russia is likely seeking to shift responsibility for current and future civilian casualties in the city," the Ministry of Defence said.
Both Volnovakha and Mariupol have been under relentless and seemingly near-indiscriminate Russian bombardment over recent days.
On Friday, local MP Dmytro Lubinets warned the attack in Volnovakha was so intense that dead bodies lay uncollected and that there was "not any building which has not suffered from direct or collateral damage".
Follow live updates as Ukraine defends against Russian invasion
In Mariupol – a key Azov Sea port city which Vladimir Putin will need to seize in order to create a land corridor between Russia and annexed Crimea – Moscow's siege has seen shops, hospitals and schools wracked by explosions, also knocking out water, heating, lighting, and – vitally – communications.
It was in this environment of fear and confusion that the brief ceasefire was declared on Saturday morning, and some residents were reportedly unsure whether the announcement that it was safe to flee the city was merely false information spread by Moscow.
World news in pictures

Show all 50
The ceasefire had been supposed to last for five hours from 7am GMT, with evacuations starting two hours in. 
But by 10am GMT Mariupol authorities announced the evacuation had been postponed, accusing Russia of failing to uphold the ceasefire. Moscow claimed that no one had made use of the "humanitarian corridors".
In comments carried on Ukrainian television, Mariupol mayor Vadym Boychenko said thousands of people had gathered for safe passage out of the city and buses were departing when shelling began.
As the ceasefire collapsed, Alexander, a 44-year-old engineer and Mariupol resident told the BBC: "I'm on the street, I can hear shelling every three to five minutes ... I can see cars of people who tried to flee and they are coming back. It is chaos."
The Russian defence ministry said it had resumed "offensive actions" after the failed ceasefire. Moscow denies targeting civilians and a spokesman claimed that members of Ukraine's Aidar and Azov battalions were firing on pro-Russian forces in Mariupol from schools, hospitals and nurseries, Tass reported.
At least 351 civilian deaths have been confirmed since Mr Putin's invasion began 10 days ago, but the true number is probably much higher, the United Nations human rights office has said.
Aid agencies have warned of a humanitarian disaster across the country, with the UN forecasting the number of refugees could rise by some 200,000 to 1.5 million people by the end of the weekend.
As the Russian bombardment resumed on Saturday, the Associated Press reported that bleakness and desperation pervaded in Mariupol – with doctors working by the light of their mobile phones, fitting wounded soldiers with tourniquets as bereft mothers mourned their dead children.
Mr Putin, meanwhile, attacked the Ukrainian leadership's resistance to his invasion, saying: "If they continue to do what they are doing, they are calling into question the future of Ukrainian statehood ... if this happens, it will be entirely on their conscience."
During a televised meeting with flight attendants from Russia's flagship airline, Aeroflot, which announced it was halting all international flights – save to Belarus – in the wake of Western sanctions, Mr Putin likened the West's economic pressure as "akin to declaring war".
"But thank God, we haven't got there yet," Mr Putin said.
The Independent has a proud history of campaigning for the rights of the most vulnerable, and we first ran our Refugees Welcome campaign during the war in Syria in 2015.
Now, as we renew our campaign and launch this petition in the wake of the unfolding Ukrainian crisis, we are calling on the government to go further and faster to ensure help is delivered. To find out more about our Refugees Welcome campaign, click here.
To sign the petition click here. If you would like to donate then please click here for our GoFundMe page.
Register for free to continue reading
Registration is a free and easy way to support our truly independent journalism
By registering, you will also enjoy limited access to Premium articles, exclusive newsletters, commenting, and virtual events with our leading journalists
Already have an account? sign in
Register for free to continue reading
Registration is a free and easy way to support our truly independent journalism
By registering, you will also enjoy limited access to Premium articles, exclusive newsletters, commenting, and virtual events with our leading journalists
Already have an account? sign in
Join our new commenting forum
Join thought-provoking conversations, follow other Independent readers and see their replies