Russian human rights office suffers arson attack in rumoured retaliation for work in Chechnya
Targeting of Ingushetia headquarters of Memorial follows arrest of activist Oyub Titev over supposed narcotics offences
Oliver Carroll
Moscow
Wednesday 17 January 2018 15:58 Comments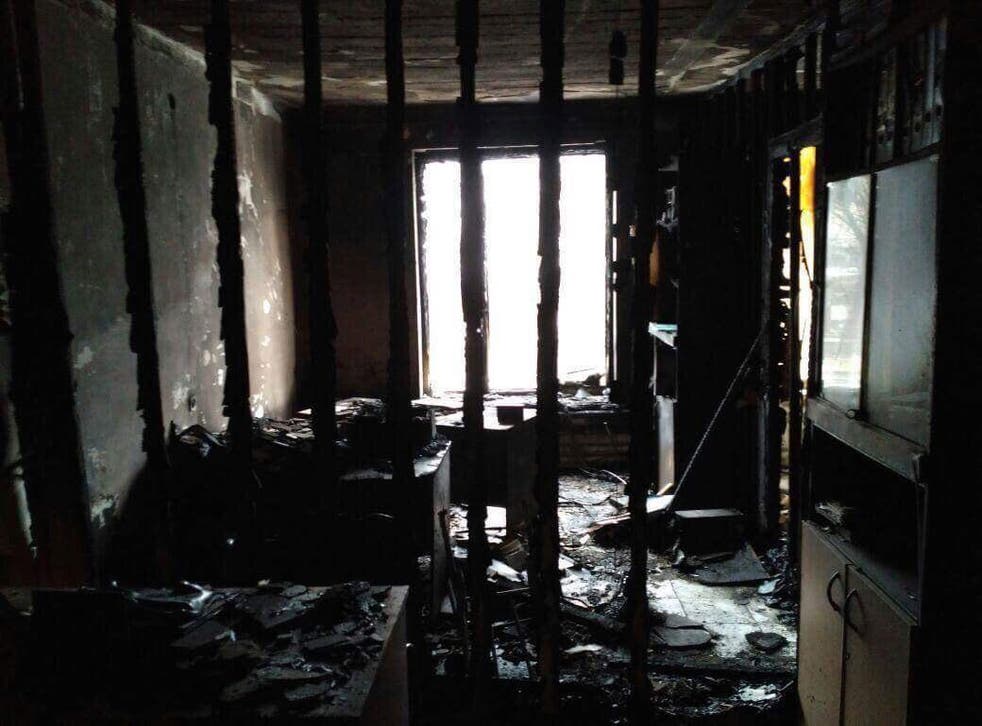 The security camera shows 3.35am. Two masked men come into focus, one carrying a canister. They place a ladder towards the roof, scuttle up and enter the building on the second floor. This is the location of the Ingushetia regional office of Memorial, one of Russia's most prominent human rights organisations. Later, a fire starts, gutting computers and office furniture.
Memorial has connected this apparent arson attack with events in the neighbouring republic of Chechnya. There, last week, the 60-year-old head of its Chechen operations, Oyub Titiev, was arrested over supposed drugs offences. Those who know him dismiss the charges as bogus and as a retaliation for his human rights work. Several of them had flown to the region in an attempt to secure his release and were using the Ingushetia office as a base.
"They had been travelling from there every morning. This is not a coincidence," said Tanya Lokshina, lead Russia researcher for Human Rights Watch.
Memorial is one of Russia's oldest human rights organisations, founded to document political crimes and the repressed. A star of Gorbachev's glasnost, it has in recent years come under increasing pressure from the state. Two years ago, the Russian Ministry of Justice included it in a list of foreign agents. The designation introduced not only stigma, but an increased bureaucratic burden to the organisation's work.
Memorial has been particularly active in Chechnya. It has documented crimes during the republic's two decades of war and subsequent repressions under its strongman president Ramzan Kadyrov. Its one-time head, Natalia Estimirova, was killed in 2009. Current director Mr Titiev is a critic of Mr Kadyrov and many consider this to be the only reason he has spent six days in jail.
Ekaterina Sokrianskaia, director at Conflict Analysis and Prevention Centre, worked for Memorial for nine years, often from its Ingushetia base. She told The Independent that the organisation had no problems with the Ingush authorities; relations were, if anything, "cooperative." In her view, the attack was all about Chechnya and the actions of its leader.
"Chechen authorities have repeatedly targeted Memorial, threatened staff, called them enemies of the people and threatened victims of violations who turned to the organisation for help," she said. Several staff members have already been evacuated over threats, she added: "Titiev's arrest followed several such threats."
On Tuesday, the opposition newspaper Novaya Gazeta revealed that Mr Titiev has written a direct appeal to Russian President Vladimir Putin and Federal Security Services director Alexander Bortnikov. The text of the published letter outlines Mr Titiev's version of events: that Chechen security officers threw a bag containing 180 grams of marijuana into his car and that officers attempted to force a confession from him by threatening his family.
"I want you to know that if I ever come to confess guilt, it will have been done under physical duress or the threat of blackmail," Mr Titiev writes.
Presidential spokesman Dmitry Peskov provided little grounds for optimism when asked to comment on the case last week. "You need to ask the appropriate security organs since they have presented concrete allegations," he told journalists during a briefing.
Over recent days, activists have have been pressing Mr Titiev's appeal at the highest levels, hoping for a direct intervention from the Kremlin. The chances of this happening are low. Moscow has in the past been very reluctant to interfere in Chechen matters, leaving them under the control of the irascible Mr Kadyrov in a grand security bargain.
World news in pictures

Show all 50
According to Ms Sokrianskaia, Chechen authorities have understood their apparent immunity and have set their sights on closing Memorial offices across the region.
"After Estemirova's assassination Memorial offices in Chechnya continued to operate," she said. "This time, after Titiev's arrest, they want to make sure, that Memorial goes and never comes back."
Register for free to continue reading
Registration is a free and easy way to support our truly independent journalism
By registering, you will also enjoy limited access to Premium articles, exclusive newsletters, commenting, and virtual events with our leading journalists
Already have an account? sign in
Join our new commenting forum
Join thought-provoking conversations, follow other Independent readers and see their replies