Russia causes alarm with 'largest ever' military drills in Belarus
Around 13,000 Russian troops are due to take part in exercises, though analysts have said the true number could be far higher
Will Worley
Monday 21 August 2017 18:58 Comments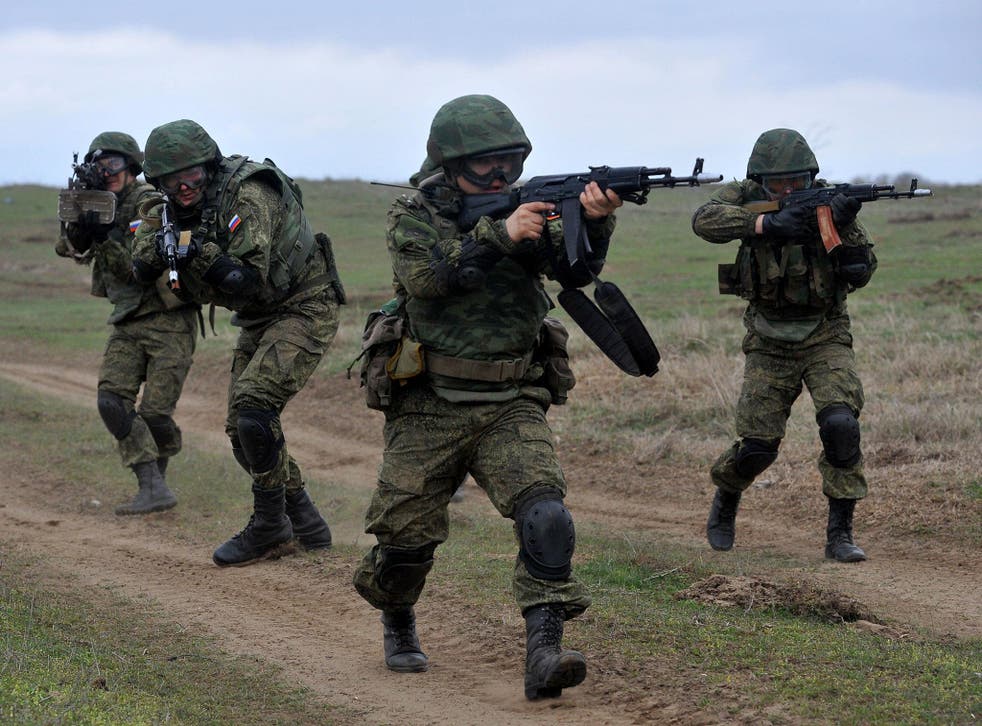 Concerns are mounting over Russian military exercises planned for next month, which some fear could be used as cover for intervention in Belarus.
The Zapad ('West') exercise, which occurs every four years, will take place in Belarus and western Russia.
Russian war games have previously preceded or provided cover for real military operations, including in Ukraine and Georgia, analysts said.
While Russia has claimed around 13,000 troops will take part, the real number that will participate is believed to be much higher.
Russian defence minister's plane 'buzzed' by Nato jet
Some experts have suggested all the personnel involved – military and civilian – could reach up to up 100,000, though others have dismissed this figure.
Tensions have been mounting in recent years between Nato and Russia, which has conducted a number of large scale and unannounced snap military drills in its western region. These often flout the Vienna Document, which regulates large military exercises.
Nato has also conducted major drills in Eastern Europe.
"Russia is billing it as modest exercises under 13,000 troops, but everything points to probably the largest military exercise in post-Soviet history," said Leon Aron, Russia director at the conservative think tank American Enterprise Institute to CNBC.
Nato officials and neighbouring states have also expressed alarm about the plans.
In July, the US commander in Europe, General Ben Hodges, said: "People are worried this is a Trojan horse. They [Russian officials] say, 'We're just doing an exercise,' and then all of a sudden they've moved all these people and capabilities somewhere."
Defence analysts Stratfor said the "exercises likely will be larger and more important than ever before" but stopped short of predicting any further action by Russia.
Other experts dismissed the prospect outright.
"This is a show of force but there is some rational core in this action," Dr Igor Sutyagin, senior research fellow of Russian studies at the Royal United Services Institute, told The Independent.
"This rational core is a bit less aggressive than the conservative interpretation."
He said the main aim was for Moscow to ensure it can move its troops around quickly through the area's terrain. The country's enormous landmass means the military cannot defend it entirely.
"It's very good to know that you are able to do that," Dr Sutyagin added. "It seems this is the main driving force in this exercise."
The number of 100,000 participants was likely an over-estimation, he said, because the numbers of train carriages requisitioned by the military indicated capacity for a maximum of 30,000 troops.
He also said the idea that the Zapad drill could be used as a Trojan Horse-style operation to deposit equipment in the country was unfounded.
"If you want to control Belarus, you cannot just leave your empty tanks there, you need to occupy it," Dr Sutyagin said.
Russia has carried out the war games with Belarus for decades. Belarus, ruled by Alexander Lukashenko since 1994, is sometimes referred to as 'Europe's last dictatorship'.
World news in pictures

Show all 50
The country has been subject to sanctions by the EU and is not in the same danger of drifting westwards politically, endangering Russia, as Ukraine was in 2014.
It is also home to markedly less ethnic Russians than Ukraine.
Dr Sutyagin said he believed there was "no Russian appetite" for increasing influence in Minsk, Belarus's capital.
"Russian efforts are already overstretched," he added.
Register for free to continue reading
Registration is a free and easy way to support our truly independent journalism
By registering, you will also enjoy limited access to Premium articles, exclusive newsletters, commenting, and virtual events with our leading journalists
Already have an account? sign in
Join our new commenting forum
Join thought-provoking conversations, follow other Independent readers and see their replies