Russia launches hypersonic missiles in nuclear drills as 'show of strength' amid Ukraine tensions
Ballistic and cruise missiles hit sea and land-based targets in practice launches overseen by Vladimir Putin and Alexander Lukashenko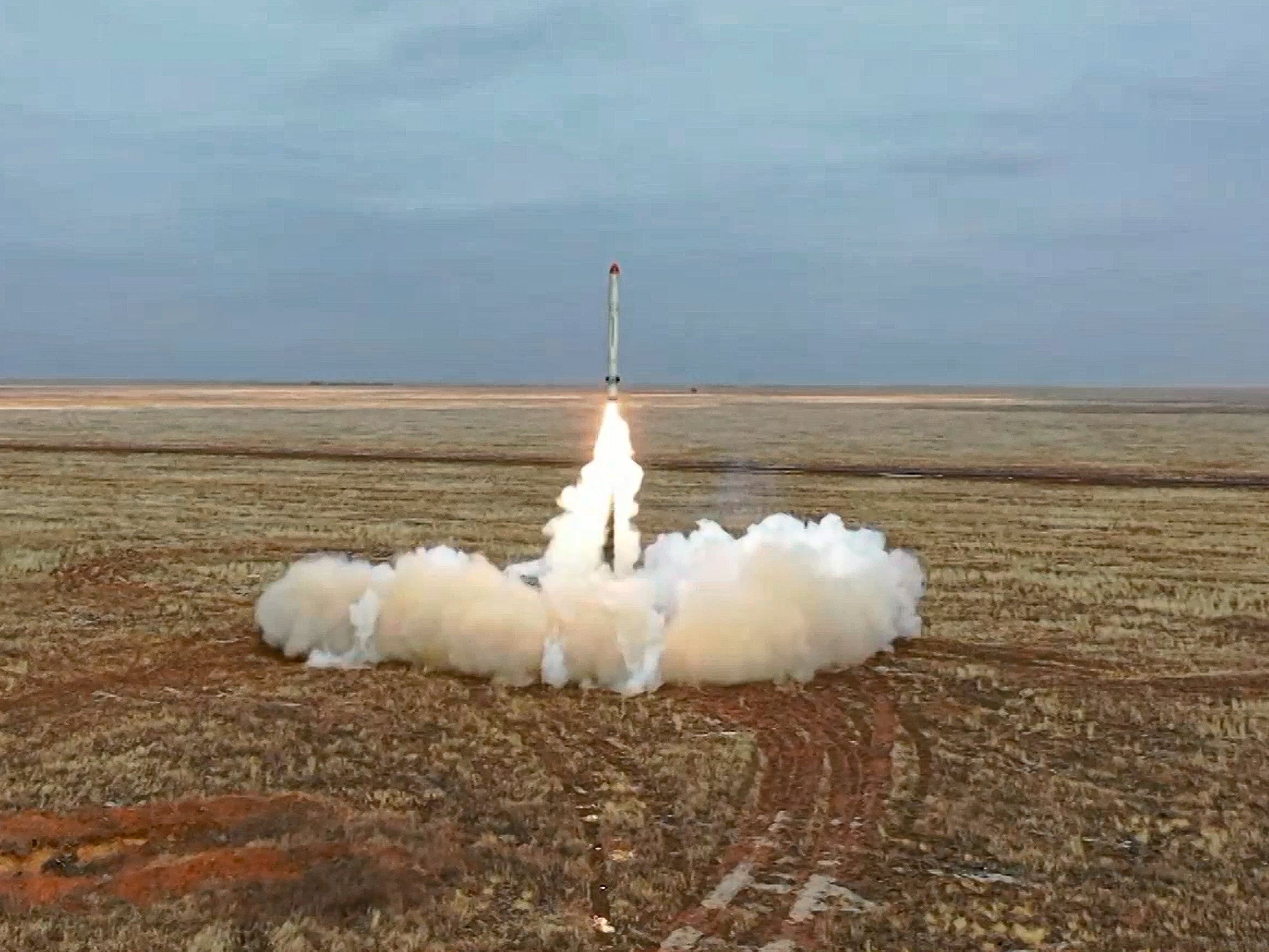 Leer en Español
Russia has hit sea and land-based targets with ballistic and cruise missiles as part of strategic nuclear exercises amid growing tensions with Ukraine.
The annual exercises featured launches of Kinzhal and Tsirkon hypersonic missiles and a number of other weapons on Saturday, the Kremlin said in a statement.
President Vladimir Putin and his Belarusian counterpart Alexander Lukashenko observed the exercises on screens from what the Kremlin called a "situation centre".
Moscow-based analysts said the exercises were aimed at sending a message to take Russia's demands for security guarantees from Nato seriously after the alliance's expansion to Russia's borders since the collapse of the Soviet Union in 1991.
Nato secretary-general Jens Stoltenberg said Russia knew the alliance could not meet its demands, which include the withdrawal of Nato forces from former communist east European states that have elected to join Nato.
New helicopters and a battle group deployment of tanks, armoured personnel carriers and support equipment have deployed in Russia near the Ukraine border, according to US-based Maxar Technologies, which tracks developments with satellite imagery.
The Kremlin also has troops staging exercises in Belarus, north of Ukraine, that are due to end on Sunday.
Russia has stationed an estimated 190,000 troops along its borders with Ukraine, increasing suspicion that an invasion is imminent.
Western powers have consistently warned the Kremlin against any aggression, insisting there will be retaliation if it attacks its former Soviet neighbour.
US defence secretary Lloyd Austin said he hoped Putin would "step back from the brink of conflict" as Russian forces were beginning to "uncoil and move closer" to the border.
Ukraine's military on Saturday said mercenaries had arrived in separatist-held eastern Ukraine to stage provocations in collaboration with Russia's special services.
"The purpose of these provocations will, of course, be to accuse Ukraine of further escalation," the military said in a statement.
Ukraine has accused Russia of planning to stage provocations that could lead to civilian casualties in eastern Ukraine in order to give Moscow a pretext to attack its neighbour.
Russia denies planning to attack Ukraine.
Local authorities in southwest Russia on Saturday also reported that a shell hit a village house near the Ukrainian border, damaging its roof but hurting no one, according to the TASS news agency.
Ukraine denied two earlier reports that its shells had landed on Russian territory near the border as fake news, saying Ukrainian government forces were not firing and had no interest in escalating already-high tensions.
Mr Austin on Saturday assured the three Baltic nations they would not be on their own if faced with security threats from Russia, although he stopped short of promising a permanent deployment of American troops in the former Soviet republics.
British prime minister Boris Johnson said an invasion of Ukraine appeared to be "in motion" but that it "must logically" still be possible to prevent a war.
Asked whether he agreed with the US assessment that the Russian leader had made up his mind to attack the capital city Kyiv, Mr Johnson told broadcasters at the Munich Security Conference: "I think certainly things are in motion, but the question is whether it can all be pulled back, and whether the president of Russia is still able to call this operation off.
"I think that possibility must logically still exist, and therefore I think it's absolutely vital that we have a path of dialogue, of reason."
Additional reporting by Reuters
Join our commenting forum
Join thought-provoking conversations, follow other Independent readers and see their replies