The map that shows how many Nato troops are deployed along Russia's border
British troops are deployed in Estonia and Poland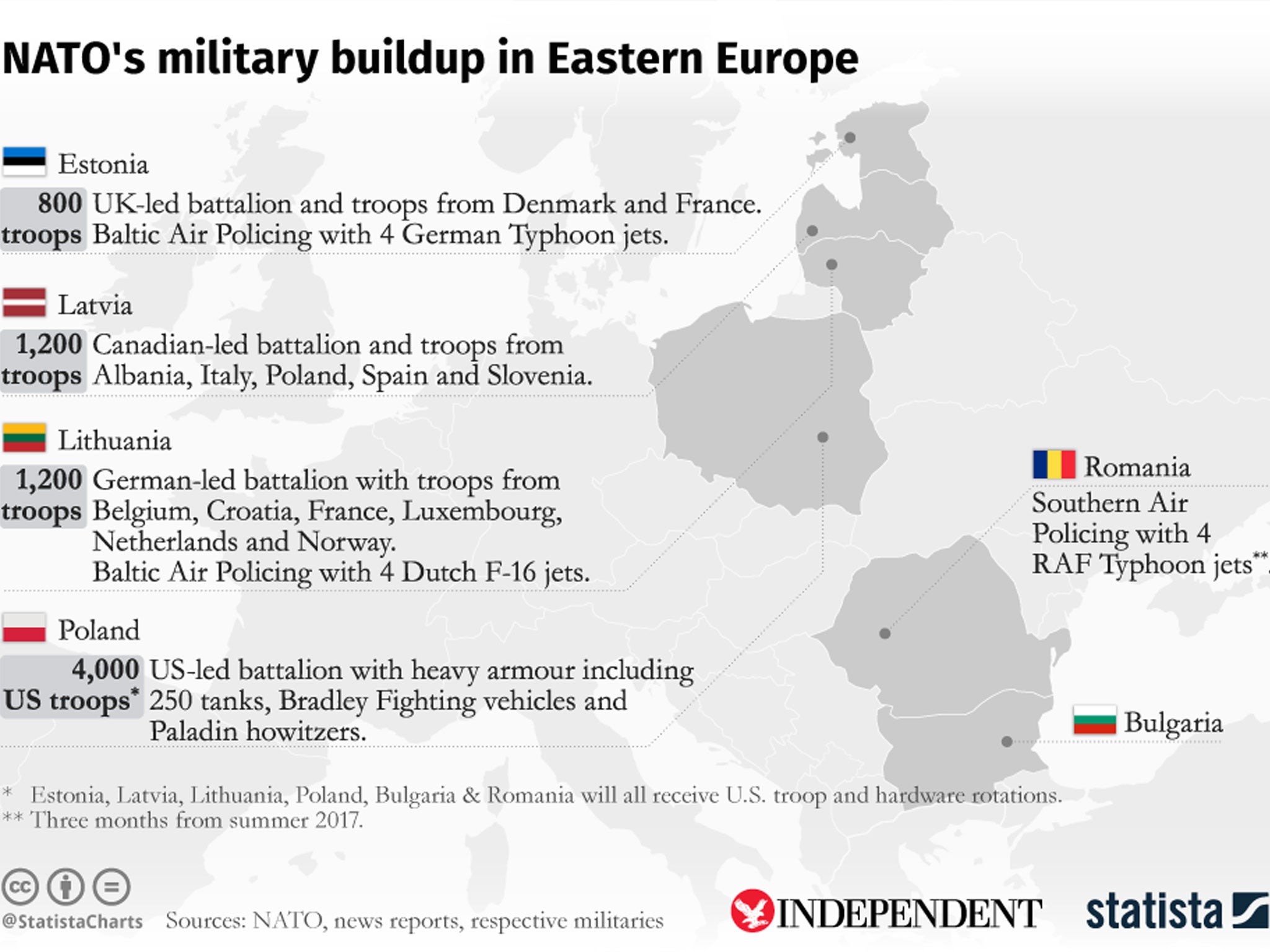 Thousands of Nato troops have amassed close to the border with Russia as part of the largest build-up of Western troops neighbouring Moscow's sphere of influence since the Cold War.
The Baltic states, Poland, Romania and Bulgaria are hosting soldiers from across Nato's 28 member states, with more than 7,000 troops deployed in countries bordering Russia.
The UK is the lead nation in Estonia, where 800 soldiers are based at the Tapa base, about 50 miles from Tallinn, helped by French and Danish forces.
British soldiers are also deployed in Poland as part of a US-led Nato mission numbering some 4,000 troops, which is supported by the Romanian army.
Poland's leaders hold ceremony to welcome US troops as part of Nato build-up
In Latvia and Lithuania, around 1,200 troops from Canada and Germany (respectively) are deployed alongside forces from across Europe.
Tanks and heavy armoured vehicles, plus Bradley fighting vehicles and Paladin howitzers, are also in situ and British Typhoon jets from RAF Conningsby will be deployed to Romania this summer to contribute to Nato's Southern Air Policing mission.
This map, produced for The Independent by Statista, illustrates the scale of Nato's military build-up in Eastern Europe.
In the far north of the continent, more than 300 US marines are also on rotation in Norway, which shares a border with Russia inside the Arctic Circle.
Kremlin officials claim the build-up is the largest since the Second World War.
The extensive troop deployment comes as defence budgets in the Baltic States continue to rise.
Combined, Estonia, Latvia and Lithuania spent little more than 900 million Us dollars on defence in 2005.
Fast forward to 2019 and that figure will have more than doubled to a little over two billion dollars.
According to research by the US-based think tank Heritage Foundation, between 1950 and 2000 on average 22 per cent of all US troops were stationed on foreign soil.
The low point for US soldier deployments abroad came in 1995 as East-West tensions began to subside, with just 13 per cent of America's armed forces serving abroad.
Now, Russia believes the US and its Nato partners are expanding.
The US is also increasing its presence in the Black Sea and in Western Europe at bases in the Netherlands, Belgium and Germany.
Tensions between Russia and the West have been heightened since the annexation of Crimea and the war in Syria, which put Washington and Moscow on opposing sides.
Russia blames the West for worsening relations and says the build-up of Nato troops in the Baltics is a provocation.
Moscow has criticised recent deployments as "truly aggressive".
Join our commenting forum
Join thought-provoking conversations, follow other Independent readers and see their replies