Russia rolls back Putin's cold war-era rhetoric as Kremlin denies 'nuking Florida' in video mock-up
Dmitry Peskov says the West misinterpreted Vladimir Putin's 'non-militaristic' new weapons pitch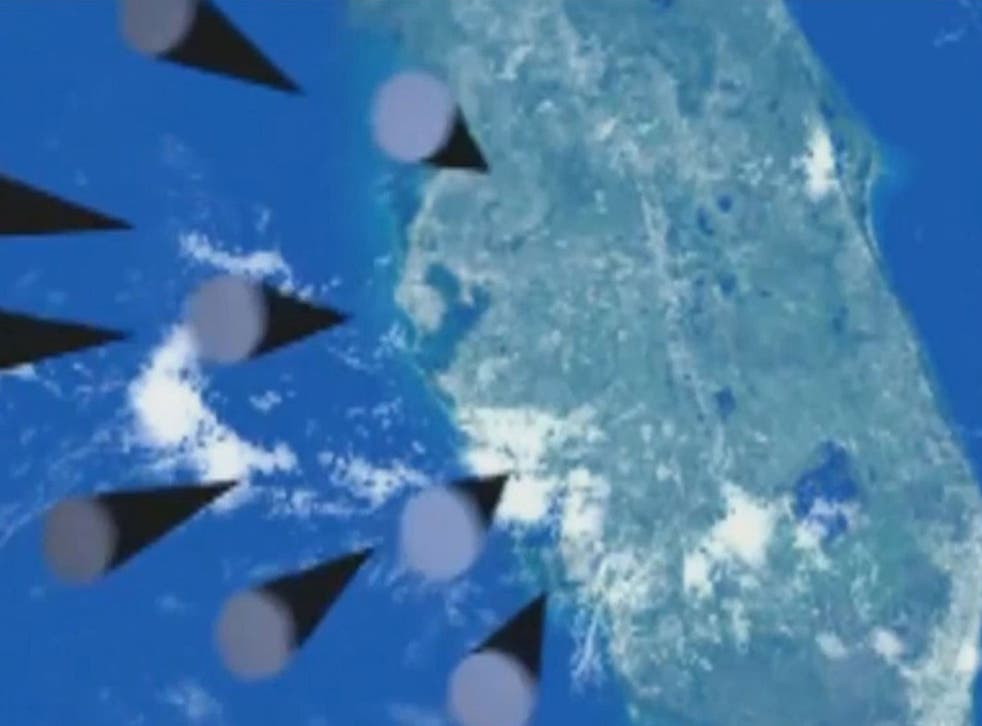 Vladimir Putin's state of the nation address on Thursday was, on the face of it, the most confrontational speech by any world leader in a decade. He presented what he claimed was a new class of unpredictable, "invincible" nuclear weapons. He left little doubt about his country's rediscovered strategic rivalry with the US. And for many, he went so far as to augur a new Cold War.
But many experts doubt the feasibility of the programme, and on Friday, much of the most threatening rhetoric was being walked back.
The video animations that accompanied the President's presentation of his new weapons certainly left little to the imagination. In one, an intercontinental ballistic missile, launched from Russia, makes its way West. It manoeuvres around what look like American anti-missile shields, before landing in an unnamed country the other side of the ocean. The target – the contours of a landmass looking like Florida – comes into view.
The audience in the hall – federal lawmakers and other leading officials – seemed to get the idea. They sniggered before the animated missile even had a chance to land.
But in his daily briefing to press on Friday, presidential spokesperson Dmitry Peskov insisted the most obvious interpretation of animations was, in fact, mistaken. The maps had "no relation to specific countries," he said. There was no "Florida" map "nor any map of any state in the US".
The international reaction to Thursday's speech was swift. There were statements of concern from German Chancellor Angela Merkel and American President Donald Trump. The US State Department briefed journalists that Russia had been committed to "destabilising" weapon systems "for well over a decade".
According to Mr Peskov, the international outcry "missed the point". Mr Putin's address was not a "confrontational" speech, he said, but a demonstration of Russia's potential for technological advance. A new weapons pitch did not amount to a "militaristic" speech, he said.
Instead, Russia's new weapons were a "logical response" to ensuring "parity" between the world's two nuclear superpowers: "We are not developing weapons that would neutralise the enemy's own strategic arsenal, and we are defenceless against some of their weapons."
Igor Sutyagin, a military expert at the Royal United Services Institute of Defence and Strategic Studies in London, told The Independent the Russian arguments were misleading. US anti-ballistic missile shields were never designed to defend against "sophisticated" Soviet intercontinental missiles, he said. Meanwhile, most of the weapons presented were "aspirational" or had their roots in Soviet development programmes.
"All nuclear programmes have to be updated, but this was clearly overkill," said Mark Galeotti, senior researcher at the Institute of International Relations in Prague. "Whatever will happen will happen much slower than they are saying – and is unlikely to become operational while Putin is still in power."
Former Kremlin adviser and security expert Vladimir Frolov described the announcement as "bluff". There were doubts such "exotic weapons" would ever see the light of day, he said. Even if they did, they would make little difference to the strategic balance. "The US won't be forced into a new generation of nuclear underwater drones, or nuclear-powered cruise missiles, because these are frankly nuts," he told The Independent.
Whatever the reality of the new weapons programme, few would disagree that Mr Putin's Thursday speech took anti-American rhetoric to a new level. But the President had arguably retreated to familiar territory.
"The most important line of the speech was about weakness – no-one listened, but maybe now they will," said Mr Galeotti. "Fundamentally, the Russians understand that they are weak, and that is a long-running insecurity. Their strong rhetoric speaks to a paucity of options rather than a signal of real intention."
Register for free to continue reading
Registration is a free and easy way to support our truly independent journalism
By registering, you will also enjoy limited access to Premium articles, exclusive newsletters, commenting, and virtual events with our leading journalists
Already have an account? sign in
Register for free to continue reading
Registration is a free and easy way to support our truly independent journalism
By registering, you will also enjoy limited access to Premium articles, exclusive newsletters, commenting, and virtual events with our leading journalists
Already have an account? sign in
Join our new commenting forum
Join thought-provoking conversations, follow other Independent readers and see their replies