Russia plans a 'hybrid warfare' campaign aimed at destabilising Europe, says Bulgarian President
President Plevneliev fears that cyber attacks stem from Moscow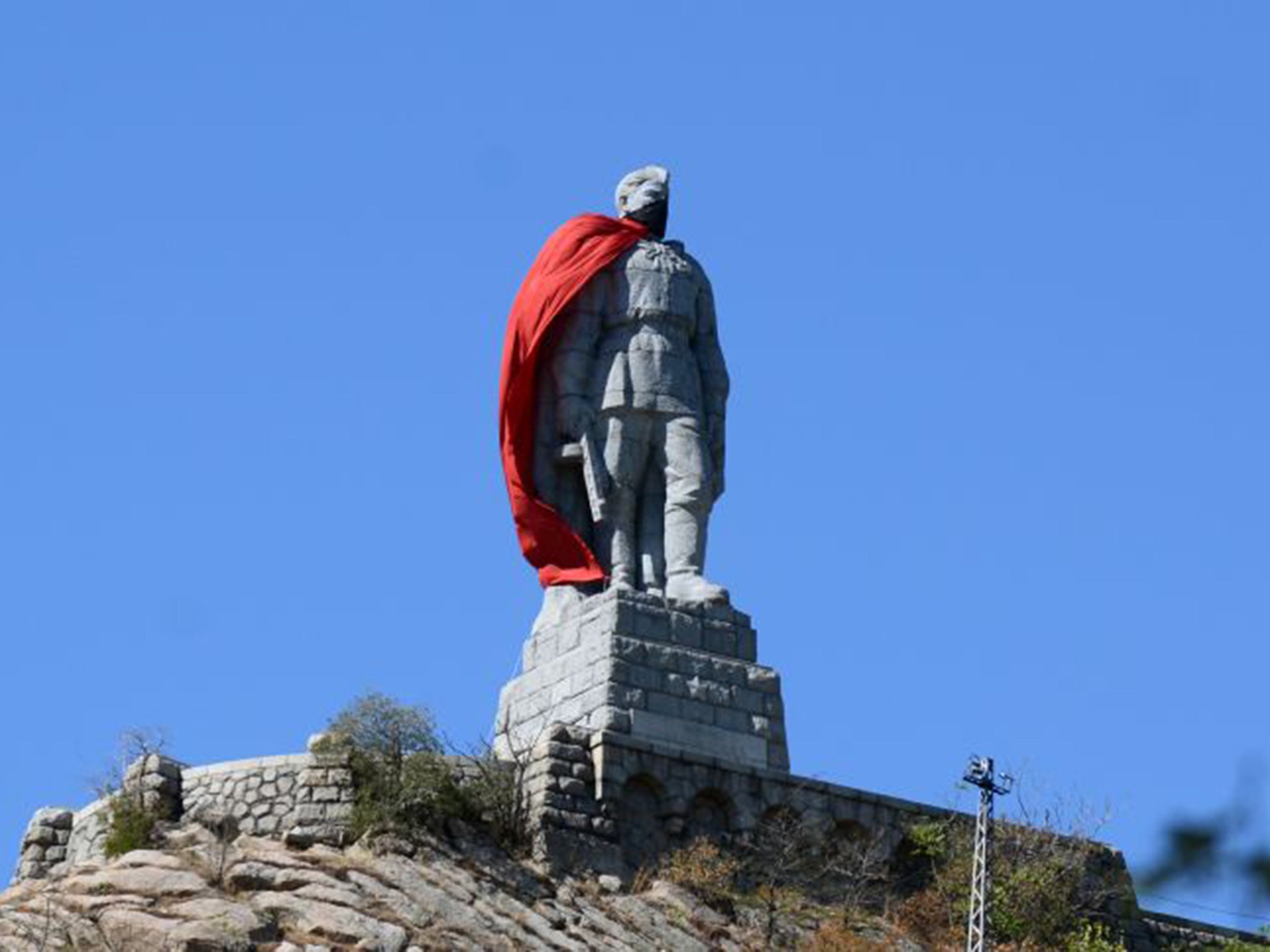 Russia has trained its sights on the Balkans to wage a "hybrid warfare" campaign aimed at destabilising the whole of Europe, the President of Bulgaria has warned. He demands that the EU and Nato do more to counter the rising threat of Russian aggression.
Rosen Plevneliev accuses Moscow of launching massive cyber attacks on Bulgaria's government institutions and increasingly testing Bulgaria's airspace in the wake of the annexation last year of Crimea, on the other side of the Black Sea.
"The very efficient and secure way for Russia to destabilise Europe is through the Balkans, so that is what Mr Putin is focusing on," he told The Independent on Sunday in the capital, Sofia. "Our message to the EU, the Secretary General of Nato, our partners and Western allies is that the Balkans should be in the very heart of European security policy. Do more for us in order to do more for yourselves."
The Bulgarian President's comments came after he attended a Nato summit of nine Eastern European member states in the Romanian capital Bucharest on Wednesday, at which leaders expressed concerns that the "security environment was deteriorating" as a result of Russia's "aggressive and unpredictable" behaviour.
"Starting on 25 October, websites of the council of ministers of parliament and of the central election committee have been heavily attacked through cyber capabilities in an unprecedented way," he said.
Pointing the finger firmly at Russia's President, Vladimir Putin, he said: "There are very few countries in the world that can organise such attacks."
Mr Plevneliev added that Russian military was stepping up incursions into the "security zone" airspace over the Black Sea. "Since the Crimean crisis we have seen 10 times more violations of Russian military planes," he said.
He says that the attacks formed the latest assault in what is widely described as hybrid warfare on Western countries using direct and indirect aggression.
Mr Plevneliev said Nato senior partners were not being forceful enough in responding to Russia's "hybrid warfare" approach that, he says, is focused on the Balkans. He also criticised European countries for failing to get to grips with events in the Middle East and North Africa as the Syrian conflagration threatens to escalate further.
"Everyone should be alerted to what happens in Syria because of a crush of global and regional powers, which Mr Putin is saying is about the world moving to a new world order away from that of being dominated by one superpower," he said.
Reflecting on European countries' collective failure to act decisively on Syria and the broader ensuing refugee problem that has since engulfed Europe, the Bulgarian President said: "The EU has to get all those powers together on the table because the EU is most affected by this crisis, and should not let it go until there is a solution that is peaceful and is balanced.
"The EU has to believe itself that it is a global power. It is the biggest economy in the world and should be one of the biggest players in foreign policy in the world."
On Syria, Mr Plevneliev called on its neighbour Turkey, which has been hit by a round of violence in the build-up to last month's election, to take a more proactive stance on Syria. He says Turkey's re-elected President Recep Tayyip Erdogan, who has so far distanced himself from Syrian intervention despite recent alleged Islamic State bomb attacks in Turkey, needed to do more.
"Turkey is a regional power so Mr Erdogan has a very important role to play for a solution in Syria," he said, adding that Iran, Saudi Arabia, US and Russia needed to be at the table for any meaningful talks to end the country's civil war.
Mr Plevneliev accused Western leaders, and especially EU member states, of failing to act until a crisis had fully erupted. "Look at the immigration crisis, and many other fires that are coming too," he said. "We wake up too late. The EU today has to deal with a record number of crises, but just registers those crises, and does not solve them."
On immigration, he attacked European countries for compounding the crisis by failing to register refugees, which he says only Bulgaria and Germany had been doing in accordance with the Dublin Regulation. "Any refugee that comes in Bulgaria will be registered. This is not the case with Greece or Italy, nor is it the case with Croatia, Slovenia, Macedonia, Serbia, Hungary or Austria."
Mr Plevneliev says Bulgaria's strict policy meant refugees were now avoiding the country, which has received 40,000 so far and is expecting 20,000 by the end of 2015, but did not concede that Bulgaria's mountainous border area and status as the EU's poorest state might also be factors. "Everyone should stick to the rules and not shift the refugees to the next border," he said.
In September, Bulgaria's Deputy Prime Minister, Meglena Kuneva, suggested that any agreement on a refugee quota be linked to admission to the Schengen European free movement zone. Mr Plevneliev dismisses this idea, saying: "Bulgaria feels disappointed that, along with Romania, having been technically ready and complying to all required standards, we have been rejected." Having previously approached the European Commission and European Parliament three times each, before being blocked by the Netherlands, he said he was cautiously waiting for a response to another attempt at admission.
"It is probably another member state [that may block the approach], even though everybody else is saying you're ready," he said.
Access to the Schengen zone would vastly improve the country's economic prospects, says Mr Plevneliev. With a GDP of £36bn, it is proportionately the poorest performer in the bloc, even though Mr Plevneliev says wealth has doubled in the past 10 years and increased fivefold since the last days of communist rule.
"Our country was always weak when it was isolated," he added.
The country has to contend with what Mr Plevneliev concedes have been high levels of corruption that he says he is addressing, and the need for improved energy efficiency which new investment in nuclear "may mean negotiating the future with the Chinese". But he added: "I don't think this [negotiation] is now active, as we are producing enough energy for the moment."
Bulgaria's political elite is attempting to re-establish trust with its population after a series of corruption charges led to the collapse of the government last year. Trust in politicians was rocked further when an attempt to hurry through legislation that would result in a cut to the social rights of police led to in large-scale demonstrations by police forces across the country in recent days.
Mr Plevneliev says he is extremely concerned by the development, recognising that for all the diplomatic efforts on the world stage, nothing can fell a politician like a domestic crisis. "I am worried by this. I've seen it before when we have paid a high price for instability," he said.
The former engineer says he will do whatever is required to settle the issue. "I am not just the President. I am an engineer, and engineers know one thing: if you want to solve a problem you have to point at a problem."
Join our commenting forum
Join thought-provoking conversations, follow other Independent readers and see their replies