Russia protests: Thousands take to streets in Moscow demanding release of political prisoners
'No one can get a fair hearing in Russian courts - injustice and lawlessness can happen to anyone now'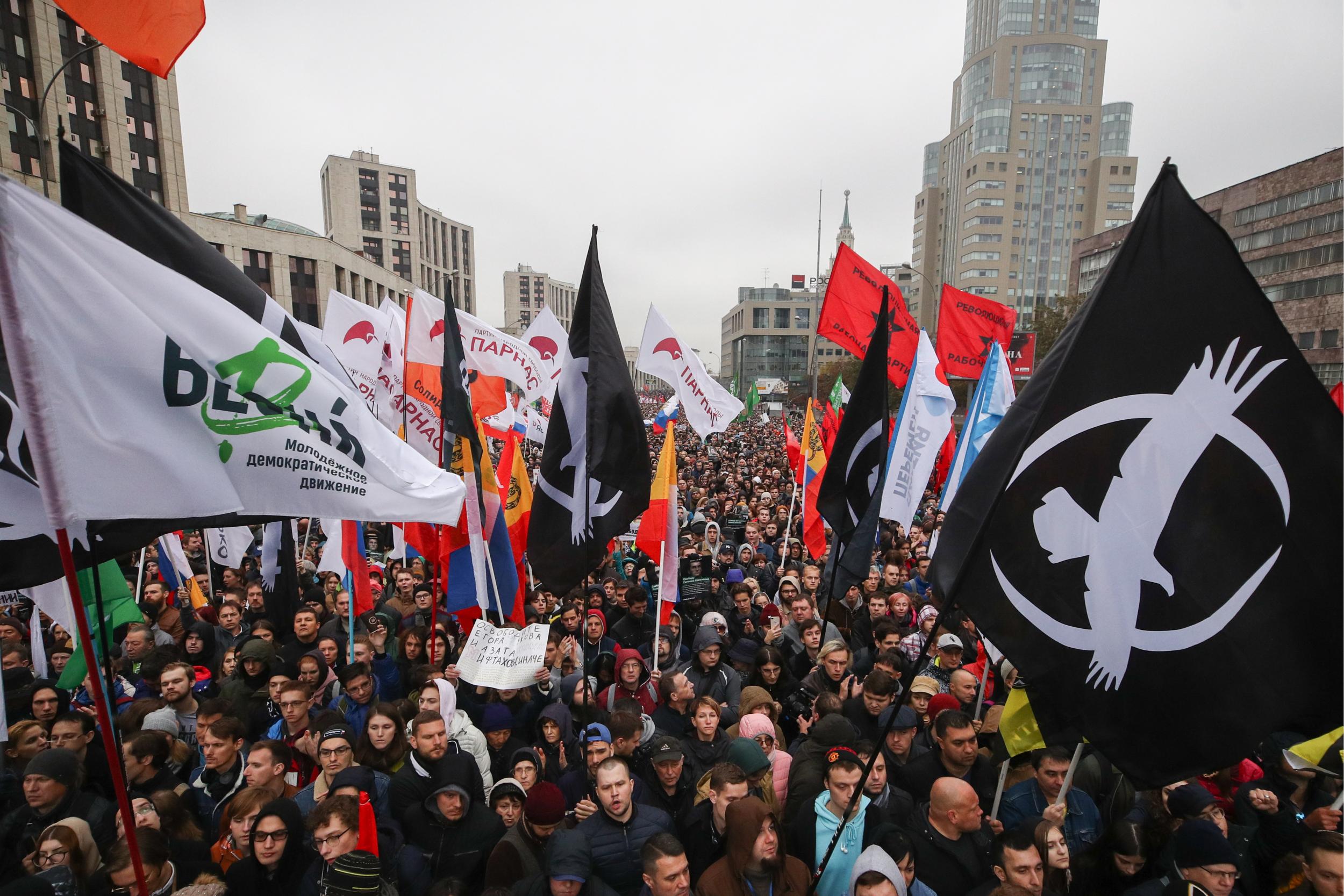 Thousands of Russians have taken to the streets in Moscow to demand the release of Kremlin critics apprehended in the run up to the country's local elections.
Waving flags while chanting "let them go" and "freedom for political prisoners", monitors say 25,200 people marched in the Russian capital for a rally featuring opposition leader and Kremlin critic Alexei Navalny.
The protest was approved by the city's mayoral office – a change from those of previous months which saw some 2,000 people briefly detained in one of the largest crackdowns against opposition supporters in the country's recent history.
Activists assembled to challenge the detention of campaigners arrested at a series of rallies that flared across the city in July - when opposition politicians were barred from taking part in the local government poll.
Since then several have been given four year prison sentences, while others are being prosecuted for crimes including violence against police officers.
20 years of Putin
Show all 21
The arrests, along with allegations of police brutality has prompted unusual public outcry in the country.
"No one can get a fair hearing in Russian courts" opposition politician Lyubov Sobol told the crowd, "injustice and lawlessness can happen to anyone now".
The march is unlikely to pose a threat to Vladimir Putin following his landslide re-election last year.
However it does coincide with a dip in the Russian president's approval ratings, caused by falls in real incomes and a push to raise the retirement age which was approved by Mr Putin in October last year.
And activists hope the scale of the protest could pressure authorities to release arrested protestors – a theory bolstered by the release of one person on bail and the dropping of charges against another in the run up to the event.
"I'm sure more people will be released because of this rally" Mr Navalny told the crowd.
After his allies were barred from the September vote, the opposition leader called on supporters to vote tactically for opponents of the ruling United Russia party, regardless of their political stripe.
United Russia, which supports Putin, lost a third of its seats in the Moscow city assembly, a setback for the authorities that Mr Navalny said was a victory for the Kremlin's opponents even though the governing party kept its majority.
Additional reporting by Reuters
Join our commenting forum
Join thought-provoking conversations, follow other Independent readers and see their replies