Alexei Navalny supporters issue stark challenge to Putin as protests sweep across Russia
Tens of thousands turn out in support of imprisoned Kremlin critic, who is currently on hunger strike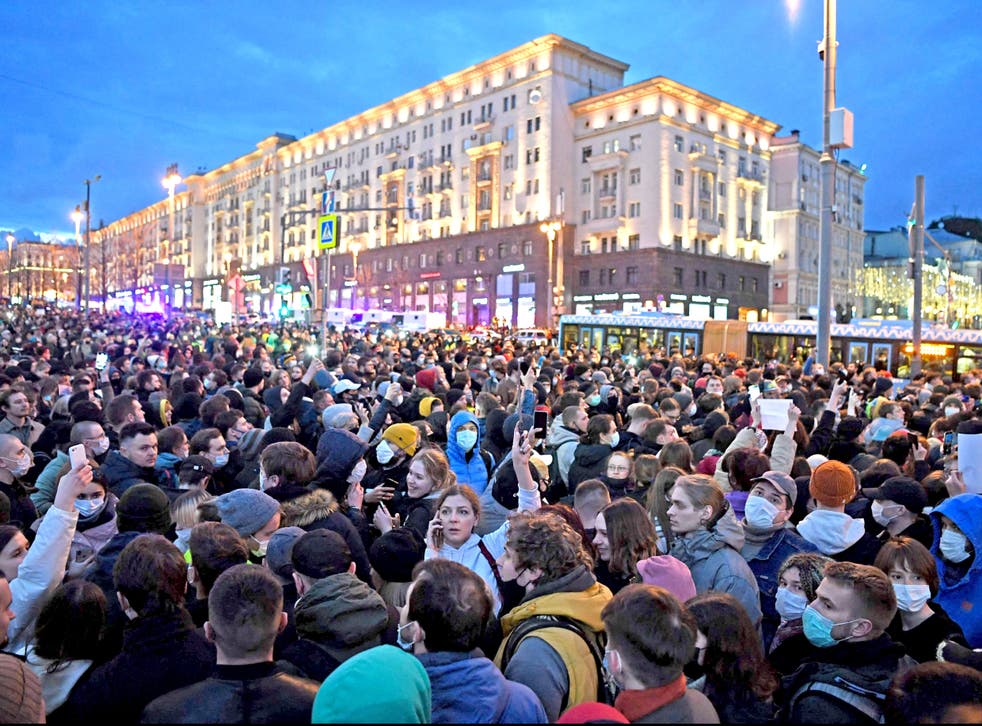 Tens of thousands of Russians turned out to protest the Kremlin's treatment of its nemesis Alexei Navalny on Wednesday in what turned out to be an unexpectedly stark challenge to Vladimir Putin.
Mr Navalny, 44, is 22 days into a hunger strike, with supporters claiming he is on the edge of life and death.
The rallies held in his name unfolded across the nation from the Pacific ocean to the Baltic Sea. The most impressive turnouts were registered in Russia's two capitals, St Petersburg and Moscow.
Supporters of Mr Navalny put the numbers in the high tens of thousands. In line with tradition, authorities gave a much lower figure – 14,000. The likely figure is somewhere in between, but also considerably less than the 465,000 who had signed up on Mr Navalny's campaign site.
The conditions ahead of the protest were inauspicious, with authorities upping the stakes in the days and hours beforehand. Aside from the promise of a fearless crackdown, the personal data of those who registered interest were leaked online. Young activists received visits from police officers warning them not to participate.
Key Navalny associates were also detained on the day itself. Lyubov Sobol, lawyer for Mr Navalny's anti-corruption foundation, was dragged from a car at about 10am. Kira Yarmysh, his press officer, followed an hour later, and was jailed for 10 days for supposedly breaching house arrest orders.
In the event, the worst fears of a protest crackdown did not materialise. NGO groups put estimates of the numbers of arrested at over 1,000, a figure that is likely to rise. There were significant numbers of often violent arrests in St Petersburg, with reports of the use of stun weapons. But the numbers in Moscow were several orders short of those seen in previous rallies.
There, crowds appeared to be buoyed by their numbers. They sang increasingly radical anti-Putin ditties to one another. Putin was a was a thief, they shouted, and he was a murderer.
"Putin vor, ne muzhik, dengi vyvez v Gelenzhik!"(Putin's a thief, not made of beef, he took our money to his palace in Gelendzhik!) 
The crowds made several bold attempts to approach Lubyanka square, the sensitive location of the headquarters of the FSB, Russia's much feared security agency, and the apparent architects of Mr Navalny's nerve agent poisoning in August.
Authorities, however, made it clear this was a development they would not welcome, and cut off routes to the square with several lines of riot police.
The protests attracted the widest cross section of Russian society, from Mr Navalny's traditionally strong constituencies among students - to businessmen and pensioners.
Yuri Zukbov, 72, a retired theatre director, told The Independent he battled hard with fear before deciding to attend. It was the kind of fear he remembered seeing in his father's eyes, he said — "when Stalin was still in charge."
Then and now there were people who loved a "murderous" tyrant, he said.
Mr Zubkov said he was not a natural Navalny supporter, and  wasn't keen on his past nationalistic statements. But he had been persuaded by his recent "heroic" actions, returning following his nerve agent poisoning to the land of his would-be assassins.
"He's doing a big, good thing for Russia and we have to protect him from the bandits in the Kremlin," he said.
Several senior Navalny associates also managed to evade the grasps of authorities to make their way to the crowds in central Moscow. Just before 8pm local time, Mr Navlany's wife Julia and brother Oleg joined the protest to cheers from demonstrators.
Vladimir Kara-Murza, a close associate of murdered opposition leader Boris Nemstov, was also in attendance.
He told The Independent that he was "staggered" by the numbers. All had risked arrest to demand Mr Navalny receive proper medical treatment, he said.
"Over two decades Putin has managed to take control of nearly everything in this country - parliament, elections, media," he said. "The one thing he does not control are free minds."
The activist said he did not doubt Putin was trying to kill his main opponent "in slow motion" after a failed first try with Novichok. It seems Mr Kara-Murza himself likely had his own scrape with the nerve agent, having been twice incapacitated by unknown toxic substances in Moscow in mysterious circumstances.
An investigation by open source researchers Bellingcat showed that the Nemstov associate was trailed by the same state security employees as Mr Navalny before his poisoning. His role in developing the "Magnitsky Act", legislation targeting corrupt Russian officials, may well have made him a target.
Like Mr Navalny, Mr Kara-Murza returned to Russia to pursue campaigning despite the obvious dangers. He said he did not fear arrest, and said by the evidence of Wednesday, neither did his countrymen.
"They've nearly killed me twice," he said. "The biggest gift to Putin would be if all those who oppose him gave up and ran."
Join our new commenting forum
Join thought-provoking conversations, follow other Independent readers and see their replies