Russia unveils 'proof' Turkey's Erdogan is smuggling Isis oil across border from Syria
Moscow publishes satellite images purporting to show Turkish trucks filling up in Isis-controlled Iraq and Syria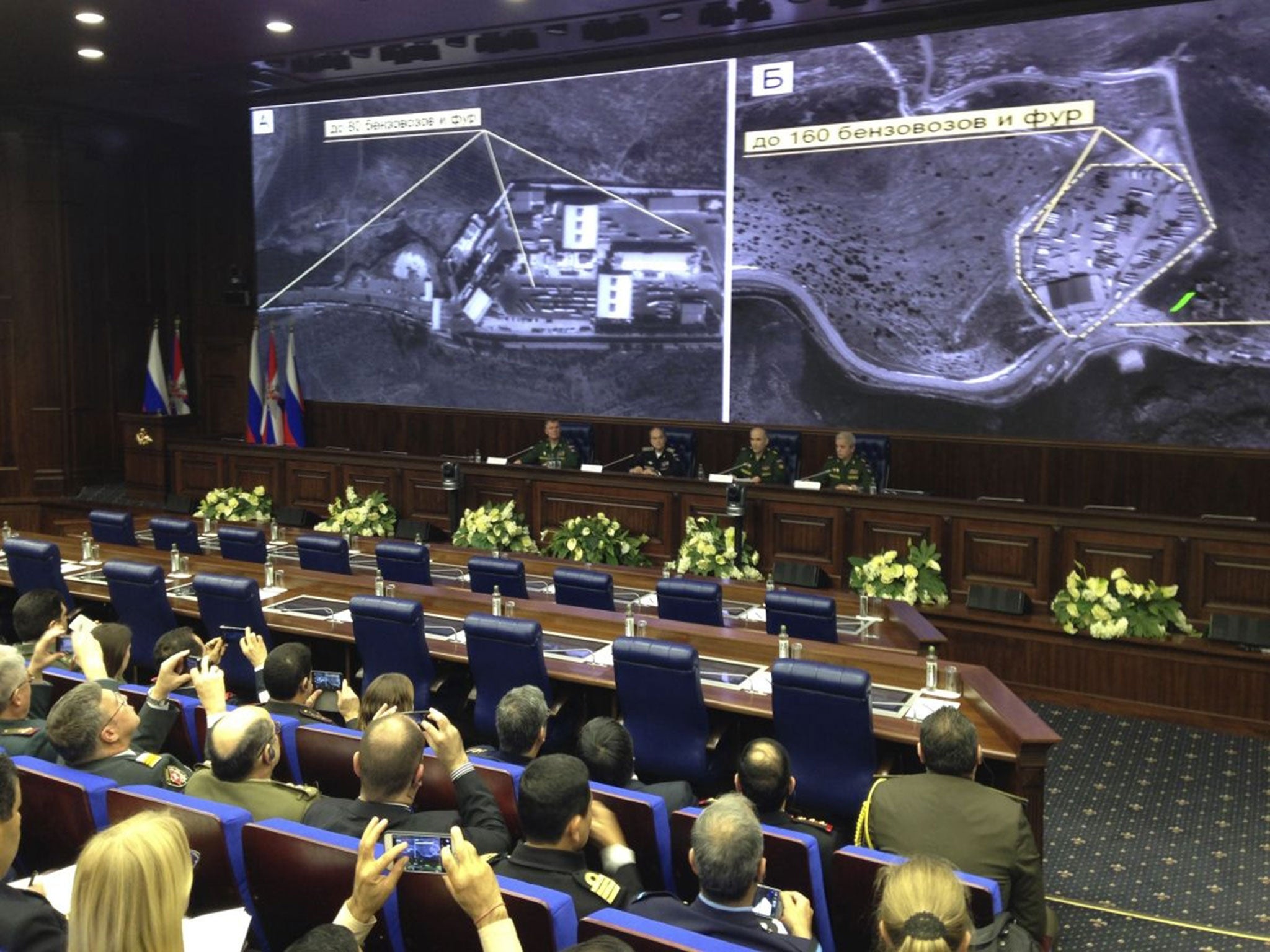 Russia has unveiled what it describes as proof that Turkish president Recep Tayyip Erdogan and his family have benefited from the illegal smuggling of oil from Isis-held territory.
Moscow defence ministry officials released satellite images they claim shows columns of tanker trucks loading with oil at an installation controlled by Isis in Syria, before crossing the border into Turkey.
Footage was also sent out by the Kremlin that purported to show a flow of lorries crossing the Turkey-Syria border with no restrictions at the Reyhanli checkpoint.
Russia officials did not specify what direct evidence they had of the involvement of Mr Erdogan and his family, an allegation the Turkish president has vehemently denied.
It is the latest salvo in the war of words between the two countries, after Turkey shot down a Russian military plane near to its border with Syria last month.
Anatoly Antonov, Russia's deputy defence minister, said: "Turkey is the main consumer of the oil stolen from its rightful owners, Syria and Iraq.
Russian plane shot down by Turkish jets
Show all 5
"According to information we've received, the senior political leadership of the country - President Erdogan and his family - are involved in this criminal business."
Mr Antonov admitted that he may have been "too blunt" in levelling the allegations, adding: "In the West, no one has asked questions about the fact that the Turkish president's son heads one of the biggest energy companies, or that his son-in-law has been appointed energy minister. What a marvellous family business."
On Tuesday, US President Barack Obama said Turkey had made progress in sealing its border with Syria, but Islamic State was still exploiting gaps to bring in foreign fighters and sell oil.
The Russian defence ministry also alleged that the same criminal networks which were smuggling oil into Turkey were also supplying weapons, equipment and training to Islamic State and other Islamist groups.
The Turkish president hit back on Wednesday, saying no one had the right to "slander" Turkey by accusing it of buying oil from Islamic State, and that he would stand down if such allegations were proven to be true.
Mr Erdogan, who was speaking at a university in the Qatari capital, Doha, said he did not want relations with Moscow to worsen further.
last week Mr Erdogan denied Turkey procures oil from anything other than legitimate sources. He has said Ankara is taking steps to prevent fuel smuggling, and he challenged anyone who accused his government of collaborating with Islamic State to prove their allegations.
Additional reporting by Associated Press.
Join our commenting forum
Join thought-provoking conversations, follow other Independent readers and see their replies