Russian space programme close to collapse as latest failure exposes its fragility
Industry experts tell The Independent the breakdown of Russia's space industry would be 'bad news for everyone'. 'At its peak, it was a credible rival – a spur,' says an ex-Nasa engineer. 'Without it, there wasn't a chance in hell that we'd have put a man on the moon'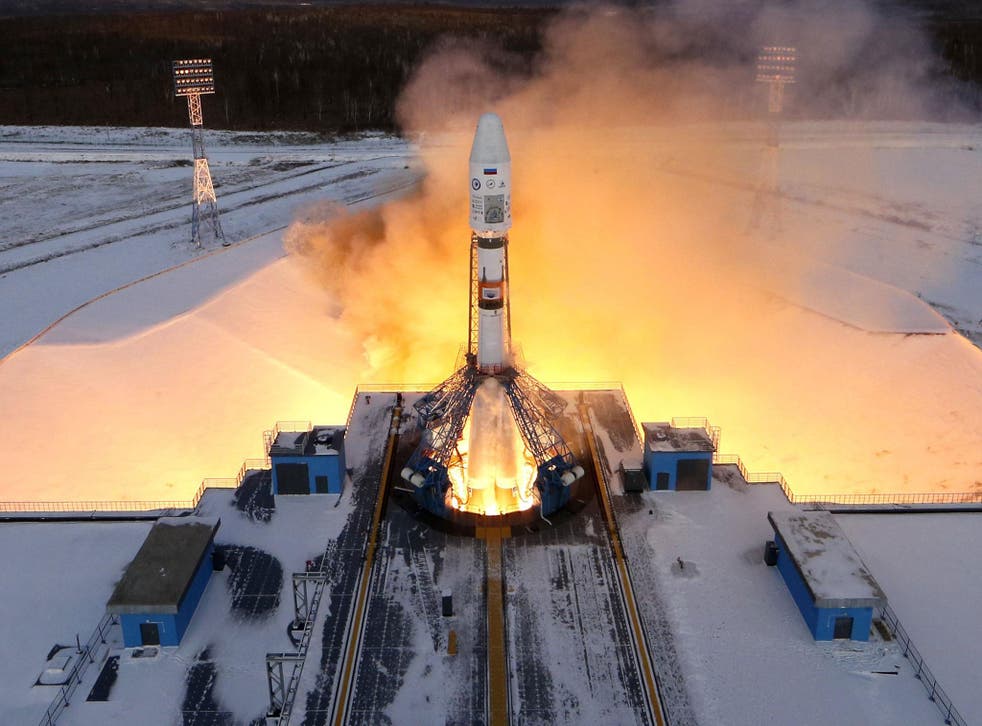 Dmitry Rogozin, the minister responsible for the Russian space industry, could only watch as the Prime Minister delivered a damning assessment of his work. Unsuccessful rocket launches had "become a repetitional issue" for the country, Dmitry Medvedev said at a cabinet meeting on Monday.
"Dmitry Olegovich, I hope you understand the seriousness of this matter," he said.
The political fallout from last Tuesday's unsuccessful launch of a Soyuz 2-1b rocket continues at the highest level. And Deputy Prime Minister Rogozin, who has been responsible for the Russian space programme since late 2011, has been attracting a large part of the criticism. Tuesday's crash was, after all, the tenth under his watch.
It reminded everyone that Russia's space industry remains a few steps away from collapse.
Up until an hour after launch, everything was going fine. It was only the second launch at Russia's new far-eastern Vostochny Cosmodrome, so there was a festive atmosphere. The equipment – the Soyuz 2-1b rocket, Fregat booster, and associated payload of 19 satellites – was well-worked and considered reliable. The rocket was a direct descendent of the one that sent Yuri Gagarin to space, and has been refined thousands of times since.
Upon lift-off at 8.42am Moscow time, there seemed little else for Mr Rogozin to do but to declare the mission a resounding success. Which he did, publicly – as Mr Medvedev later reminded him.
Three hours later, of course, Russia's space corporation Roscosmos admitted "anomalies". They had lost contact with the satellites before they had reached the correct orbit, said a public statement. Soon afterward, reports came through that the load had crashed over the Atlantic ocean.
It is not yet clear what caused the failure. Early speculation in the Russian media suggested the Fregat booster had been sent on the wrong trajectory, perhaps owing to a human error in plotting coordinates. One theory attributed the problem to the fact the rocket was launched from a new cosmodrome, and there was a mix-up.
This theory was first carried on Russian state news agencies, and referred to "anonymous sources" within the space industry. It was since been picked up by Western publications.
But specialists contacted by The Independent doubt its main claim.
Pavel Luzin, a specialist in the space and defence industry at Perm State University, said that previous crashes were usually because of defects in manufactured components. The flight programme, in comparison, is simpler and a less likely culprit.
Aleksandr Zheleznyakov, a specialist in design and production of rocket and space systems, told The Independent that the incident suggested ongoing problems in manufacturing.
"We've been talking about the poor quality of manufactured parts ever since the Proton rocket accident in 2010," he said. "There is no proper quality control in the sector."
A commission set up by the government is expected to deliver findings within two weeks. In the meantime, a debate continues about whether Russia's struggling space industry is in a position to survive the latest setback. Or indeed, whether it should even try.
The Russian government has prioritised space and recovering lost Soviet prestige. A lot of money is being thrown around. In 2017, Russia will spend a record 170bn roubles on space (£2.4bn) – and that number is set to rise. Those figures are a fraction of the money spent by Nasa. But they are more than enough for Russia's current aims, which prioritise commercial uses of satellite technology.
World news in pictures

Show all 50
Like elsewhere in Russia, however, there are serious problems with how the money is spent. The new Vostochny Cosmodrome, introduced to reduce reliance on the Baikonur Cosmodrome in Kazakhstan, was plagued by endless scandals of corruption and mismanagement.
And this week, Mr Rogozin came under criticism for spending 9m roubles (£120,000) on flying a business jet to the failed launch.
"There needs to be more transparency, and better wages for ordinary engineers," said Mr Luzin. "It's absurd that a rocket engineer is earning $400 a month while Mr Rogozin and his bureaucrats are flying business jets."
Low wages bar people with ambition from entering the profession, said Mr Luzin. But it is not the only reason why young engineers aren't coming in to replace the Soviet-trained generation. Since the space sector is classified as a military industry, specialists are by law prohibited from travel or work abroad. "The clever youngsters keep well away," said Mr Luzin.
James Oberg, a retired Nasa Space Shuttle mission control specialist, told The Independent that the Russian space industry is beginning to resemble a "medieval order of soldier monks". Those specialists who remained are capable and dedicated, he said, "but they are now all dying at their posts".
One of the saddest aspects of last week's incident, he said, was that 18 of the 19 satellites had been created by teams of university students: "It was a great idea to try to encourage college kids into the aerospace industry."
The former Nasa engineer said that Russia's continued difficulties in space represented "bad news for everyone".
"At its peak, the Russian space programme was critical to the US," he said. "It was a credible rival, a spur. And without it there wasn't a chance in hell that we'd have put a man on the moon."

An earlier version of this article included a misquoted comment by expert Konstantin Kreydenko, for which The Independent apologises
Register for free to continue reading
Registration is a free and easy way to support our truly independent journalism
By registering, you will also enjoy limited access to Premium articles, exclusive newsletters, commenting, and virtual events with our leading journalists
Already have an account? sign in
Register for free to continue reading
Registration is a free and easy way to support our truly independent journalism
By registering, you will also enjoy limited access to Premium articles, exclusive newsletters, commenting, and virtual events with our leading journalists
Already have an account? sign in
Join our new commenting forum
Join thought-provoking conversations, follow other Independent readers and see their replies