Russia 'still prepared to join Turkey' in new international coalition against Isis despite jet being shot down
There were fears of a military escalation that would draw in allies but Russia says it will still co-operate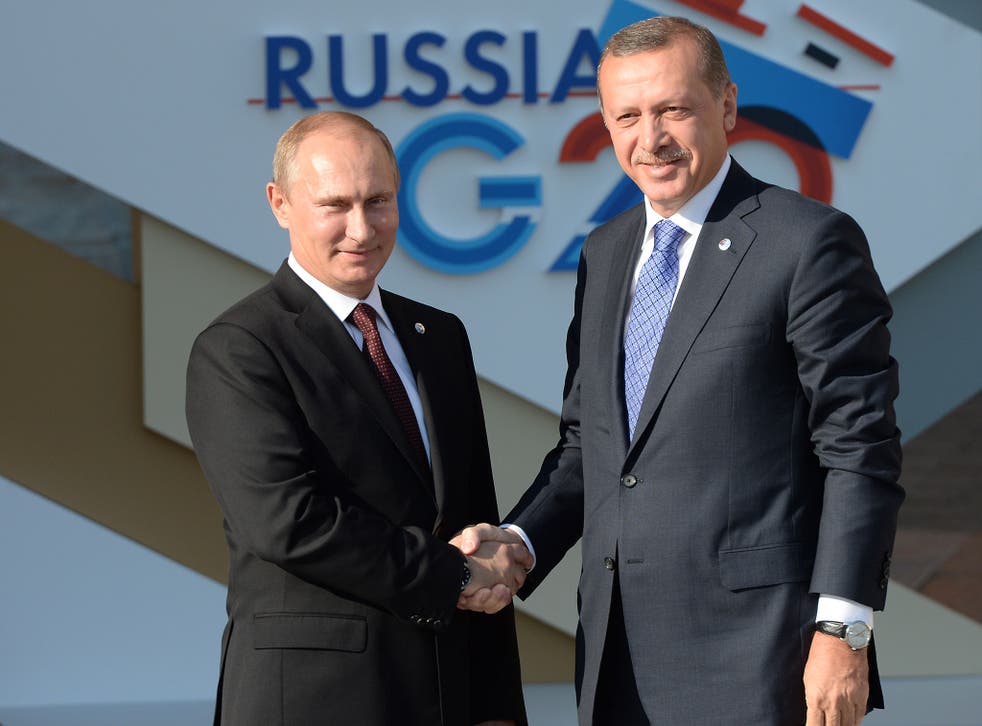 Russia is still prepared to be part of a new international coalition against Isis even if it means co-operating with the Turkish military, an ambassador has said.
There were fears that Turkey's shooting down of a Russian jet yesterday morning could derail a push for greater co-ordination between the countries bombing Syria and Iraq and start a dangerous military escalation.
Speculation prompted "World War III" to trend on Twitter, with commentators and analysts talking of how the two countries' allies could be drawn into a wider conflict.
It came just hours before Francois Hollande met Barack Obama to urge the US President to allow Russia's inclusion in the alliance as he called for stronger action against Isis in the wake of the Paris attacks.
Russia's ministry of defence condemned what it called a "flagrant violation of international law" by Turkey and Vladimir Putin warned of "serious consequences".
But Russian ambassador to France, Alexander Orlov, said the Kremlin is prepared to create a joint command centre with France, the US Turkey and other nations.
"There may be several kinds of coalition," he told Europe 1 radio. "First is co-ordination, which is a necessity, but we're willing to take things further, to jointly plan strikes against Isil (Isis).
"For that purpose, we could create a joint general headquarters together with France, the US and all other countries willing to join the coalition."
Asked whether Moscow would agree on Turkey's participation in light of yesterday's events, which prompted Russia to cut military contact with its ally, Mr Orlov said: "If they want to, of course we would be grateful to them."
There were fears Russia could seek retribution by raising gas prices for Turkey, which is the second-biggest consumer of Russian gas products, according to Gazprom statistics.
Berat Albayrak, the Turkish energy minister, said that the plane's downing did not constitute a threat to energy ties and that the flow of gas would continue uninterrupted.
The statements eased fears of a new conflict between the two countries, which had already sparked moves by Nato to de-escalate the situation.
Turkey and Russia continue to dispute the jet's flight path, with Russia insisting it did not leave Syria and was targeted without warning, while Turkey says it violated its airspace and was warned multiple times.
Russian plane shot down by Turkish jets

Show all 5
A formal protest has been presented to Turkey's defence attaché for Russia and the Kremlin has said all air strikes in Syria will be carried out under the cover of fighter aircraft.
Mr Putin described the incident as a "stab in the back" and accused Turkey of acting as the "accomplices of terrorists".
One of the pilots was killed by rebel gunfire as he parachuted to the ground and the other was picked up by the Syrian army after he ejected from the plane and has been taken to a Russian air base.
One of two helicopters sent to the crash site to search for survivors was also hit by rebel fire, killing one Russian marine and forcing it to make an emergency landing before it was blown up by anti-Assad rebels.
Additonal reporting by agencies
Join our new commenting forum
Join thought-provoking conversations, follow other Independent readers and see their replies