Putin looking for ways 'justify a war', Ukraine warns
Ukraine denies it is attempting to regain control of the disputed territory by force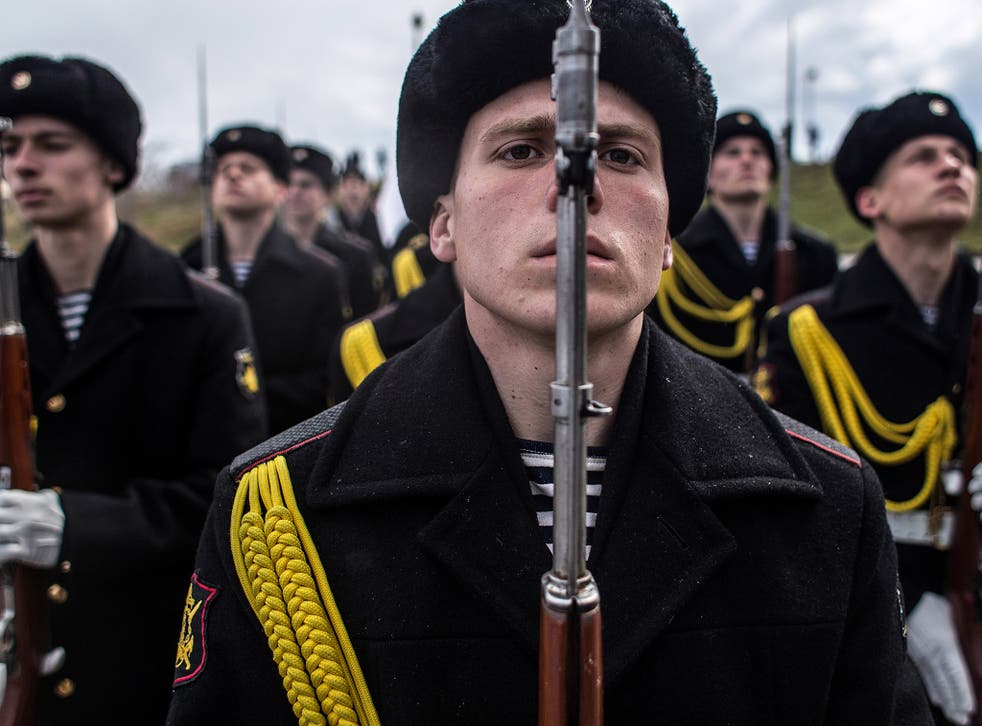 Vladimir Putin is looking for ways to justify a war with Ukraine, a spokesman for the country's foreign ministry has said.
"Putin wants more war. Russia escalates, desperately looks for casus belli against Ukraine, tests West's reaction," a spokesman for Ukraine's foreign ministry, Dmytro Kuleba, wrote on Twitter.
Putin has accused Ukraine of choosing terror over peace and of playing a dangerous game after Russia's FSB security service said it had thwarted a series of armed Ukrainian raids on Crimea which Russia annexed in March 2014.
He said Kiev's actions were "stupid" and "criminal" and that there was no point in holding planned talks on the peace process in eastern Ukraine as a result.
Earlier, Russia's Federal Security Service (FSB) said it has prevented "terrorist attacks" in Crimea which it claims were planned by the Ukrainian authorities.
The FSB said the Ukrainian Defence Ministry's intelligence agency was targeting Crimea's critical infrastructure.
The Crimean peninsula on southern Ukraine became disputed territory in 2014, after Russia took control of the Ukrainian land mass during the uprising in Ukraine that ousted the Kremlin-backed president Viktor Yanukovych.
But the Ukrainian Defense Ministry dismissed the FSB reports of involvement in "subversive activity in Crimea", Interfax-Ukraine news agency reports.
"Such allegations by the FSB are nothing but an attempt to justify the redeployment and aggression of the Russian Federation troops on the territory of the annexed peninsula," the ministry said on its website on Wednesday.
Yuriy Tandit, an adviser to the head of Ukraine's security agency, told Interfax-Ukraine that Kiev had no intention of taking back the territory "by force".
According to the FSB, one of its officers was killed while arresting the "terrorists" on Saturday, and said a Russian soldier was also killed on Monday during exchanges of gunfire.
The FSB also said it found 20 home-made explosive devices equivalent to more than 40 kilos of TNT, along with ammunition, shells, and other weapons used by the Ukrainian Army's special forces at the scene, Reuters reports.
It said "suspects employed by Ukrainian intelligence" are now giving their confessions, adding that the captured group includes one of the organisers.
In its statement the FSB said it had "foiled terrorist attacks on the territory of Crimea prepared by the intelligence directorate of the Ukrainian defence ministry".
World news in pictures

Show all 50
The fighting, in the northern Crimean town of Armyansk, included "massive firing from the side of the neighbouring state and armoured vehicles", which was repelled by Russian forces, the FSB said.
Register for free to continue reading
Registration is a free and easy way to support our truly independent journalism
By registering, you will also enjoy limited access to Premium articles, exclusive newsletters, commenting, and virtual events with our leading journalists
Already have an account? sign in
Register for free to continue reading
Registration is a free and easy way to support our truly independent journalism
By registering, you will also enjoy limited access to Premium articles, exclusive newsletters, commenting, and virtual events with our leading journalists
Already have an account? sign in
Join our new commenting forum
Join thought-provoking conversations, follow other Independent readers and see their replies